Normally at this time of year we'd be posting our annual Best Gifts for Travelers guide, showcasing all the best travel gear for your 2021 adventures.
But in 2020, the entire world got a stark reminder that travel is a privilege (not a right) that should never be taken for granted.
Even now, in mid-December, nobody knows when it will be safe (or even possible) to travel again.
So, while our carryon luggage gathers dust in the attic and we dream of the ecotourism destinations we're dying to visit, this year's Holiday Gift Guide will focus on things we enjoy when we're not traveling the world.
From gifts for Christmas lovers and gifts for foodies to health and wellness gifts, each of these items was selected to help bring a little joy to everyone on your holiday shopping list… even if they are stuck at home for the foreseeable future!
READ MORE: The 125+ Best Gifts for Travelers
2020 HOLIDAY GIFT GUIDE
Editor's Choice: Best Gift of 2020
Gifts for Christmas Lovers
Gifts for Foodies
Gifts for Home Chefs
Gifts for Women
Gifts for Men
Tech Gifts
Health & Wellness Gifts
EDITOR'S CHOICE: BEST GIFT OF 2020
Tellinga's One Month Story
In my 20+ years of reviewing products professionally, it's incredibly rare for one to come along that makes me excited to tell the brand's story.
Which is why Tellinga, a Houston-based startup that creates artful greeting cards based on your personal stories, was a no-brainer as my pick for the Best Gift of 2020.
The ingenious concept is so simple, it's shocking no one ever thought of it before. You choose the number of cards you want, upload photos of the people/places you want featured in them, and provide a description of the story you want to tell in as much detail as you want.
Tellinga then assigns your story to one of their talented artists, who create a personalized series of 1 to 12 hand-drawn greeting card-sized postcards. Measuring 5.5″ x 8.5″, these customized cards arrive in digital form via email and snail mail every 3 to 4 days.
Mary and I are celebrating 12 years together, and November marked GGT's 10th anniversary. So our 12-part Tellinga story tells about how we met, fell in love in Hawaii, decided to launch GGT in Costa Rica, and traveled the world together. It's basically the story of our lives!
I've never seen Mary more touched by a surprise, and the look on her face every time she opens a new card is priceless. The imaginative artistic expression Paul Gruber brings to his frame-worthy work has reduced me to tears twice now. It's truly a gift we'll both treasure forever. Click here to get 10% Off  your Tellinga Greeting cards gifts books.
READ MORE: Bret & Mary, a Love Story (How Green Global Travel Was Born)
GIFTS FOR CHRISTMAS LOVERS
Shinesty Christmas Pajamaralls & Millennial Snowflake Wrap Dress
Our family tends to go all out in celebrating Christmas. Our playful sense of festive fun definitely extends to the clothes we wear during the holiday season.
From snazzy suits and sexy dresses to silly sweaters and boxers, Shinesty has become our go-to brand for eye-catching Christmas clothes.
This year I've embraced my Kris Kringle obsession with these "50 Shades of Santa" pajamaralls, which are part of their new 2020 collection. The fly polyester fleece is warm and cozy, with a drawstring waist and a built-in bottle opener in the chest pocket.
Mary may roll her eyes at my admittedly over-the-top overalls, but all eyes are on her when she wears Shinesty's "Millennial Snowflake" wrap dress. Cute, yet accentuating her womanly curves, it's an adorable Winter dress that looks cool even after the 12 Days of Christmas have long since passed. Check out the Christmas apparel collection at Shinesty!
READ MORE: The Best Travel Clothes for Women & Men

NOVICA Teakwood Nativity Scene Sculpture
We've loved NOVICA for years for their unique, handcrafted Fair Trade gifts, which are carefully crafted by indigenous artisans around the world.
But we also adore their mission of working directly with those artisans to help them overcome adversity, support their families, and uplift their local communities.
You don't have to be a diehard Christian to appreciate the workmanship of this gorgeous 14-piece "Gifts from the Ghanaian Magi" nativity set, hand-carved out of teakwood by Ghanaian sculptor Francis Agbete.
The stunning set includes Mary, Joseph, an angel, shepherd, 3 wise men, and animals encircling the Baby Jesus, with a traditional West African hut in the background. It's an incredible piece to add to your Christmas decor, and helps to support Agbete's family and community.
READ MORE: 30 Recycled Christmas Decorations & DIY Christmas Crafts

Lively Root Lemon Cypress Christmas Tree
I'm a hopeless romantic, but I stopped giving cut flowers many years ago because they're unsustainable.
While the folks at Lively Root do offer a line of cut Noble Fir, Cedar & Juniper wreaths and centerpieces for the holidays, the California-based company specializes in delivering farm-fresh plants that last.
We love their Lemon Cypress Christmas Trees, which make a great gift for beginning gardeners. They can grow indoors or outdoors, only need watering once a week, and can be decorated for the holidays and enjoyed all year round!
Available in a lovely woven basket or ceramic pot and great for growing in small spaces, it's a wonderfully thoughtful Christmas gift nature lovers can treasure for years to come.
READ MORE: Real Christmas Trees vs. Fake: Which is More Eco-Friendly?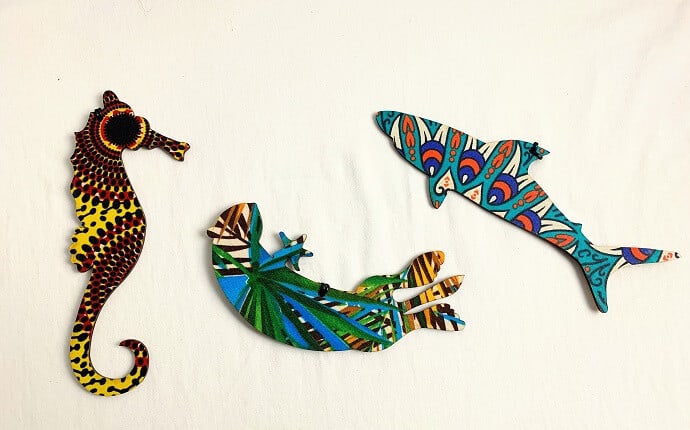 Monterey Bay Aquarium African Fabric Ornaments
We believe that gifts for nature lovers are best when they help to support organizations that work to conserve nature and wildlife.
Take the Monterey Bay Aquarium, for instance. The non-profit California attraction (which has a 4-star rating from Charity Navigator) focuses on marine conservation and education.
Their cute, colorful African Fabric Ornaments are handmade in South Africa using salvaged wood and vibrant local fabrics.
They come in the shapes of marine animals such as Jellyfish, Octopus, Sea Otters, and Sharks. And every purchase supports Fair Trade artisans and the aquarium's conservation education initiatives.
READ MORE: Best Environmental Charities & Animal Charities for Donations
Tipsy Elves Ugly Christmas Sweaters
My obsession with Christmas has been compared to Clark Griswold's on more than one occasion. And my love of tacky holiday sweaters dates back LONG before it became ironically cool.
If ugly Christmas sweaters is one of your favorite Christmas traditions, you'll love the Tipsy Elves line.
They've got around 65 options for men and 75+ for women, ranging from cool and classic to irreverent and downright raunchy.
We love the playful whimsy of their men's Santa Unicorn Sweater, and the sweetly sexy fit of the women's Sequined Snowman Sweater. But buyer beware: Some of the line is decidedly naughty, and possibly borderline offensive if adult humor isn't your thing.  Shop Ugly Christmas sweaters for the whole family!
READ MORE: The History & Meaning of 20 Traditional Symbols of Christmas
Lenox Festive Folk Light-Up Santa & Reindeer Figurines
My love of Santa Claus knows no bounds. As I type this review, there are no less than 20 Santa-themed decorations within my line of sight, not including the ornaments on our Christmas tree!
So it should come as no surprise that, when scanning through the 2020 Christmas catalog from Lenox, this Festive Folk Art Santa and matching Reindeer figurine caught my eye.
Standing 8 inches tall and made from high quality porcelain, this Scandinavian-style Santa set reminds us of our time in Sweden and Norway, where we saw lots of reds and snow, even in summer!
In addition to the charming folk art style, we also adore how the stars cut into Santa's robe glow with light (thanks to the included LR44 Batteries).
READ MORE: The 25 Best Places to Spend Christmas in Europe

Headsweats Mens Long Sleeve Xmas & Eco Ultraband
One of the biggest problems with spending Christmas in Atlanta is that the weather is often too warm to wear sweaters, even in December.
But like Jack Frost on a nose, Headsweats nips that problem in the bud by putting "ugly Christmas sweater" patterns on moisture-wicking, quick-drying performance apparel.
Each of their lightweight, breathable Ugly Xmas shirt is made from super-soft REPREVE polyester fabric, which reduces waste by using 5 recycled plastic bottles.
They're available in festive blue and red designs, and you can also buy matching ECO Ultra Bands (kind of like a Buff), Beanies, and Visors.
READ MORE: The Best North Georgia Christmas Events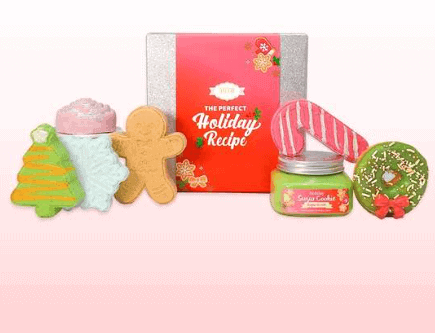 Nectar Bath Treats' Tis the Season Holiday Gift Set
Do you know someone who LOVES a long, hot bath after a long day of work? Someone who could use a bit of relaxation after 9 months of dealing with the crapfest that is 2020?
The folks at Nectar Bath Treats have a perfect gift for any Christmas lover who needs a good soak to wash away the seemingly endless onslaught of stress this year has brought.
Their 'Tis the Season Holiday Gift Set is loaded with colorful Christmas cheer. It includes 7 bath bombs, soaps, and scrubs, including a few limited edition treats just for the holly days.
We love the vivid colors and seasonal scents and shapes, from candy canes and Christmas trees to snowflakes, a gingerbread man, wreaths, and more!
READ MORE: Countries The Don't Celebrate Christmas

Ten Thousand Villages Christmas Ornaments
Another pioneering Fair Trade brand we've been fans of for years, Ten Thousand Villages is a "maker‑to‑market movement that breaks the cycle of generational poverty and ignites social change."
They sell all sorts of products from around the world, from low-waste lifestyle items and eco-friendly toiletries to kitchen ware and fashion accessories.
But we're especially enamored of their Holiday Collection, which includes home décor, garlands, nativities and handmade Christmas cards crafted by artisans in developing nations.
They also offer nearly 200 different Christmas ornaments to choose from, including these cute wildlife ornaments made in the Philippines, glass ornaments from Indonesia, and lovely embroidered ornaments from India.
READ MORE: The Best Places to Spend Christmas in the USA
GIFTS FOR FOODIES
Poppy Hand-Crafted Popcorn
Giving popcorn is a Christmas tradition in my family that dates back decades. But this hand-crafted popcorn from Poppy is a world away from the giant tins my aunt used to give me as a boy.
Based in the foodie haven of Asheville NC, Poppy specializes in unique flavors of gourmet popcorn made with high quality, natural, locally-sourced ingredients (including non-GMO corn).
They have a ton of cool savory flavors, such as Pimento Cheese, Parmesan & Black Pepper, and Jalapeño Cheddar. But their gorgeously packaged Holiday Cylinders make especially great gifts for foodies.
Their Cinnamon Bourbon Pecan is arguably my favorite popcorn ever, but the Butter Almond Toffee and chocolate-covered Reindeer Crunch are also insanely good. They also offer seasonal flavors like Gingerbread and Chocolate Peppermint Bark in slightly less festive market bags.
READ MORE: How to Avoid Products With Palm Oil

Heifer International Marketplace's La Promesa Guatemalan Coffee 
Looking for a great Fair Trade gift that gives back in concrete ways? Check out Heifer International, which has worked with 36 million people around the world to end hunger and poverty sustainably.
The 76-year-old NGO works directly with rural communities in Africa, Asia, and the Americas (including the US) to support farmers, providing a livable income, and strengthen local economies.
Their single-origin La Promesa Coffee is grown by female farmers in the highlands of Guatemala's Huehuetenango region. Thanks to Fair Trade practices, these women earn more than 3.5 times the income of other coffee growers in the region.
So while it may cost a little more than coffee from the grocery store, the specialty-grade varietal offers delicious notes of chocolate, honey, and fruit, and does a lot of good for local communities.
READ MORE: Heifer International Works to End Global Hunger Sustainably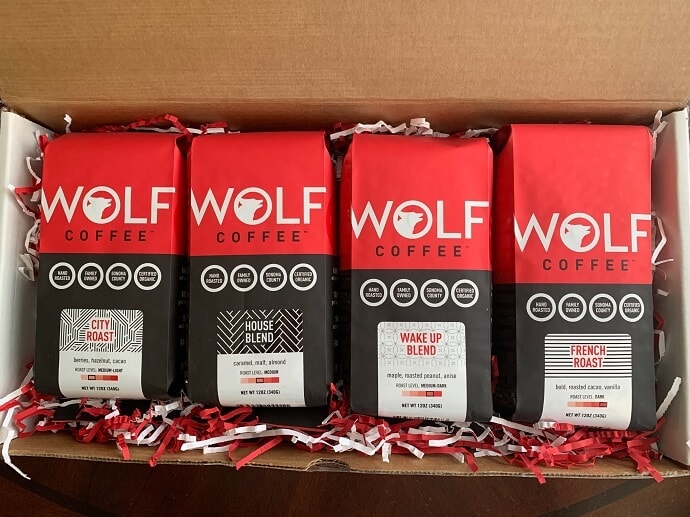 Organic Wolf Coffee Sampler
We've been hardcore gourmet coffee connoisseurs for about 10 years now, and have been fortunate to try some of the best coffees from all around the world.
So it's pretty impressive to find a US-based coffee company that can measure up, such as this second generation, family-owned, small-batch coffee roastery in Sonoma County, California.
The Wolf Coffee Company prides itself on using Certified Organic, shade-grown Arabica beans, which typically offer a robust flavor profile. They're roasted in a vintage 1968 Probat roaster, then shipped while they're still uber-fresh.
Available directly from Wolf or Doorstep Market, their Organic Wolf Coffee Sampler makes a great gift. It includes 12-oz bags of Organic French Roast, Organic Wake Up Blend, Organic House Blend, and Organic City Roast. All are a cut above what you'd typically expect from home-brewed coffee.
READ MORE: The Best Coffee in the World (A Gourmet's Guide)

Trücup Coffee Low Acid Coffee
On the surface, most coffees are essentially the same. Until fairly recently, you really only had two choices– regular or decaf.
Even now, once you get past subtle differences such as where and how it's grown, and whether it's Arabica or Robusta beans, there haven't been many "eureka" moments in the industry of late.
But the Seattle-based trücup is out to change all that, offering a line of 5 low-acid coffees that are up to 4.6 times less acidic than regular coffees.
Each of their blends– from "Stuck in the Middle" and "Heart of Bold" to "You've Got a Blend"– is cleverly named after classic rock songs. And the surprisingly rich depth of flavor you'll get from each smooth cup will be a hit with anyone who deals with heartburn or acid reflux issues.
READ MORE: La Roya, Central American Coffee's State of Emergency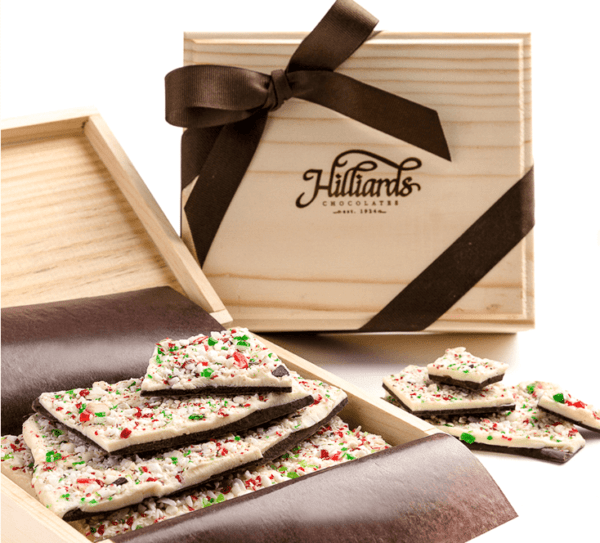 Hilliards Chocolate Seasonal Specialties
This fourth generation family-owned company has been crafting chocolates since 1924, when husband/wife team Perley and Jessie Hilliard opened their first candy store in Boston.
Nearly a century later, two generations of Hilliards run three retail shops in Massachusetts. They also ship tasty treats to fans all across the country, including a very famous one– Oprah Winfrey!
Hilliards is best-known for their dark chocolate Peppermint Bark, which comes packaged in a gorgeous gift box and was named one of "Oprah's Favorite Things" for Christmas in 2018.
But their seasonal specialities also include other great Christmas gift ideas for chocolate lovers, including Almond Toffee Crunch, Craft Beer Caramels, and a variety of holiday gift baskets.
READ MORE: The History of Chocolate (& How Chocolate is Made)
Stash Dasher Deer Holiday Gift Set & 6-Flavor Seasonal Teas Gift Box
Although I've been a diehard coffee drinker for decades, it's only in the last few years that I've become equally passionate about gourmet teas.
Stash Tea is a Certified B Corp based in Oregon that produces Non-GMO Project-verified teas that are completely compostable, from bag to string.
Their Holiday Collection includes lots of great gift options, including the 6-Flavor Seasonal Teas Gift Box. It includes four herbal teas (Cranberry Pomegranate, Christmas in Paris, Christmas Eve, and Cinnamon Vanilla) and two caffeinated varieties (Christmas Morning and Holiday Chai), with 18 bags of each.
But our favorite tea gift is their Dasher Deer Holiday Gift Set. It includes a box of jasmine-infused Christmas Morning Tea, the spearmint-and-spice Christmas Eve Tea, an adorable Reindeer mug, a tin of Sugar Cookies, and a tin of Ginger Spice cookies.
READ MORE: German Christmas Cookies (Lebkuchen Recipe)
GIFTS FOR HOME CHEFS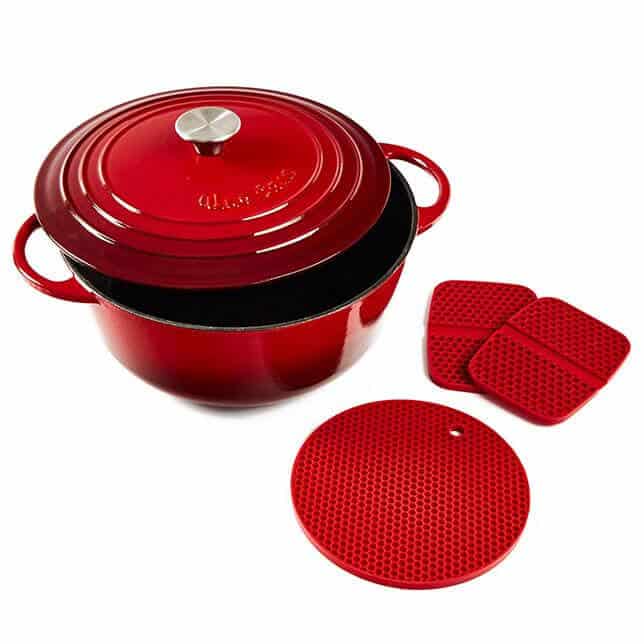 Uno Casa Enameled Cast Iron Dutch Oven
The dumpster fire that is 2020 has left us (like most people) unable to dine out in restaurants nearly as often as we used to.
Sure, we still do curbside pickup from our favorite Japanese, Cuban, and Greek restaurants every once in a while. But we typically make 19-20 meals at home every week, which can be challenging.
Like most people with Appalachian ancestors, I grew up using cast iron skillets to cook almost everything.  But this kick-ass Cast Iron Dutch Oven from Uno Casa is even more of a kitchen MVP.
We love the large handles, silicone mat and handle covers, and of course the seasonally appropriate red enameled exterior. We also like the fact that they're affordable, last forever, and can saute, slow-cook savory soups and stews, braise meats, and even bake crusty bread!
READ MORE: The 10 Best Restaurants in Blue Ridge, GA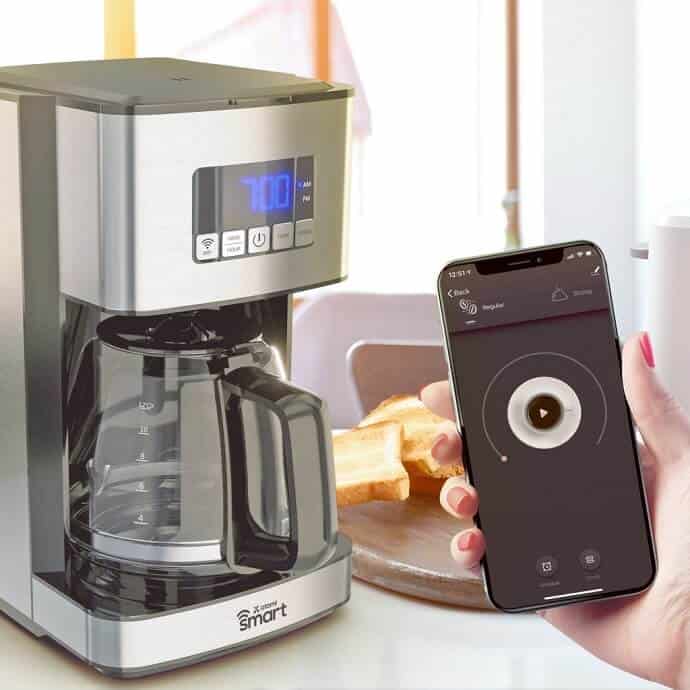 Atomi Smart Coffee Maker
With 2020 being what it was, perhaps it was dumb luck that the good, old, reliable coffee maker we've used for 10+ years crapped out right as we were testing products for this holiday gift guide.
In terms of technology, the Atomi Smart Coffee Maker is light years ahead of our budget-friendly Black + Decker model (RIP).
Using the free app, the device can be controlled remotely from your phone, allowing you to choose regular or strong mode and have a steaming hot 12-cup pot ready whenever you want.
You can use Amazon Alexa or Google Assistant for hands-free voice control, and you can also use the app to set daily schedules for turning it on or off.  For coffee lovers, the future is now!
READ MORE: A Guide to Ethical Eating When You Travel
Elbee Home 8-Piece Stack 'n' Store Baking Set
Between the influence of The Great British Baking Show, the timing of the holidays, and a pandemic keeping everyone at home, baking hasn't been this popular since Betty Crocker's heyday.
My daughter– who has always loved making cookies, cakes, pies, and pastries– has been baking up a storm this year when she visits us. But as a college student who just moved into her first apartment in July, she barely has any baking tins of her own.
So we're sending Santa a letter about this extensive set of non-stick bakeware from Elbee Home.
It includes 8 carbon steel pieces: There's 2 muffin pans, 2 round cake tins, a square cake tin, large roasting pan, and small oven tray, all of which stack together inside the 12.5 X 17″ large oven tray. It makes a great Christmas gift for home chefs!
READ MORE: 5 Weird Foods the French Consider Delicacies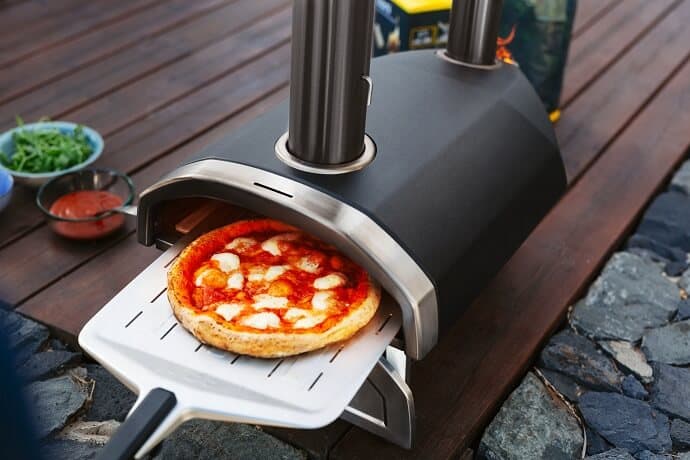 Ooni Fyra 12 Wood Pellet Pizza Oven
I grew up in a lower middle class family.  So I worked in pizza restaurants for nearly 8 years– before, during, and after I paid my way through college– emerging as a hardcore pizza snob.
These days I hate working in the kitchen, but for some reason I love working the grill. So the Ooni Fyra 12 Wood Pellet Pizza Oven really speaks to two of my great food-related passions.
The #1 secret to the traditional Neapolitan-style pizza that originated in Italy is high heat. Using hardwood pellets, Ooni's outdoor pizza oven can get up to around 932ºF, which is hot enough to cook the perfect pizza in around 60 seconds.
The char on these stone-baked pizzas is incredible. And because the oven weighs just 22 pounds, it's easily portable, allowing you to make perfect pizzas anywhere your adventures take you! Shop Ooni Fyra 12 Wood Pellet Pizza Oven.
READ MORE: How I Fell in Love With Travel (& Got Blessed By the Pope)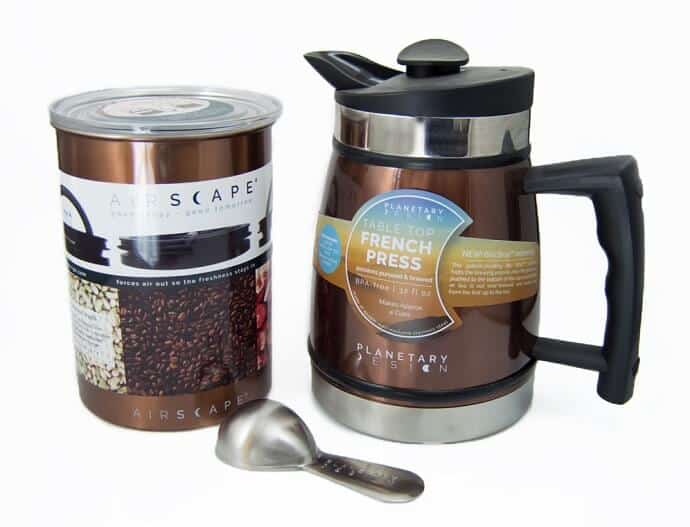 Planetary Design Brew At Home Bundle
It's hard to remember the time in my life when I wasn't a coffee snob– when I drank Folger's and even International Coffee's Cafe Vienna without disdain.
These days I wouldn't be caught dead drinking instant coffee. In the days when we could have visitors, I took great pride in serving gourmet single-origin coffees to our guests.
The Brew At Home Bundle from Planetary Design makes a cool Christmas gift for the serious coffee lovers in your life.
It includes a 32-ounce Mocha French Press Pot with patent-pending Bru-Stop technology (which ensures coffee is served at the perfect peak of the brewing process); a 7-inch Airscape coffee storage canister (which forces air out to ensure freshness); and a lovely silver coffee scoop. 
READ MORE: A Brief Guide to Coffee Composting
GIFTS FOR WOMEN
Kühl Spyfire Jacket & Innovair Skinny Pants
The independently-owned Kühl Clothing is rooted in the majestic peaks of the Rocky Mountains in Utah's Wasatch Range.
The community-based brand prides itself on long-lasting durability, with a strong ethos of responsible sourcing and minimizing their environmental impact.
Made from light, 2-way stretch fabric (96% Nylon, 4% Spandex), their Innovair Skinny Pants are stylish yet sturdy, with a curve-hugging fit and two front and rear pockets.
They pair perfectly with the fitted cut of their Spyfire Jacket. It combines RDS-certified down insulation, stretchy Mikrotex Nylon DWR, baffles for added warmth, and breathable knit underarm gussets to create one of the most flattering jackets we've seen this year.
READ MORE: How to Reduce Carbon Footprint With Carbon Offsets & More
Rens Original Shoes & Saola Shoes Cannon Banana
One of the most rewarding things about running Green Global Travel has been the incredible eco-friendly innovations that have come along as the "Go Green" movement has grown.
From the interest in reducing waste and the rise in plastic-free products to seeing how ecotourism is transforming the travel industry, it has been humbling to be part of this gradual change in the mainstream consumer consciousness.
The waterproof, vegan-friendly Rens Original shoes offer a unique idea: The Finnish brand has created the world's first sneakers made from coffee grounds and recycled plastic. They're super-snazzy and super-lightweight, and available in 9 stylish color combos.
Saola Shoes, which we've featured several times before, also has a new creative concept. Their water-repellant Cannon Banana sneakers are made from banana fibers, beeswax, and hevea milk. With natural cork and algae foam souls, they're Saola's most sustainable shoes ever!
Royal Robbins Table Mountain Jacket & Urbanesque Sherpa Cardi
Named after a pioneer in American rock climbing (who passed away in 2017), Royal Robbins is one of Mary's favorite clothing lines.
Founded 50+ years ago, the outdoor apparel brand is dedicated to social responsibility, partnering with Bluedesign and encouraging less waste through their Rewear program.The cardigan-style Table Mountain Jacket offers their trademark blend of fashion and function. The breathable fleece

 body and collar and cozy knit arms make the most of the V-shape silhouette, offering a contemporary look that's sporty yet stylish.

Their Urbanesque Sherpa Cardi is clearly inspired by the mountains, combining Alpine influence with technical performance designed to keep you warm even when weather turns frigid. Incredible soft and well-insulated, it features cozy pockets with a hidden zip for your phone.

READ MORE:Kayaking & Hiking the Dolomites in Italy
Kari Traa Smekker Half-Zip and Pant
One of our favorite sustainable fashion companies, Kari Traa abides by Fair Trade regulations of The International Labour Organization and the UN's Universal Declaration of Human Rights.
Named after its Olympic Skiing medalist founder, the Norway-based brand also uses no chemicals in manufacturing and only works with Bluesign-certified suppliers.
The Smekker Half-Zip and Pant are made from extremely soft, lightweight Merino Wool, which make a great gift for those frosty winter mornings.
The base layers offer impressive insulation and flatter the feminine form fantastically, with flatlock seams to prevent chafing and the quick-drying wool fibers keeping you warm and toasty.
READ MORE: Climbing Nigardsbreen Glacier in Norway (He Said/She Said)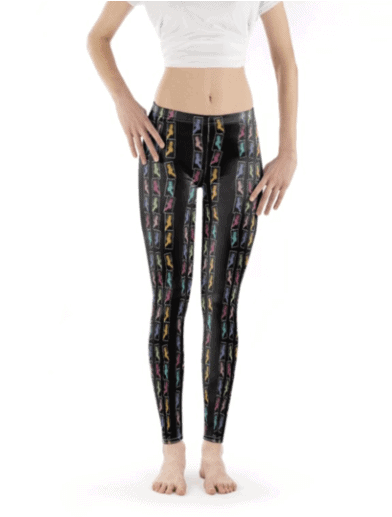 Mash City Leggings
Founded by LA-based painter/art curator/gallery owner Haleh Mashian, MASH City operates at the intersection of art and fashion.
A reflection of the bold, colorful styles exhibited at her MASH Gallery, Mashian's clothing line is artful and creative, yet remains immensely accessible.
From t-shirts and skirts to hoodies and bomber jackets, her men's and women's clothes are dripping with hip, metropolitan style that recalls artists from Andy Warhol to Patrick Nagel.
But my personal favorite are these sleek, sexy leggings, which straddle the line between sportswear and urban fashion with a funky, punky design.
READ MORE: The History of Caribbean & Latin American Art

Rafi Nova Black Sapa Supernova Backpack
This beautiful backpack comes from Rafi Nova, a family-owned travel accessory brand.
The company grew out of Marissa and Adam Goldstein's love of traveling in Southeast Asia, where they live part of the year (in Vietnam). Inspired by the handicrafts of the Hmong artisans, they launched a Fair Trade line rooted in traditional Vietnamese textiles.
The vibrant SuperNova Backpack is ultra-sustainable, made with vegan leather, recycled plastic lining, and upcycled vintage Asian textiles.
The backpack is as functional as it is fashionable, with an exterior padded laptop pocket, insulated inner pocket, vertical side zippers for easy access, and more great features.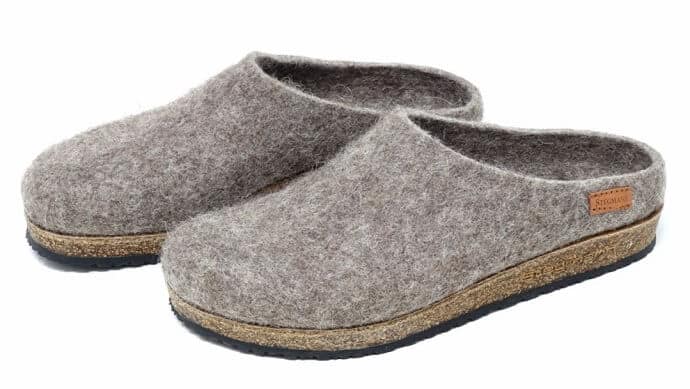 Stegmann Women's EcoWool Clog
The EcoWool Clogs from Stegmann are eco-friendly shoes made from all natural Shetland or Tyrolian Stonesheep wools. The wools are sourced from small European farms that practice sustainable, cruelty-free farming.
Available in four colors, these excellent walking shoes are manufactured in Austria in a zero waste, carbon neutral facility without using any dyes or chemicals.
The rugged outsole is made from patterned rubber, while the anatomical footbed is made from sustainable cork.
Note that this clog runs 1/2 to a full size large. Stegmann recommends going down a 1/2 size if you plan to wear socks, or a full size if your prefer a snug fit for barefoot wear.  ShopThe EcoWool clog, made from 100% pure, all-natural wools.
READ MORE:The 30 Most Comfortable Walking Shoes & Hiking Shoes for Women
Ably Rib Cuffs Sweatpants & Evangeline Shirt
We're not historically big brand loyalists. But in the past few years Ably Apparel has emerged as one of those rare clothing lines Mary and I both wear consistently.
We've written about their unique Filium cotton technology several times. We love the way their clothes repel all liquids, odors, and stains (requiring less frequent washing), yet they remain super soft and breathable.
Their Rib Cuffs Sweatpants are made with 3% spandex, which gives them a form-flattering fit like yoga pants, but with the coziness of lightweight French terry sweats.
They pair perfectly with the 100% premium cotton Evangeline long-sleeve shirt. It creates a casual, supremely comfortable outfit you can wear every day, whether you're traveling the world or simply lounging at home.
READ MORE:The Best Fair Trade Clothing & Ethical Clothing Brands
Made of Stories Tetouan Leggings & Eros Dress
This unique London-based clothing line is inspired by author David R Loy's book, The World is Made of Stories, which suggests the stories we tell become the building blocks of reality itself.
Made of Stories' chic bohemian style is also clearly influenced by travel, with collections rooted in the cultures of Bali, Bavaria, Greece, and Morocco.
It's easy to see the marvelous mosaic tile designs of Morocco in their Tetouan high-waisted leggings. The eye-catching colors radiate from these yoga pants, which benefit from a 4-way stretch polyester/spandex blend.
Their "When in Morocco" Collection also includes the form-fitting Eros Dress, which pairs the same strecthy microfiber fabric with beautiful bouganvillia flower print.
READ MORE: The 20 Safest Countries in Africa to Visit
GIFTS FOR MEN
Mountain Hardwear Polartec High-Loft Pants & Super/DS Stretchdown Hooded Jacket
With restaurants and social gatherings off the table for much of 2020, we find ourselves spending most of our free time outdoors, hiking trails, exploring local state parks and waterfalls.
As a result, most of our clothing these days is designed for the outdoors, including this warm, cozy outfit from Mountain Hardwear.
Their ever-popular Polartec High Loft Pants make the most of their ultra-soft and lightweight fleece fabric. Thanks to the Power Stretch panels on the sides, knees, and cuffs, they conform to your body snugly, yet remain breathable and warm at the same time.
We're even more impressed with the ultralight Super/DS Stretchdown Hooded Jacket. Quality 700-fill, RDS-certified down insulation is woven into stretchy pockets, which allow for a complete range of movement in your outdoor adventures.
READ MORE:The 15 Best State Parks in Georgia
Gobi Heat Sahari Mens 3-Zone Heated Jacket
It might seem strange to name a jacket-focused brand after a desert in China and Mongolia. (Unless of course you know that many deserts can get shockingly cold at night.)
But Gobi Heat lives up to its name with a line of heated jackets that use a 7.4v battery to give you up to 10 hours of warmth in even the coldest climates.
Their new Sahara model offers three levels of heat in three different zones– two smaller ones in the front and a large one in the back. The soft shell exterior is wind, water and abrasion resistant, while the inner line is super-soft fleece.
The battery can be recharged in 3-4 hours, and can also be used to charge your phone.
READ MORE:The 25 Biggest Deserts in the World
SOLO Eyewear & Smith Optics CORE Collection
SOLO Eyewear started as Jenny Amaraneni's project for a entrepreneurship class at San Diego State. After learning a billion people have no access to eye care and nearly 80% of the world's blindness could be prevented, she launched an eco-friendly brand designed to give back.
SOLO models such as the Mexico (which is made from repurposed wood) and the Fiji (repurposed bamboo) are as environmentally friendly as they are attractive. And 10% of profits from each sale go to restoring vision for people in need.
Smith Optics is a 30+ year old Idaho-based brand. Originally best known for ski goggles and helmets, they also craft eye-catching sunglasses made from post-consumer plastic.
Their CORE collection includes 3 styles– the Eastbank, Lowdown 2, and Shoutout– each made from 5 recycled plastic bottles. The polarized lenses are made from a castor-oil based material, and even the microfiber bag and box they come in are made from recycled materials.
Toad & Co Mission Ridge Pants & Flatlander Hoodie
The California-based clothing line Toad & Co is another eco-friendly brand we've loved for years, creating men's and women's travel clothes that are equally sustainable and fashionable.
Named one of Outside Magazine's Best Places to Work 7 years in a row, the brand's "designed for good" ethos includes co-founding Search for Adventure, a unique program that facilitates vacations for adults with disabilities.
Their Mission Ridge Pants are made with Highroad Twill Eco fabric, which mixes 77% organic cotton with polyester (for durability) and spandex (for stretch). Basically, that means these casual khakis are REALLY comfortable.
The pants make a great match for their Flatlander Hoodie, whose wrinkle-resistant sherpa fleece is made with 50% recycled polyester and 29% organic cotton. We love details like the internal locker loop and forward shoulder seam for backpack compatibility.
READ MORE: The 40 Best Backpacks for Travelers
FILACTIVE Unisex XL Digital Watch
Watches seem to have largely fallen out of favor with the rise of smartphones that put the power of computers right at our fingertips.
But for campers, hikers, and nature lovers who enjoy spending time in the wilderness (where you're often out of cell tower range), having a watch just in case is never a bad idea.
As avid lap swimmers and Scuba divers, we dig the fact that this FILACTIVE unisex watch from OG Watches USA is water-resistant to a depth of 100 meters.
We also love the extra large face, which makes the digital dial extremely easy to read, especially when you're underwater.
READ MORE:The Best Gifts For Campers, Hikers & Nature Lovers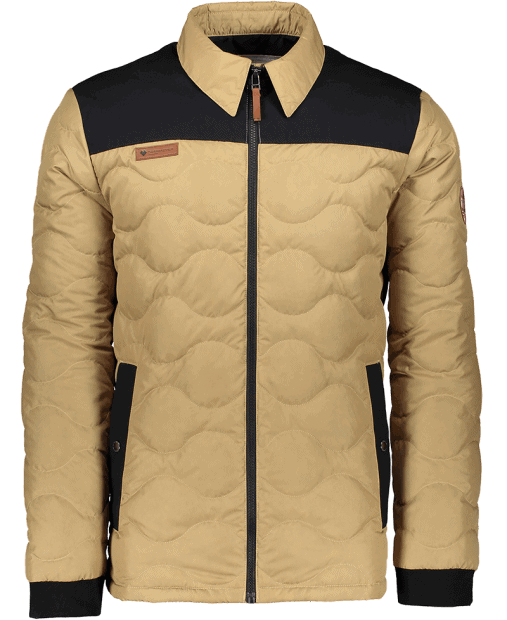 Obermeyer Kaden Down Jacket
Founded by German-born skiing enthusiast turned Aeronautical Engineer Klaus Obermeyer in 1947, this alpine sports brand is one of the oldest in the world.
Now based in Colorado, where Klaus was named to the Colorado Business Hall Of Fame in 2015, the family-owned company continues to innovate products designed to get people active outdoors even when the weather turns frigid.
To that end, the Kaden Down Jacket is an update on a vintage Obermeyer jacket design that dates back 70+ years. The company has partnered with Allied Feather & Down to create an impressively warm heritage piece insulated with 550 Fill Power Duck Down.
We love its classic style, which includes retro quilting and waxed cotton canvas across the shoulders for added durability and 3-season protection from the elements.
Saxx Vibe Boxer Briefs
Over the past 10 years, I've tried just about every brand of underwear on the market in an unending attempt to find the perfect pair.
Some fit too loosely, and don't offer enough support. Some technical types are too rough, chafing the skin. Some have waistbands that are too wide, while others fall apart after a few washes.
For me personally, the Vibe Boxer Briefs from Saxx are the best men's underwear in the world. They're supremely soft and moisture-wicking, with a slim-fit style and the patented BallPark Pouch that offers men excellent support in all the right places.
They have tons of cool, colorful styles to choose from. But my current Christmas favorites are the peppermint print Red Hard Candy and the snowman-themed Blue Pucking Awesome.
READ MORE: The Most Comfortable Walking & Hiking Shoes For Men

Patagonia Nano Puff Jacket
Patagonia has long been one of our favorite outdoor brands. Not only because we love their quality clothing and gear, but because of their trailblazing conservation initiatives (particularly in Chile, where they preserved more than a million acres).
Their Men's Nano Puff Jacket is another great example of how the 47-year-old company applies their eco-friendly ethos to everything they do.
The Fair Trade Certified jacket uses 60g PrimaLoft Gold Insulation Eco, which includes at least 55% post-consumer recycled polyester, inside a 100% recycled polyester shell and lining.
It's made with P.U.R.E. (Produced Using Reduced Emissions) technology,  which reduces carbon emissions during the manufacturing process. So it's remarkably lightweight, yet warm, windproof, and water-resistant. As a bonus, it also happens to look great!
READ MORE:The 20 Best Things to Do in Patagonia, South America
TECH GIFTS

FeiyuTech AK200C Handheld Gimbal for Camera
Mary and I upgraded our DSLR camera and lenses in 2015, right before our 3-week safari to explore the National Parks of Tanzania and Rwanda.
Unfortunately, even with $3000+ in new camera gear, our handheld videos have always been a little too shaky for my tastes. So a gimbal has been on my Christmas wish list for the last couple of years.
The lightweight, 3-axis AK200C Handheld Gimbal Stabilizer from FeiyuTech is a total game-changer for us. It works with most DSLR/lens combos as well as most mirrorless cameras, and has an easy-to-use touchscreen that doesn't require an external app.
We love the simple one-touch features for controlling exposure, ISO, time lapse, selfie mode, and more, and cannot wait until we can travel again and really test it out in the wild!
READ MORE: The 25 Best National Parks in Africa for Wildlife Safaris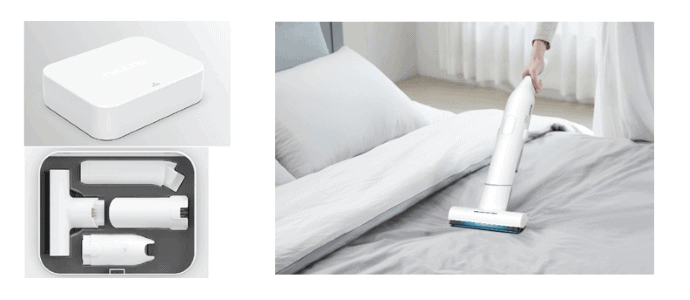 Raycop

 Go

The travel industry has been devastated more than most by the international lockdowns of 2020, and who knows when it will truly be safe to explore the world again?

But when that time comes, the new Go Portable UV Vacuum from Raycop is an innovative tech gift designed to help make it safer.

The world's first portable UVC vacuum cleaner, the Raycop Go uses the same technology used in hospitals to eradicate 99% of bacteria, dust mites, and viruses from fabrics, floors, curtains, etc.

Weighing just 1.82 pounds and measuring 20.6 x 5.5 x 6.6″, the portable cleaning device breaks down quickly for easy portability. Its battery charges in 3 hours and provides up to 30 minutes of use.

READ MORE:10 Green Products for a More Eco-Friendly Home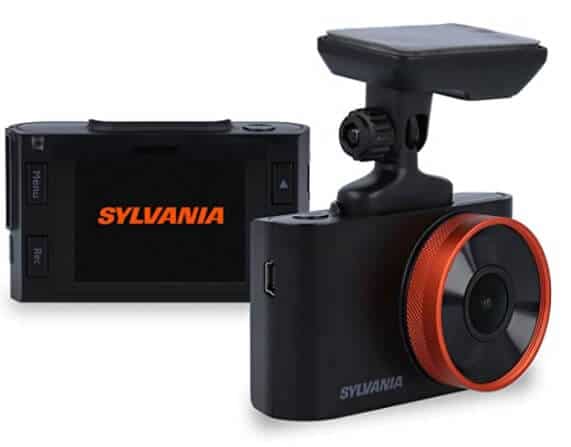 Sylvania Roadsight Pro Camera
With international all but impossible this year, we have instead turned to North Georgia and North Carolina road trips for our new website, the Blue Ridge Mountains Travel Guide.
Staying in remote cabins and exploring the wilderness has provided some incredible memories, including a gorgeous Blue Ridge Parkway road trip with our dogs during the peak of Fall colors.
The Roadsight Pro from Sylvania is a great tech gift for road trippers, with a magnetic mounted 1296p camera that records crisp, high-def photos and video.
The tiny dash cam is smaller than a credit card and has great features such as GPS tracking, high-contrast night vision, automatic on/off, G-sensor collision detection, and more.
READ MORE: The World's Best Road Trips Bucket List

Andar Wallets MacBook Pro Case
When travel is part of your business, you're almost always working when you travel.
For us, that means editing/uploading photos and writing/editing stories, which means we always have our laptops in tow. As a result, my MacBook Pro tends to see a lot of wear and tear.
Andar Wallets offers a snazzy solution for protecting your computers at all times with The Helm, a beautifully crafted leather laptop case that easily snaps onto the top and bottom.
It provides 360º protective coverage, yet allows easy access to all your computer's ports and has vented cutouts to prevent overheating. It's a great way to keep your laptop safe, no matter where your future travel adventures may take you.
READ MORE: How to Start a Travel Blog (& Build a Successful Business)

Canon imageFORMULA Scan-tini P-215II Scanner
Working from home was a new thing for many people in 2020. But after doing it for nearly 20 years, I've learned a few things about how to make it more manageable.
For me, the key is flexibility and adaptability, finding tools and techniques that allow me to do my job whether I'm at home, on our boat at the lake, or traveling abroad.
The imageFORMULA Scan-tini P-215II scanner from Canon is an excellent tech gift for any professional who works on the go and needs to scan documents, photos, etc.
Measuring 1.6 x 11.0 x 3.7″ with trays closed and weighing just 2.2 pounds, it's small enough to fit into a briefcase or laptop bag. Yet it provides one-touch plug-and-scan capability, scans up to 15 pages a minute, and automatically adjusts resolution to improve image quality.
READ MORE:50 Travel Blogging Tips From Our First 5 Years

Global

 

Telecom

's NetStick USB Modem

Another great gift for anyone who works while traveling, Global Telecom's NetStick USB modem is designed to provide quick LTE broadband connection almost anywhere you can access a signal.

Weighing 1.76oz and measuring 7.3 x 1.6 x .63″, the plug-and-play device is small enough to fit in your pocket (or on a keyring). It's also the highest-rated mobile hotspot in the Sprint/T-Mobile online store.

The auto driver install and host-less connectivity make it a breeze to use, and the high gain 2×2 MIMO antenna helps to improve performance and coverage.

Though coverage may be limited in more remote sections of the mountains, it's still a handy device for working just about anywhere you want to hang your hat.

READ MORE: The 20 Tallest Mountains in the World (by Continent)
Pioneer Rayz Pro & 
Ausounds AU

-Flex ANC

When we're able to travel by air, noise-cancelling earbuds and headphones are arguably among our most essential pieces of travel gear.

Not only do they allow us to listen to music or watch movies on the plane, but we often use them to drown out the sounds of loud talkers or screaming children so we can work or sleep en route.

The Pioneer Rayz Pro Earphones are smart earbuds that automatically adjust your sound depending on the environment. They also offer hands-free control, a smart button for quick control shortcuts, and the ability to listen and charge your iPhone simultaneously.

The AU-Flex ANC Wireless Neckband Earphone offers a more high-end option, which earned honors at the 2020 Consumer Electronic Show (CES) Innovation Awards. Designed with sustainable metals and lightweight aluminum, these are professional quality earphones for serious music lovers.

READ MORE:The Ultimate Beach Vacation Packing List

 
HEALTH & WELLNESS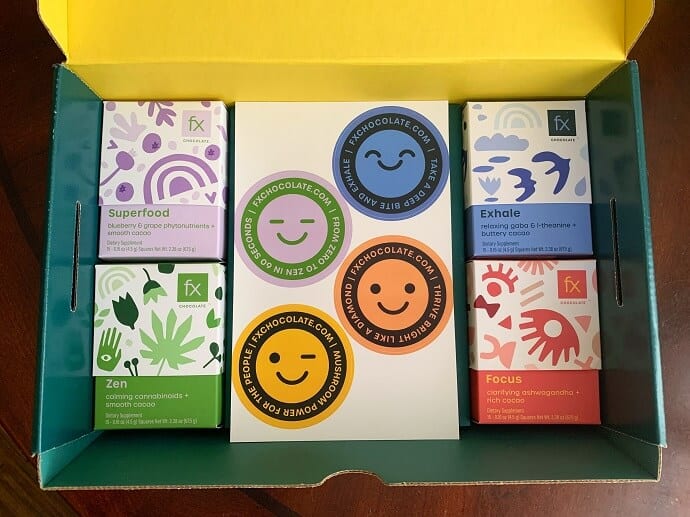 FX Chocolate Formula Collection
From dietary supplements to CBD, alternative approaches to health and wellness have never been popular than they are now.
FX Chocolate is an intriguing keto- and vegan-friendly company that operates at the intersection of gourmet food, supplements, and integrative medicine. In short, they blend therapeutic doses of sustainably-sourced active ingredients with artisanal chocolate.
Their chocolate creations are all sugar free (instead they use a natural sweetener found in figs and raisins), gluten-free, and have no GMOs. Yet you'll never taste what's missing!
Their Formula Collection includes a 30-day supply of flavors like Zen (powered by Hemp Cannabinoids), Focus (with Ashwagandha), and Superfood (with Blueberry & Muscadine Phytonutrients). All are designed to make you feel as good as they taste.
READ MORE: The Best Food Gifts From Around the WorldThree Sisters Apothecary 4-Bar Sampler Gift Set & Bath & Skincare Essentials Gift Set
Soaps and other personal care products are perennially popular gifts in our household: I'm still using great-smelling bar soaps my daughter gave me for my birthday 6 months ago!
Soap Cauldron, from the California-based Three Sisters Apothecary, is a new-to-us brand. The Hispanic, female-run family business crafts small batch artisan soaps and skincare made with gourmet butters, natural botanicals, and pure plant oils.
From the lovely packaging to the sensational smells that waft as you open each box, their 4-bar Soap Sampler Gift Set offers a great introduction to the line. From Cedar and Eucalyptus Peppermint to Lemongrass and an Unscented, each uses soothing shea butter to soften skin.
We also love their Bath & Skincare Essentials Gift Set, which are available in numerous different scents and includes shea butter bar soap, body butter, and lip balm.
READ MORE:DIY Natural Travel Toiletries & Personal Care Products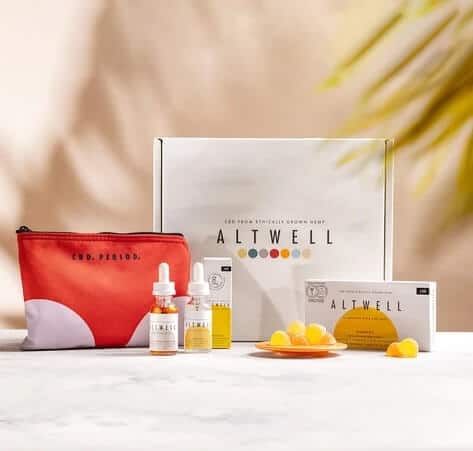 Altwell PMS Kit CBD Collections for Mind and Body
Mary and I were fairly late to jump aboard the CBD bandwagon. But the tumultuous rollercoaster rides the last two years have brought us made us true believers.
Altwell is a new health and wellness brand from the family that invented Muscle Milk. They're using their four generations of experience in food and beverage manufacturing on a mission to make CBD-infused products taste great.
Their PMS Kit offers a fine introduction to their uniquely crafted flavors of CBD products from ethically grown hemp.
Designed to provide balance and calm, the kit includes mixed flavors of CBD Gummies, a Pineapple-flavored 10 CBD Tincture, and a soothing Facial Serum made with hemp flower, rosehip seed, pomegranate seed, Argan, and other essential oils.
READ MORE: Top 15 Female Wildlife Conservationists & Animal Activists 
Chil Wellness
Los Angeles-based shop Chil Wellness is another brand focused on CBD-powered healing.
It all started with founder Kevin DeMeritt's frustration with the side effects of medicines prescribed to treat his young daughter Aspen's Juvenile Rheumatoid Arthritis.
Working with a team of scientists and doctors, they began adding CBD to natural healing ingredients, creating topical ointments that could relieve her pain. Now, a portion of every purchase is donated to the Arthritis Foundation.
Named after his daughter, Aspen's Maximum Relief Roll-On makes a great gift for athletes or anyone who deals with joint pain. And their Mellow Mint Drops offer 1000mg of peppermint-flavored full-spectrum organic CBD extract, which is awesome for inducing maximum chill.
READ MORE:A Shaman's Blessing in the Peruvian Amazon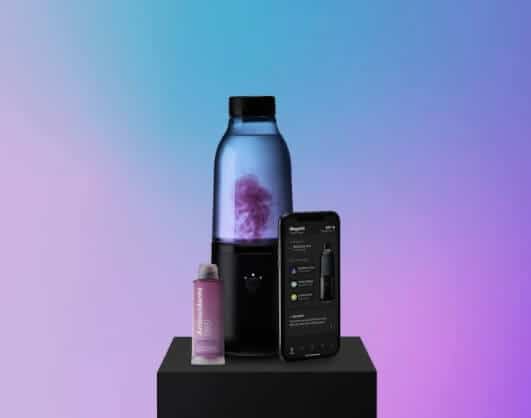 LifeFuels Smart Bottle
Combining advanced technology with health and wellness, the LifeFuels Smart Water Bottle is the perfect invention for our app-addicted times.
The world's first smart water bottle helps you add essential vitamins and nutrients to your water, using an app to customize and track your beverage consumption.
The winner of a CES Innovation Award in Fitness, Sports, and Biotech, the device uses FuelPods stored in the bottles base to add electrolytes, antioxidants, and/or daily vitamins.
It's the most futuristic approach to hydration we've ever seen, and makes a unique gift for the fitness buff or health enthusiasts in your life. –by Bret Love