Created by William Cornwallis Harris during the Victorian era and popularized by authors such as Jules Verne (Five Weeks in a Balloon) and Ernest Hemingway (The Snows of Kilimanjaro), African safaris tours have existed in some form or fashion for nearly 200 years now.
Safari, meaning journey in Swahili, have evolved over time.
Where once safaris in Africa largely involved hunting and roughing it in the wilderness, these days theyre mostly about watching and photographing wildlife.
African safaris come in every level of luxury and budget you can imagine, with dozens of countries offering incredible African safari holidays.
And while wildlife safaris have become a global phenomenon (see: Galapagos Islands Animals, Alaskan Animals, Costa Rica Animals, and Indian Animals), Africa remains among the best continents for nature and wildlife lovers to explore.
Heres a look at 10 of the best places for African safari tours, from iconic East African countries such as Kenya and Tanzania to up-and-coming ecotourism hotspots like Malawi, Namibia, and Rwanda.
READ MORE: 20 Endangered African Animals You Can See On A Safari
Best Places for African Safari Tours Guide
(listed alphabetically)
Botswana
Kenya
Malawi
Namibia
Rwanda
South Africa
Tanzania
Uganda
Zambia
Zimbabwe
READ MORE:The 15 Best National Parks in the World for Wildlife Watching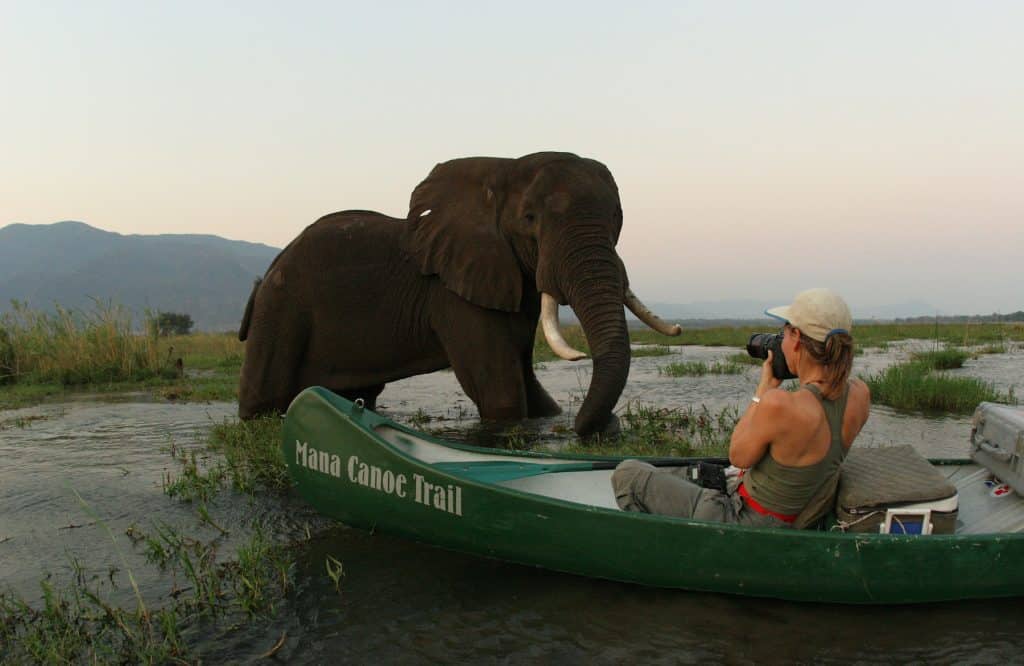 1. BOTSWANA
People seem surprised when we tell them that Botswana is currently #1 on our African safari bucket list.
But the countrys aggressively forward-thinking approach to wildlife conservation and its unique array of national parks and game reserves make it a haven for nature lovers.
The countrys anti-poaching methods are among the strictest in all of Africa. Botswana banned commercial hunting entirely in 2014, and environmental minister Tshekedi Khama launched an unofficial shoot-to-kill policy for poachers.
Anti-poaching units are overseen by the government-funded Botswana Defense Force, which means they have more training, weapons, and other resources than APUs in other countries.
And since wildlife management is largely left in the hands of local communities (which provides an alternative source of revenue to poaching), poachers are widely treated as enemies of the people.
As a result, Botswana has emerged in recent years as one of Africas hottest ecotourism destinations. The vast elephant herds of Chobe National Park and canoe-based wildlife safaris in the Okavango Delta are among the nations world-renowned tourist attractions.
But there are also traditional Big five animal safaris at Moremi Nature Reserve (Botswanas first protected area) and uncrowded gems such as Makgadikgadi Pans National Park, Nxai Pan National Park, and the Central Kalahari Game Reserve.
READ MORE: The 20 Safest Countries in Africa to Visit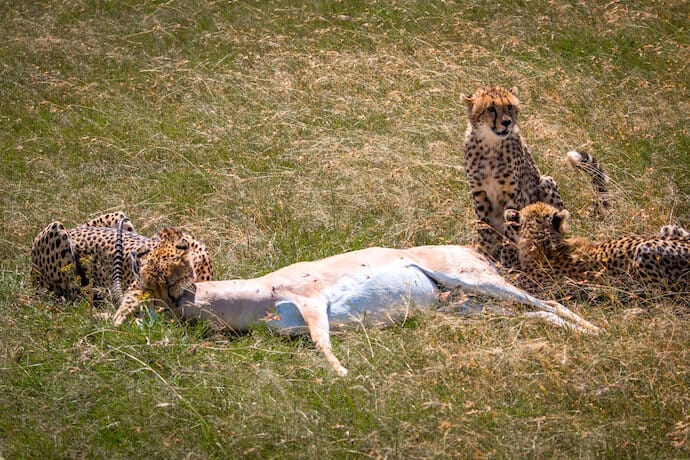 2. KENYA
As African safaris go, its difficult to beat a tour of Kenyas national parks and conservancies.
Even if you dont visit during Africas Great Migration when millions of wildebeests, zebras, and other herbivores follow the rain north from Tanzanias Serengeti Kenyas stunning natural beauty and dizzying array of wildlife defies adequate description.
Kenya offers 25 national parks, 16 national reserves, six marine parks and reserves, and countless private conservancies for visitors to explore.
The country boasts approximately 390 species of mammals (including 20 primates, 37 carnivores, and 43 ungulates), 1100 species of birds (eight of which are endemic), 280 reptile species, and 115 amphibians.
The most popular of Kenyas national parks include 151-square mile Amboseli, a UNESCO World Heritage Site near the Tanzanian border thats known for its massive elephant population, 400+ bird species, and spectacular views of Mount Kilimanjaro.
And of course the Masai Mara National Reserve needs no introduction as the northern stop of the Great Migration route.
But the 583-square mile reserve is just a part of the Greater Mara Ecosystem, which includes neighboring, owned by the Maasai people, the private Massasi Mara conservancies and conservation areas.
The Greater Mara area is home to about 25% of Kenyas wildlife, including an exceptional population of Big Cats (cheetahs, East African lions, and leopards) as well as their prey.
READ MORE: Animals in Kenya: A Guide to 40 Species of Kenyan Wildlife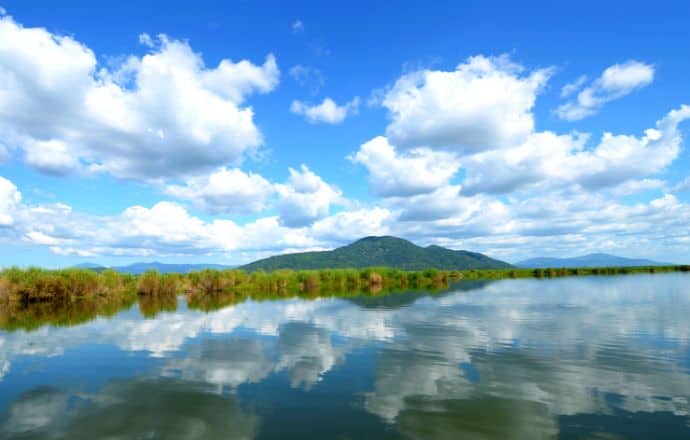 3. MALAWI
Most people would be hard-pressed to locate Malawai on a map (hint: its south of Tanzania and Zambia, north of Mozambique), let alone explain why the country is considered an up-and-coming ecotourism destination to watch.
The country is tiny (45,747 square miles), relatively undeveloped, with most of the population rural and impoverished.
So why visit? The #1 reason is Lake Malawi National Park, which takes up approximately one-third of the country.
Its one of the most biodiverse lake regions in the world, providing a fertile home for around 200 mammal species (including big cats, elephants, hippos, monkeys, and more), 650 species of birds, and more than 5,500 plants.
But Malawi also has four other national parks (Kasungu, Lengwe, Liwonde, and Nyika), four wildlife reserves (Majete, Mwabvi, Nkhotakota, and Vwaza Marsh), and two biosphere reserves (Lake Chilwa and Mulanje Mountain Forest Reserve), some of which are developing a reputation as off-the-beaten-path havens for birdwatchers.
READ MORE: 20 Largest Lakes in the World by Continent (For Your World Travel Bucket List)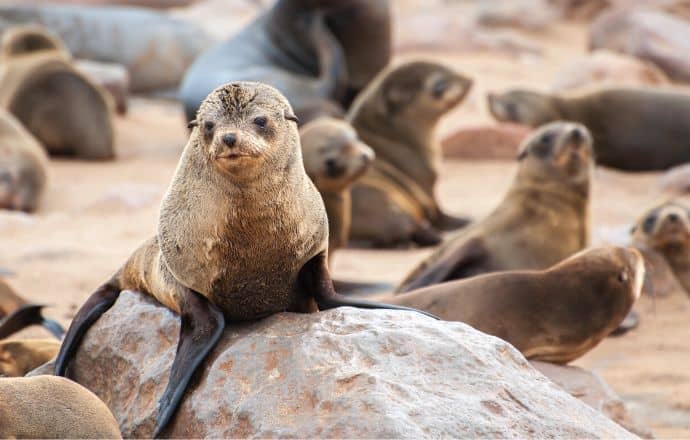 4. NAMIBIA
Located on the continents southwestern coast, Namibia is utterly unlike any other nation in Africa.
With just two million people living in an area of over 300,000 square miles, its one of the least populated countries on the planet.
The land in-between the cities most of which is dominated by the Kalahari and Namib Deserts is wild and relatively unspoiled by any sort of development.
But dont let the stark images of the ghost trees of the Deadvlei and the striking red dunes of Sossusvlei fool you: Namibia is positively teeming with life.
With 12 national parks as well as numerous other reserves and protected areas, the country has plenty of wildlife-rich areas to explore.
Etosha National Park, which is home to four of Africas Big five animals (no Cape buffaloes), is so dry that you can usually find animals gathered around its watering holes.
Bwabwata National Park, located on the narrow strip of land near Zambia and Zimbabwe, has wetlands that make it a great place to spot elephants and birds.
The remote wilderness of Khaudum National Park is home to loads of lions, cheetahs, hyenas, Roan antelope, and elephant herds.
But the countrys most unique protected area may be the Cape Cross Seal Reserve. Its home to one of the largest Cape fur seal colonies in the world, with a population that can exceed 500,000 animals!
READ MORE: The 25 Best National Parks in Africa for Wildlife Safaris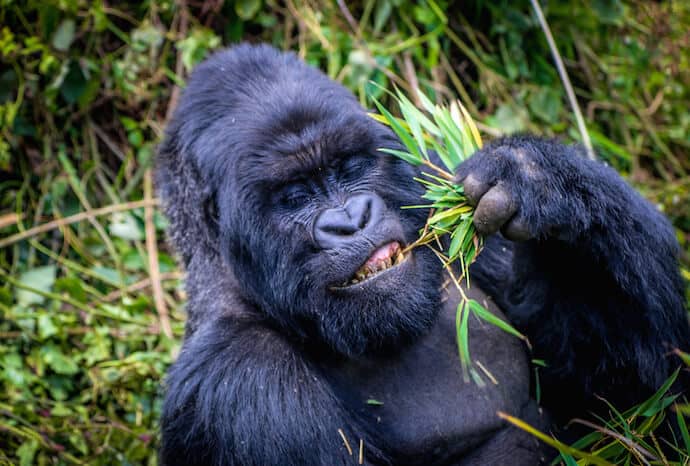 5. RWANDA
Talk about this landlocked East African nation and the first thing that usually springs to most peoples minds is Hotel Rwanda and the mass Rwanda genocide of nearly a million people back in 1994.
But the last 29 years have brought a lot of infrastructure investment in Rwanda, and the result is one of Africas most impressive (and fastest growing) ecotourism destinations.
Most people are familiar with Rwandas mountain gorillas, whose plight for survival was made famous by National Geographic and the late Dian Fossey in the 1970s and 80s.
Thanks to conservation initiatives created by Fossey and still executed today by the Dian Fossey Gorilla Fund, the latest census shows that the population in the Virunga Mountains continues to grow.
A few years ago, the total number of Rwandan Mountain Gorillas exceeded 1,000 for the first time in decades.
There are 10 habituated gorilla families in Rwandas Volcanoes National Park, with groups of 8 trekkers allowed to visit them for one hour each day.
Spending time with these gentle giants ranks easily among the best African safari experiences. But its far from the only awesome activity for nature lovers in Rwanda.
From trekking to see habituated chimpanzees and numerous other primate species in southern Rwandas Nyungwe Forest National Park to a more traditional Big five safari in eastern Rwandas Akagera National Park, this country remains a relatively uncrowded gem for wildlife watchers.
READ MORE: 50 Interesting Facts About Gorillas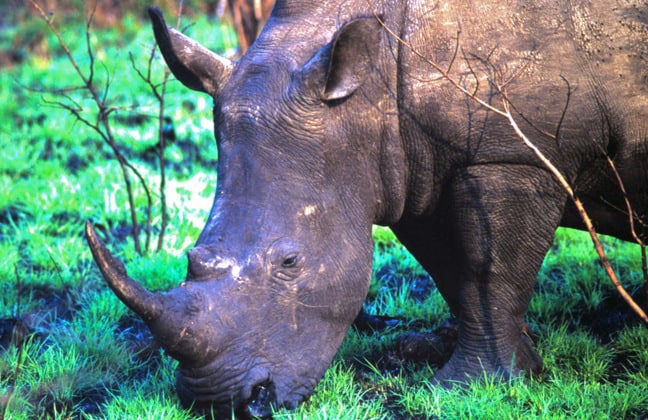 6. SOUTH AFRICA
Apartheid ended in 1994, and in the ensuing years South Africa has emerged as one of the most popular destinations for African safari vacations.
Its location makes it convenient and cheaper for U.S. residents to fly to, while the well-developed infrastructure of its major cities (including Cape Town, Durban, and Johannesburg) makes it easier for luxury travelers to find the creature comforts they love.
With nearly one million annual visitors, Kruger National Park is the countrys biggest attraction for nature/wildlife lovers.
Part of the UNESCO-protected Kruger to Canyons Biosphere Reserve, the park encompasses around 7,500 square miles in the northeastern Limpopo and Mpumalanga provinces.
On the positive side, Kruger boasts impressive biodiversity and is the rare national park where visitors can self-drive themselves and still have a superb safari.
Spend a few days there and youre virtually guaranteed to see the Big five animals, as well as rare species such as African wild dogs and cheetahs.
On the downside, the park has grown so popular that overtourism is an issue: Major sightings during peak season will find dozens of vehicles angling to get a peek, and not everyone obeys the rules.
To experience more intimate and luxury African safari tours, visit any of the major private game reserves located in the Greater Kruger area.
KwaZulu-Natal, in southeastern South Africa, also offers excellent safari opportunities in HluhluweiMfolozi Park, the wetlands of iSimangaliso Wetland Park (a UNESCO site), and numerous private reserves.
READ MORE:My Life Changing Experience in South Africa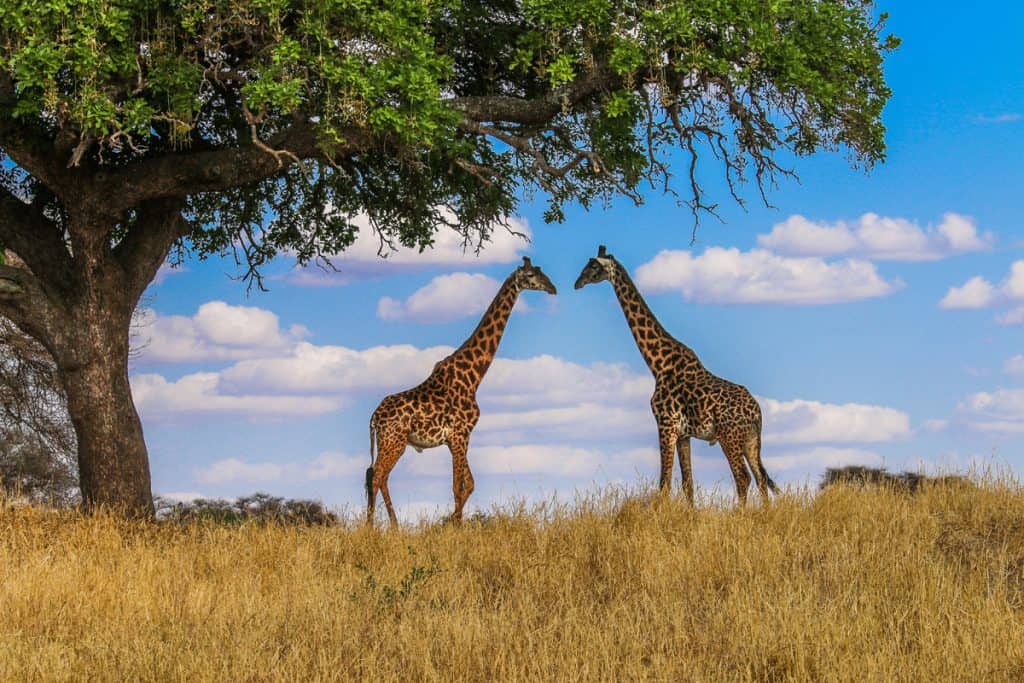 7. TANZANIA
As the starting point for the world-renowned wildebeest migration, this East African hotspot ranks second only to Kenya among the continents most popular safari destinations.
And with good reason: The 16 Tanzania national parks, three game reserves, and two marine reserves offer an extraordinary wealth of wildlife and other natural wonders.
The Ngorongoro Conservation Area is arguably the most fascinating of Tanzanias protected areas.
The UNESCO World Heritage Site is centered around the worlds largest inactive, intact, and unfilled volcanic caldera, whose 100 square miles are packed with approximately 25,000 large animals at any given time.
Serengeti National Park, where the Great Migration begins, may be Tanzanias most famous.
But lesser-known gems such as Gombe Stream National Park (where Jane Goodall conducted her famous chimpanzee research), Tarangire National Park (home to a sizable population ofendangered elephants in East Africa), and Lake Manyara National Park are all equally exceptional in their own right.
Most people dont think of Tanzania as a birdwatching destination. But the country is home to some 1100 different bird species.
Of these, 43 are rare, 36 are listed as threatened by the International Union for the Conservation of Nature (IUCN), and 23 are endemic.
READ MORE: Embracing the Culture of the Maasai People in Tanzania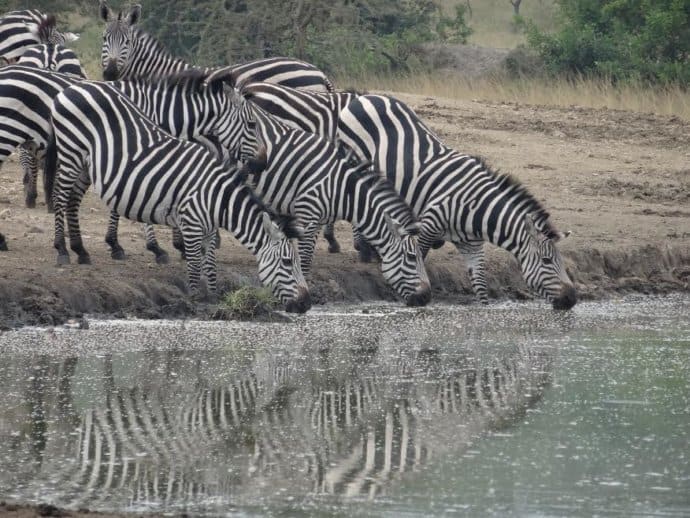 8. UGANDA
Winston Churchill once called Uganda the Pearl of Africa, and the countrys natural attractions have helped it move up in the rankings of the best safari destinations in recent years.
In addition to its impressive array of wildlife (around 365 species of mammals and nearly 1100 species of birds), Uganda is also home to Africans highest mountain range as well as the worlds largest free-standing volcano, second-largest freshwater lake, and the headwaters of the worlds longest river.
The Bwindi Impenetrable Forest, which is home to nearly half of the worlds remaining mountain gorilla population, is the most well-known of Ugandas protected areas.
But the 93,065-square-mile country boasts nearly 30 other national parks, wildlife reserves, and sanctuaries that are equally worthy a visit for lovers of nature and wildlife.
Visitors to Queen Elizabeth National Park can enjoy tracking chimpanzees in Kyambura Gorge and looking for the unusual tree-climbing lions of the Ishasha sector.
Murchison Falls National Park allows visitors to take a wildlife-watching cruise along the Nile River: The area is home to approximately 450 species of birds and over 75 species of mammals.
And the forests of Kibale National Park, which is next to Queen Elizabeth, is home to chimpanzees and 12 other primate species.
READ MORE:How Gorilla Trekking in Uganda & Rwanda Funds Gorilla Conservation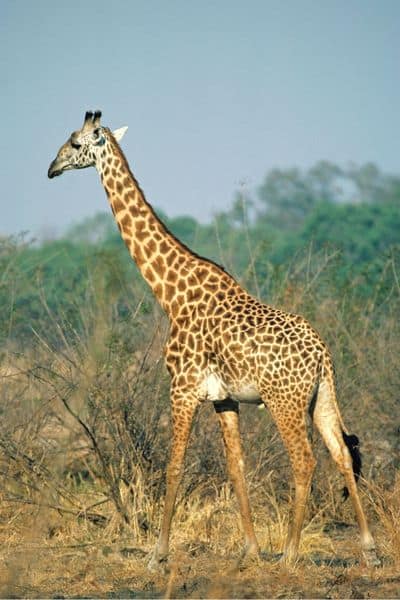 9. ZAMBIA
Though not nearly as popular as the traditional African safari destinations (Kenya and Tanzania), Zambia like Botswana is widely considered the continents next big thing.
The President is keen on conservation, the nations economy and infrastructure growing quickly, and there are 20 national parks within its 290,587-square mile area.
The most famous of these is Mosi-oa-Tunya National Park, which is named after the Lozi language phrase for the legendary Victoria Falls, The Smoke Which Thunders.
The park borders the Zambezi River and is mirrored on the other side by Zimbabwes Victoria Falls National Park.
The wildlife section of the park is home to animals such as African elephants, Angolan giraffe, Burchells zebra, Cape buffalo, crocodiles, hippos, impala, sable antelope, and more.
But there are numerous other noteworthy national parks in Zambia. The Lower Zambezi National Park offers a rare opportunity for a safari by canoe, with animals such as hyena, leopards and lions occasionally seen stalking impala, waterbuck, and other ungulates near the waters edge.
The 3,400 square mile South Luangwa National Park offers world-class African safaris, including the rare Thornicrafts giraffe and around 14,000 elephants.
And the privately managed Kasanka National Park, located along the Lake Bangweulu basin, is a haven for birdwatchers, with over 400 different avian species.
READ MORE: 50 Fascinating Facts About Giraffes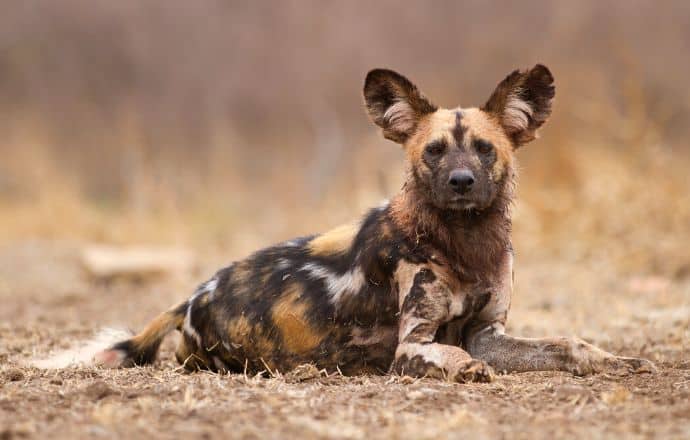 10. ZIMBABWE
Zimbabwes reputation was tarnished for years, due in part to the iron-fisted rule of dictator Robert Mugabe and in part to the controversial killing of the world-renowned Cecil the Lion.
But since Mugabe was ousted by a coup that forced his resignation in 2017, both the Zimbabwe Tourism Authority and the local tourism industry seem determined to make the country a premiere place for African safaris.
Inbound tourism to Zimbabwe hit record highs within a few months of Mugabes resignation. Interest in the country is surging rapidly as the new administration works to develop infrastructure that will help it meet consumer expectations.
The 354-foot tall Victoria Falls is its most popular attraction. White water rafting, bungee jumping, and wildlife safaris in the neighboring (and much larger) Zambezi National Park are among the many activities on offer in the area.
But irresponsible tourism practices, including walking with lions and elephant riding tours, still abound.
But there are other great safari options in the country. Hwangwe National Park is the largest and most famous, as this is where Cecil was killed in 2015.
Its home to more than 100 species of mammals (including a large population of endangered Cape wild dogs) and 400 species of birds.
Mana Pools National Park, part of the lower Zambezi region where the flood plain boasts an array of lakes, is a UNESCO World Heritage Site that attracts a remarkable array of wildlife during the dry season. Bret Love; lead photo of Elephants in Maasai Mara National Park by Bret Love & Mary Gabbett