Hiking has never been more popular (or essential) than it has become in the COVID-19 era. 
With the pandemic making international travel nearly impossible (and largely inadvisable) for the past year, our usage of local, state, and US National Parks has been at an all-time high. 
It's been a great time to embrace the natural beauty of America. From majestic mountains and vast prairies to lush forests, rushing rivers, and placid lakes, the country offers millions of acres of wilderness to explore. 
But before you set off to follow your Walk In The Woods-inspired trekking dreams, it's important to have the right gear for the adventure. 
To the end, we've tested and reviewed more than 35 products to assemble this list of the Best Backpacking Gear for 2021, from tents, backpacks, and sleeping bags to camp stoves, trekking poles, and more!
READ MORE: The Best Hiking Trails For Your World Travel Bucket List
TENTS
Forclaz Quickhiker Fresh & Black Tent
Looking for a great, budget-friendly backpacking tent? The MSRP for the 2-person Quickhiker tent from Decathlon | Forclaz is a cool $149, but it offers features you'd expect from a much more speedy brand. 
Weighing in at just 6.8 pounds, the lightweight tent fits into a 13-liter compression sack. But its size– 82.7 inches long, 47.2 inches wide, and 42.5 inches high– is impressive. 
There is added room for gear storage on the two 23.6-inch deep "porches" (the spaces between the bedroom and flysheet), plus 4 pockets in the bedroom and an inside hook for hanging a lantern. 
Set-up is a breeze, yet the sturdy tent can withstand winds up to 45 mph. But our favorite feature is the patented "Fresh & Black" exterior fabric, which creates 99% darkness inside the tent even in broad daylight! 
READ MORE: The 15 Best Camping Tents For Families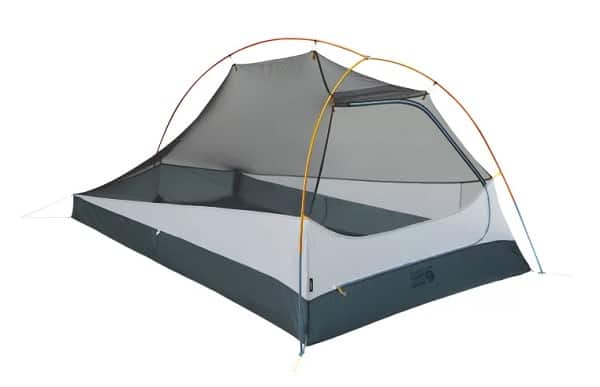 Mountain Hardwear Nimbus Ultralight 2 Tent
Coming in at a considerably higher price point (MSRP of $350), the Nimbus Ultralight 2-person tent from Mountain Hardwear is made for backpackers who don't mind paying more money to carry less weight.
With a packed weight of 2 lbs 2.2 oz and a minimum weight of 2 lbs, the Nimbus uses a waterproof ultralight Sil/Sil nylon fly, DAC Featherlight NFL poles, and reinforced webbing corners to lighten your load.
But it's still heavy on cool features, including a G-Hook canopy-to-pole attachment system that improves compressibility, a pre-bent pole design that maximizes interior space, and a 3/4 mesh canopy for stargazing. 
With a 28.1 sq ft floor area, a 7.7 sq ft vestibule, and an interior height of 41 inches, it's a solid 2-person tent that's impressively easy to carry. 
READ MORE: What is Glamping? A Guide to Luxury Camping

MSR Freelite 1 Ultralight Backpacking Tent
Weighing in at just 2 lbs, the aptly-named FreeLite 1 Ultralight Backpacking Tent is the lightest tent MSR (Mountain Safety Research) has ever made. 
The semi-freestanding, double-wall, one-person tent uses quick set-up Easton Syclone Poles, which are made of aerospace composite materials that can withstand heavy winds.
It's tiny, to be sure, with 18 sq ft of floor space, a 9 sq ft vestibule, and a peak height of 36 inches. 
But the large door, Xtreme Shield weather protection, and micro-mesh canopy for maximum ventilation ensure you'll stay cozy, comfy and dry whenever you're inside it. 
READ MORE: Why the 7 Principles of Leave No Trace Matter Now More Than Ever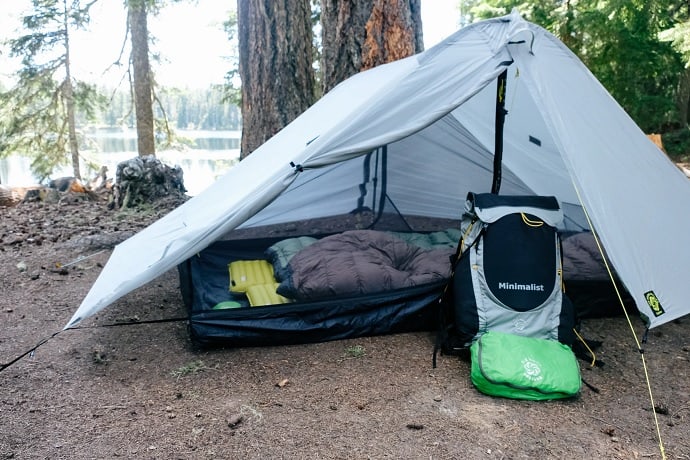 Six Moon Designs Lunar Duo Explorer Backpacking Tent
At first glance, the Lunar Duo Explorer Backpacking Tent from Six Moon Designs seems like an expensive investment when you consider all the things that DO NOT come with it. 
There are no poles or stakes, which are both sold separately. No footprint included. There's even a $30 charge for seam-sealing the tent (though this video has DIY instructions)! 
So why do backpackers call this ultralight tent "the Backcountry Palace"? It's all about the impressive ratio of space (34 sq ft floor space, plus two 12 sq ft vestibules, and 45-inch height) to weight (45 oz, not including poles, stakes, etc). 
The unique design of the arched roof, vertical sidewalls, and adjustable vestibules offer excellent protection from the elements. But given its price ($400+ with all the bells and whistles), this one is probably best left to serious backpackers only. 
READ MORE: The 40 Best Backpacks for Travelers
BACKPACKS
Mystery Ranch Men's Terraframe 3-Zip 50
Based in the Rocky Mountains of Bozeman, Montana, Mystery Ranch is beloved by backpackers and mountaineers alike for their rugged, durable packs. 
The award-winning Terraframe 3-Zip 50 combines two of the brand's best design features.
The OVERLOAD– a staple of their hunting and military packs– offers rigid carbon fiber frame stays and a flexible suspension, which makes it much easier to huge loads (up to 150 pounds). 
The Y-shaped 3-ZIP design makes it easier to access your gear along the trail, with two zippered lid pockets and stretch woven water bottle pockets for additional storage. 
Other great features of this 5-pound pack include daisy chains with adjustable tool attach loops, hydration reservoir compatibility, and a whopping 3,050 cubic inches of storage.
READ MORE: Wildlife in Yellowstone National Park's Lamar Valley
Mindshift Gear BackLight Elite 45L
Designed specifically with backcountry adventures in mind, the Backlight Elite 45L from MindShift Gear offers an award-winning solution for outdoor photographers. 
This rugged, waterproof internal frame backpack offers a whopping 45 liters of storage capacity, with ample room to store your camera gear, tripod (via built-in mounting system), and even a laptop up to 17″!
The top lid can be converted into a belt pack with the removable waist belt, while the front pockets offer 17L worth of storage for a jacket, food, etc. There's also space for a hydration reservoir, as well as two large water bottle pockets.
Other noteworthy features include honeycomb mesh straps for improved airflow, removable camera compartment with emergency shoulder straps, and rear-panel access for added security.
READ MORE: My Stupid Mistake While Hiking Corcovado National Park, Costa Rica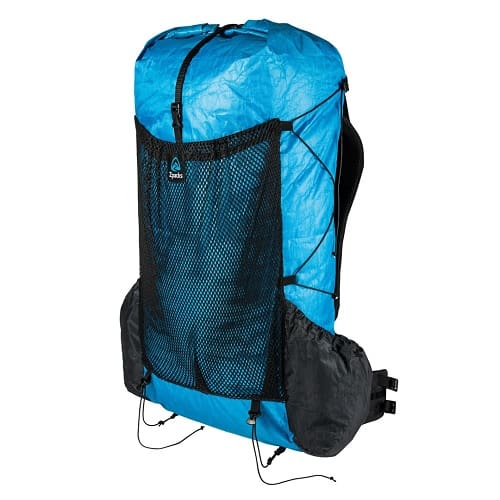 Zpacks Arc Blast 55L Ultralight Backpack
Weighing in at just 20.3 ounces, this Outdoor Gear Lab "Top Pick" from Zpacks is designed for long-distance treks where minimizing your load is a top priority. 
We love its unique technical features, including a patented Flexed Arc Frame and mechanism for adjusting torso height, plus the centrally located Hydration Port(which makes it easy to string a drinking tube over your shoulder).
The 55-liter bag offers tons of storage, including a stretchy mesh center pocket for quick-access items, side pockets large enough for 1.5-liter bottles, and lots of straps for lashing trekking poles or other gear. 
You'll also love the padded 3D mesh shoulder straps and belt, as well as a roll-top closure that keeps water out and allows to compress everything down as your load shrinks. 
READ MORE: The 30 Best Hiking Backpacks & Daypacks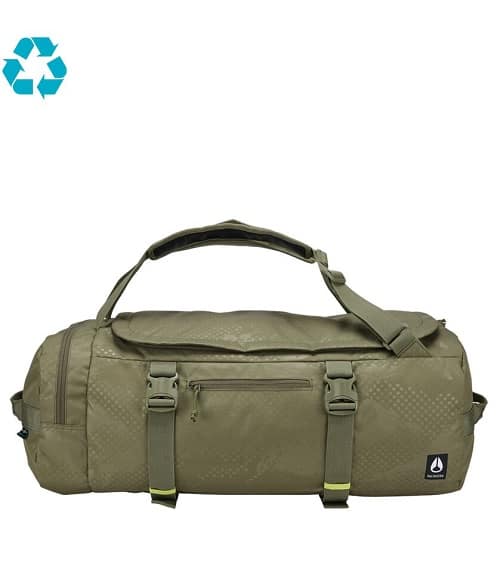 Nixon Escape Duffel 6oL
Nixon started out as a boutique line of watches aimed at skaters, surfers, and other X Games-style sports enthusiasts. But in recent years the Encinitas-based brand has expanded to include bags, clothing leather goods, and accessories.
Their Escape Duffel is an intriguing duffel/backpack hybrid that comes in 3 sizes– the 35L for day trips, the 45L for weekend getaways, and the 60L for longer adventures. 
The detachable shoulder strap and cinch-down backpack straps make it easy to convert the bag's carry modes.
It might not be the most comfortable carry for extended trekking, but we especially like the fact that it's made with REPREVE recycled ocean plastics on the outside and recycled PET on the inside.
I learned the value of a good dry bag early on: I had to cross streams with my backpack held high above my head while hiking in the North Georgia mountains with my family as a boy. 
SealLine is arguably the biggest brand in the dry bag business, and we've been using them on our pontoon boat for years. The Skylake is their new, lightweight (13.5 oz), PVC-free, 100% waterproof pack. 
Like all their durable dry bags, this 18-liter daypack features welded seams and their trademark DrySeal roll-top closure, which ensures a tight seal. 
It's comfortable to carry via the removable shoulder straps, with a front stretch mesh pocket for easy access. But at just 6 x 10 x 21″, it's also small enough to stuff inside a larger pack for multi-day treks. 
READ MORE: The 35 Best Daypacks for Travel
SLEEPING BAGS/PADS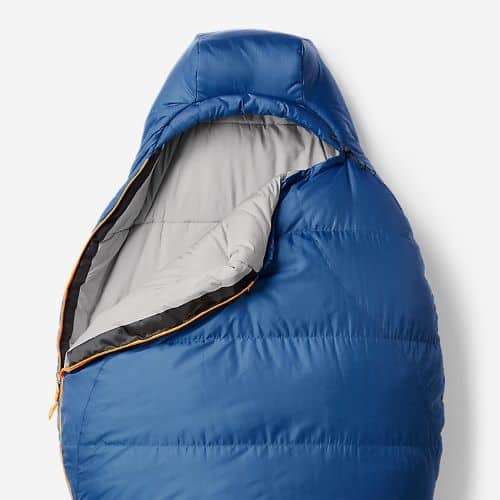 Eddie Bauer Snowline 20° Down Hybrid Mummy Bag
A sleeping bag is a crucial choice for extended trips into the backcountry. Some add too much weight to your pack, while others aren't warm enough for those chilly nights at higher mountain elevations.
This hybrid mummy-style bag from Eddie Bauer is designed for 3 seasons, using technology that provides maximum warmth and packability, but minimum weight. 
It starts with a durable 50D polyester shell fabric, which is stuffed with 600 fill Responsible Down Standard (RDS) down. An extra 170g of ThermaFill insulation in the bottom helps it to resist moisture. 
Rated comfortable down to 20ºF, the 2 lb 9oz bag is big enough for anyone 6'2″ or smaller. Yet it packs down into a 10 x 20″ stuff sack for easy portability. 

Klymit KSB 20 Hybrid Sleeping Bag
The KSB 20 Hybrid Sleeping Bag from Klymit is another solid mummy-style 3-season bag rated to 20ºF. It's a little heavier at 3.1 pounds, but makes up for the weight with a wealth of cool features. 
First and foremost is the size: The bag measures 82 x 30″, with a whopping 58″ of width at the shoulders. For an extra $20 you can upgrade to XL, which measures 82 x 40″ and 78″ shoulders, weighing in at 3.7 pounds.
Then there's the hybrid 650 fill power down on top, with synthetic fill on bottom, which offers an excellent warmth-to-weight ratio and keeps you warm and toasty even when it's frigid outside. 
Our other favorite features include Flexible Stretch Baffles that move when you do; Length Locks that adjust the bag to your height; and a 2-way zipper that allows you to control airflow.
READ MORE: The Best Gifts for Campers, Hikers & Nature Lovers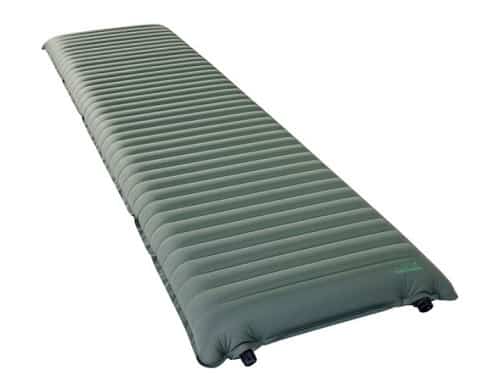 Therm-a-Rest NeoAir Topo Luxe Sleeping Pad
As important as your choice of sleeping bags may be, I'd argue that a good sleeping pad is just as vital to your backcountry camping comfort. 
The NeoAir Topo Luxe from Therm-a-Rest (a 2020 Top Pick from GearLab) takes the popular sleeping pad line to the next level, offering a whopping 4 inches of plush cushioning. 
Available in 4 sizes (from Regular to XL), the pad uses a Triangular Core Matrix construction to offer excellent warmth-to-weight ratio. The regular weighs just 1 lbs 7 oz, and packs down into a 9.5 x 5.7″ stuff sack. 
The pad inflates and deflates in a jiffy thanks to the TwinLock Valve system, and comes with a pump sack, compact stuff sack, and repair kit. 
READ MORE: The Best Backcountry Camping Gear for 2020
TREKKING POLES
Leki Micro Vario Carbon Lady &  Leki Micro Vario Carbon 
To be honest, I'm confused by the Micro Vario Carbon Lady from Leki, which is arguably the world's leading manufacturer of high-end trekking poles.
Other than the pink color, they seem to have the exact same features as the regular Micro Vario Carbon, which is listed as "Unisex." 
Regardless, these are top-of-the-line hiking poles with an extensive array of features. We'll start with the SpeedLock 2 system, which makes length adjustments quick and easy, and the External Locking Device that makes disassembling the poles a breeze. 
In terms of comfort, there are lightweight, rounded, insulated Aergon Thermo foam grips; air-textured wrist straps for wicking away moisture; and a built-in 8º grip angle to ensure efficient pole plants. The carbon shafts are also lightweight (just over a pound for the pair), which makes using the poles feel almost effortless. 
And when it comes to strength and durability, there's a Kevlar-reinforced tension cord, machined aluminum sleeves on the ends of the carbon sections, and Lexi's Carbide Flextips providing a secure hold on virtually any type of terrain you care to tackle. 
READ MORE: The 50 Best Hiking Quotes to Inspire Your Adventures
Foxelli Carbon Fiber Trekking Poles
For trekkers on a budget, these Foxelli Carbon Fiber Trekking Poles offer a much more affordable alternative, retailing for around $60. 
Their carbon fiber poles are slightly heavier than the Lekis, with each one weighing 7.6 oz. But the stick-absorbent material reduced the impact on your joints considerably, and they're made to last. 
They're easy to adjust, with a locking mechanism that expands from 24″ to 55″ to suit a variety of heights. And while their anti-slip natural cork grips aren't quite as comfy as others we've tested, the padded and breathable wrist straps were.
The set also includes thermoplastic rubber tips and baskets that can be attached for snowy or muddy conditions, as well as a carrying case and clip. Plus there a 120-day money back guarantee, and a 3-year warranty on defects.
READ MORE: Mountain Gorilla Trekking in Rwanda with Dian Fossey's Porter
CAMP COOKING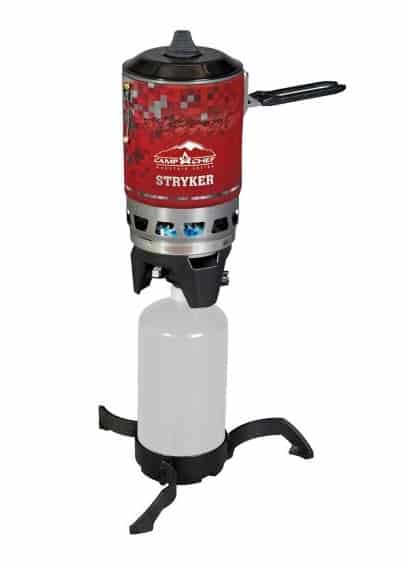 Camp Chef Stryker 150 Propane
When it comes to backpacking stoves, weight, fuel efficiency, and ease of portability are arguably the most important factors.
The Stryker 150 cooking system from Camp Chef weighs in at 21.4 oz (not including propane), which includes a 
1.3-liter pot, unit, lid, and 3-legged stand. 
Thanks to its Heat Ring technology, the Stryker (which has matchless ignition) can heat half a liter of water in just two minutes. Yet it conserves 30% more fuel than similarly compact camp cooking systems. 
We love the insulated sleeve, which keeps everything warm, as well as the pot's markings for measurements. Best of all, it all packs down into an easy-carry mesh bag!
READ MORE: The Best Backyard Camping Gear for 2020

GSI Outdoors Glacier Stainless Explorer Set
The Glacier Stainless Explorer Set from GSI Outdoors is even smaller than the Camp Chef stove, weighing in at a measly 18.6 ounces.
Yet it's made from heavy duty, rust-proof stainless steel, and cranks out 11,000 BTU/h to 12,970 BTU/h. 
The set includes a 1.1-liter pot, a canister-mount Glacier Camp Stove, a lid, and a Foon (a.k.a. Spork) that folds up to fit under the fuel canister, which is sold separately. 
The whole thing packs down to a compact 5.2 x 4.8 x 4.9″, with a mesh stuff sack for easy stowing. 
READ MORE: 60+ Cool Camping Gear Reviews

Primus Firestick Backpacking Stove
Weighing just 3.1 (Titanium version) to 3.7 ounces (Stainless Steel version), the Swedish-designed Firestick Backpacking Stove from Primus is the lightest camp stove system we've ever tested. 
This tiny wonder measures just 1.4 x 4.1″ (not including gas canister, sold separately), which is small enough to fit inside your pocket. Yet the 8530 BTU stove offers loads of innovative features. 
The pot supports and recessed burner provide excellent flame protection in even the windiest weather, and the matchstick-style Piezo igniter delivers one-handed lighting. 
The only real downside is you'll need to buy a PrimeTech pot with heat exchanger separately. But the set does include a wool storage pouch that also doubles as a pot holder. 
READ MORE: How to Make a DIY Camping Stove
Gerber DoubleDown Folding Machete & ComplEAT Tool
Though some backcountry camping areas don't allow them, I've always preferred a real wood campfire to cooking on fuel-powered camp stoves. 
The DoubleDown Folding Machete from Gerber offers a great, portable solution for chopping and cutting wood in remote areas. Weighing just 18 ounces, the 15.1″, 420HC steel recurve blade folds up to half that size.
So you can easily stow it in your pack or in its sheath on a belt when not in use. And the patent-pending 4-lock system offers 3 positions to ensure safe operations, with two handling positions and an overstrike guard.
Gerber's ComplEAT Tool is also a handy tool for your camp kitchen collection. It comes with a fork, spoon, spatula, and 4-function multi-tool that can snap together to make tongs and nest for easy transport.
READ MORE: The 20 Biggest Forests in the World by Continent

Readywise Adventure Meals
As a longtime foodie, camp cooking has never been my favorite part of the backcountry experience. I can still remember the flavorless dehydrated foods of a childhood trip along the AT in the Georgia mountains. 
Thankfully, freeze-drying technology and recipes seem to have come a long way over the last 40 years, if our samples from Readywise Adventure Meals are any indication. 
The emergency food supply company offers some surprisingly tasty entree options for backpackers, including a Chicken Alfredo Pasta, Lasagna with Mountain Summit Sausage, and Breakfast Skillet. 
Most merely require a cup or two of boiling water and 10-15 minutes of waiting, then you can eat it straight from the pouch. Others, like their Cookie Dough Snacks, are ready to eat! 
READ MORE: The Best Food Gifts From Around the World 
CLOTHING & ACCESSORIES
Odlo FLI Dual Dry Water Resistant Hiking Jacket & Shorts
It wasn't all that long ago that water-resistant, moisture-wicking clothing was being introduced to the outdoor  industry as the hot new thing. Nowadays those features are basically a must for serious outdoor adventures.
The Norwegian brand Odlo has been creating high-quality performance clothing since 1946, originally creating groundbreaking base layers for outdoor sports.
Their FLI line features dual dry water-resistant clothing with a distinct Scandinavian style. The FLI Hiking Jacket is ultra-lightweight and windproof, with adjustable hood and hem for protection from the elements, and back ventilation to keep your core cool. It also packs down nicely into its own zippered pocket!
The jacket pairs perfectly with Odlo's FLI Shorts, which balance a flattering fit (via the 4-way stretch polyester and elastane fabric) with functionality. Our favorite features include the durable water-repellent (DWR) treatment and two zippered hand pockets for keeping your valuables safe on the trail. 
READ MORE: Our Epic Fjords of Norway Road Trip
Patagonia Nano Puff Jacket & Happy Hike Studio Pants
Patagonia has long been one of our favorite outdoor brands. Not only because we love their quality clothing and gear, but because of their trailblazing conservation initiatives.
Their Nano Puff Jacket is another great example of how the 47-year-old company applies their eco-friendly ethos to everything they do. The Fair Trade Certified jacket uses 60g PrimaLoft Gold Insulation Eco, which includes at least 55% post-consumer recycled polyester, inside a 100% recycled polyester shell and lining.
It's made with P.U.R.E. (Produced Using Reduced Emissions) technology,  which reduces carbon emissions during the manufacturing process. So it's remarkably lightweight, yet warm, windproof, and water-resistant.
Mary pairs it with their Happy Hike Studio Pants, which are cute and casual, with a capri-length cut. They're Fair Trade Certified and fit great thanks to the lightweight, four-way stretch fabric.
READ MORE:The 20 Best Things to Do in Patagonia, South America
Edde Bauer Rainfoil Ridge Jacket & High Route Grid Air LS Crew
Eddie Bauer was one of the first outdoor brands we ever reviewed on Green Global Travel, testing their clothing during our 2012 expedition through Chilean Patagonia and Antarctica. 
So it's a great testament to the line's durability that we still often use their First Ascent backpack, hoodies, and jackets during our cold weather trips today, nearly 9 years later.
That's also why we were excited to test their new Rainfoil Ridge Jacket, a versatile hoodie that is positively water- and weatherproof. With its breathable WeatherEdge seam-sealed technology and StormRepel DWR Plus finish, this sporty jacket is well-designed for cool climates with the absolute worst inclement conditions. 
The jacket's fit is great for wearing over base layers such as their High Route Grid Air shirt. The classic long-sleeve crew style is updated via a lightweight, moisture-wicking, two-way stretch fabric. We loved the athletic fit and the Polygiene odor control feature. 
READ MORE: 30 Antarctic Animals You Can See On An Antarctica Cruise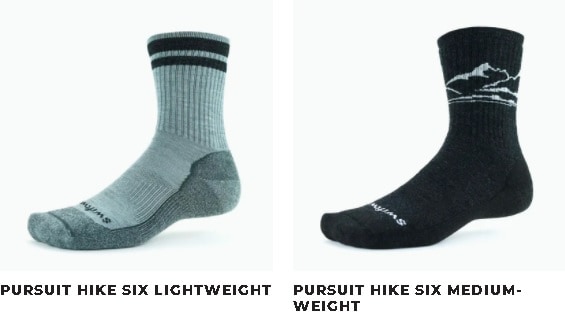 Swiftwick Pursuit Hike Socks
It can be tough to get excited about socks, but socks are equally significant to shoes in terms of ensuring your feet will able to go the distance on longer, multi-day treks. 
The Pursuit Hike sock collection from Swiftwick is specifically designed for hiking. Their blend of soft Merino Wool and Olefin fibers offer exquisite comfort and impressive moisture-wicking abilities. 
Billed as "the driest sock in its class," the natural fibers offer excellent temperature control properties. And the compression afforded by nylon and spandex keeps your feet comfortable even when you're at your most active. 
We also love that these socks are blister-resistant, since we're both blister-prone! 
READ MORE: Deathstalker Scorpions & Runaway Camels in Jordan's Dana Biosphere Reserve
Zeal Optics Cam &  Mango Sunglasses
Anyone who has known me for any period of time will tell you that I'm virtually never seen without my sunglasses (my blue eyes are extremely sensitive to light). 
So when I buy a pair of shades, I look for a unique style, durability, and the technical features that ensure protection from the sun and other harmful forms of light. I also need them available in my prescription. 
The sense of style is what initially drew me to the Cam and Mango sunglasses from Zeal Optics. They just have a sort of cool, timeless appeal, mixing retro and futuristic fashion influences. 
They're both plant-based frames with Ellume Polarized lenses. But the men's Cam sunglasses also use the Z-Lite think injection process to create ultra-lightweight frames for active sports, with ProFlex rubber inlays to ensure that they stay in place no matter how wild your adventure may get. 
READ MORE: The Best Beach & Lake Gear for Summer Staycations
HEALTH & SAFETY

Sabre PepperLight 2-in-1 Flashlight Pepper Spray
In our experience, most hikers are more worried about the possibility of encountering bears than they are about the most dangerous animals you're likely to come across on the trail… humans.
From predatory attacks on the Appalachian Trail to anti-masker attacks in San Francisco, personal safety on the trail is just as important as it is in a dimly lot parking lot or college campus. To that end, there's the PepperLight 2-in-1 from Sabre, which combines a flashlight and pepper spray in one handy-dandy device.
The flashlight boasts an ultra-bright 750 lumens, which is visible up to 540 feet away and has 3 modes (high, low, and strobe). The device also includes 25 bursts of pepper spray, which deploys in a powerful 10-foot stream and contains a UV marking dye to help authorities identify attackers after the fact. 
The PepperLight is water-resistant and comes with a belt clip, as well as links to free training videos to help ensure your personal safety. 
READ MORE: Black Bears at Alligator River National Wildlife Refuge in North Carolina

Uncharted Triage Kit
From ant bites and sunburn to an array of scrapes, cuts, and bruises, shit happens when you're out on the trail. So any multi-day trekking trip makes a good First Aid kit a great idea.
Of course you can always assemble your own emergency kit for less money, but this Triage Kit from the Uncharted Supply Co is complete, ready-made, and costs just $38. 
Sure, it includes the every day items you'd expect, such as aspirin, bandages, petroleum jelly, wound closure strips, and safety pins. 
But it also offers unexpected items, like duct tape, 22 gauge bailing wire, 7-inch zip ties, storm-proof matches, and an emergency blanket. And it's all packed into a water-resistant pouch that fits in your pocket!
READ MORE: Why I'd Prefer to Forget Visit the Dead Sea in Jordan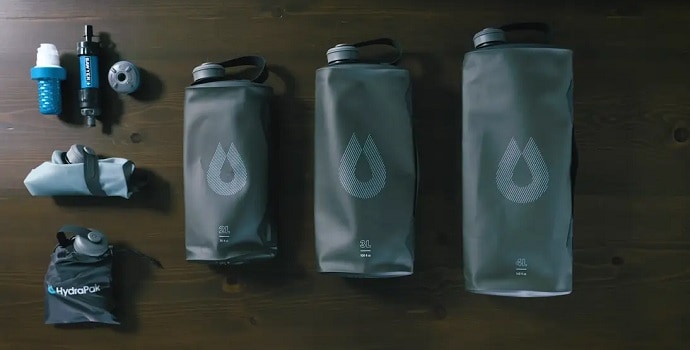 HydraPak 

Seeker

 Series
If there's anything more important than a First Aid Kit for backcountry hiking, it's potable water. The Seeker Series from HydraPak offers a wide variety of ways to tackle that problem. 
The system starts with an ultralight 2, 3, or 4-liter Seeker Water Bag, each of which features a weather-resistant pour handle and two lash points for hanging or attaching to your backpack.
Most 42mm threaded water filters will screw onto the top. And best of all, these ultra-rugged TPU bags can be folded or crushed when they're empty for easy storage. 
You can also add the Seeker Hydration Kit, with its 36″ long drinking tube, to create a hands-free hydration system. Or add the Plug N Play kit to convert the Seeker (which can hold hot or cold water) into a water dispenser or camp shower.
READ MORE: How to Save Water: 15 Water Conservation Tips

Sea to Summit Watercell X
While 3 or 4 liters of water may be enough for one person's daily drinking needs, group camping often requires a much bigger water reservoir. Especially if you're not camping near a water source! 
Sizes for the new Watercell X from Australia's Sea To Summit brand start at 4L, but there are also 6, 10, and 20-liter versions available. 
Made from tough, abrasion-resistant laminated 400D nylon fabric, the Watercell X is rugged yet flexible, with 3D baffled, RF-welded TPU construction.
Our favorite features include the adjustable strap for carrying or lashing, and the multi-function 63mm cap, which offers flow control and includes a shower head attachment.  –by Bret Love & Mary Gabbett