I grew up in a lower middle class family and worked my way through college. So I couldnt afford to travel internationally much until I was in my thirties.
For me, eating exotic food from around the world served as my first introduction to the culture of India, Morocco, the Middle East, Latin America, the Caribbean,etc.
As I fell in love with traditional dishes from around the world, I became more interested in the music, art, and history of these places.
That ever-expanding interest in cultural exploration is what ultimately led me to become a travel writer, which gave me a chance to try all sorts of weird and wonderful food around the world.
Over 20+ years, I got to break bread in local communities, interview local and internationally-known chefs (includingAnthony Bourdain), and explore traditional cultureson a much deeper level.
In 2021, international travel to many countries remains unwise for anyone with immune-compromised conditions.
For now, dining on traditional food from around the world is arguably the best way we can reconnect with the flavors of the places weve traveled in the past.
Its also a great way to get a taste of the cultures of places we dream of traveling in the future.
So check out our ultimate gourmets guide to the Best Food Gifts From Around the World, from monthly food subscription boxes and foodie gift baskets toholiday food gifts and more!
READ MORE: Traditional Food Around the World: 30 Famous Dishes You Can Make at Home
BEST FOOD GIFTS GUIDE
Baked Goods Gift Baskets
Chocolate Gift Boxes
Coffee & Tea Gift Sets
International Food Gift Boxes & Baskets
American Food Gift Boxes & Baskets
Home Chef Food Gifts
Baked Goods Gift Baskets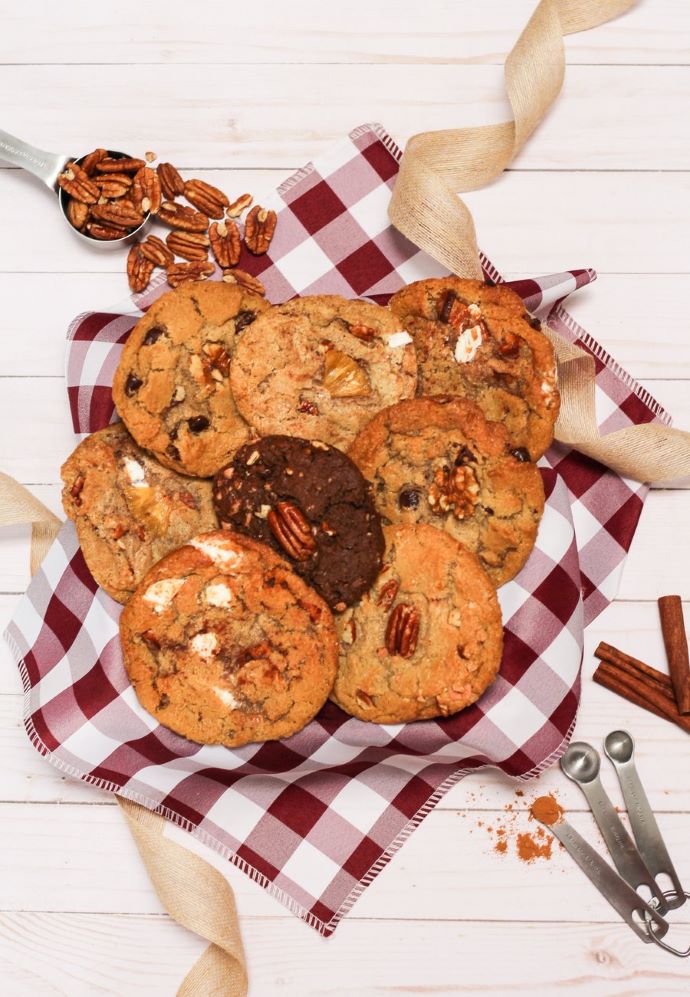 Mayas Cookies Southern Holiday Collection
Where some of the best sweets from around the world have the power to transport you to a different place, others touch your heart by reminding you of a different time.
Take this great gourmet food gift from Mayas Cookies, a black-owned, vegan-friendly cookie company based in San Diego that we discovered while researching the 2020 edition of this guide.
As a native of North Georgia, one bite of the fresh-baked delights from her new 8-cookieSouthern Holiday Collection took me back to the childhoodChristmas traditionof making cookies with my mom.
Theres no comparison to the richly decadent flavors of Mayas massive Southern-style cookies, which includePeach Cobbler (with brandy-soaked peaches, white chocolate, and cinnamon), Hummingbird (withpineapple, banana, cinnamon, and pecans),Caramel Pecan, and Chocolate Caramel Pecan.
But our new favorite cookie is Mayas Kentucky Bourbon Chocolate Chip, which is infused with just the perfect amount of Kentucky Bourbon and stuffed with walnuts. Youll wish there were more than two in the tin!
READ MORE: Lebkuchen Recipe for Homemade German Christmas Cookies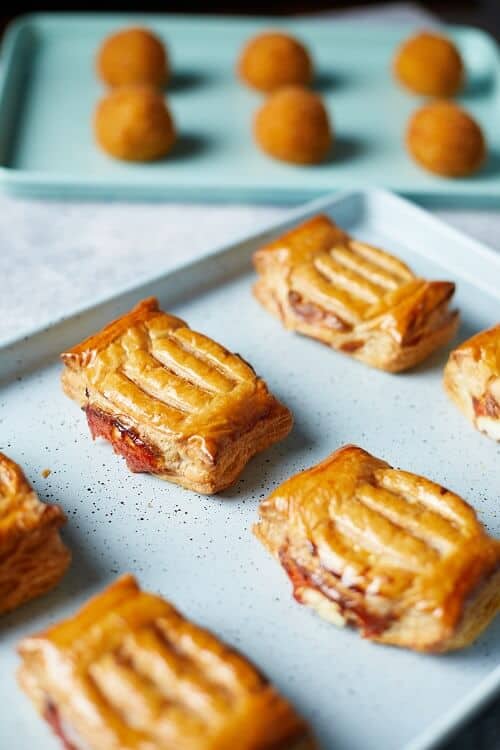 Portos Bakery & Cafe
Cuba is a country weve wanted to visit for years. And as anyone whos read our stories on Buena Vista Social Club or the Afro-Cuban All-Stars can attest, we are HUGE fans of Cuban culture.
So when we got a chance to sample some of the scrumptious Cuban culinary delights from Portos Bakery & Cafe, we literally popped them into the oven almost immediately upon arrival.
Manzanillo-born chef Rosa Porto (who passed away in 2019) founded her LA-based brand back in the 70s. You can taste generations of Cuban tradition in every bite of her Pastel de Carne (meat pies) and picadillo-stuffed Potato Balls.
All were better than most dishes weve had in our favorite Cuban restaurants in Atlanta. But her Refugiados a light and tangy guava and cheese strudel are addictive, making it easy to understand why Porto has become a Southern Cali legend.
READ MORE: Rum Cake Lady Cuban Restaurant in Blue Ridge GA

Tates Bake Shop
Mary spent the first 14 years of her life in New York City, which has always been one of my favorite places to spend Christmas in the USA.
So a gift basket from Tates Bake Shop is like giving (or receiving) a taste of the Big Apple.
The Long Island shop was founded by Kathleen King in 1980, when she was just 21. Now, 40+ years later, this Hamptons staple has been hailed by The NY Times as worth putting miles on the odometer.
Their Southampton Treats Tray is a great foodie gift basket for families, offering a sampling of Tates best baked goods as well as 3 bags of their signature cookies.
All of the baked goods are moist and exquisitely flavorful, but their Pumpkin Pound Cake, Pecan Pie Bars, and Crumb Cake were our favorites.
READ MORE: NYC Christmas Window Displays (A Free DIY Walking Tour)

Cream Bakery
One of our favorite new to us discoveries of 2021, Cream Bakery is a family-owned business based in New Jersey that focuses on the kind of fresh-baked goods your grandma used to make.
They no preservatives, no artificial flavors of any kind. And yet their individually-wrapped desserts remain fresh for up to 4 weeks because their pure ingredients (such as butter rather than margarine) are more shelf stable.
Cream offers four different flavor combinations, each of which is available in boxes of 8 (for $29) or 16 bars ($56).
Mary especially loved theirChocolate Lovers Gift Set, which included 2 Fudge Brownies, 2 Chocolate Chip Blondies, 2 Smores Cookies Bars (topped with toasted marshmallows), and 2 Nutella Swirl Bars.
The latter was our favorite, with a delicious chocolate hazelnut ribbon. But all of them were moist, rich, full of flavor, and perfectly sized for post-dinner indulgence.
READ MORE: The Best North Georgia Christmas Events
Chocolate Gift Boxes

Askanya Chocolates Mix & Match
Another new-to-us brand for 2021, Askanya Chocolates is a Black-owned, Black women-led company.
Founder Corinne Joachim-Sanon got her MBA in Industrial Engineering at the University of Michigan before returning to her native Haiti to launch the Caribbean islands first gourmet bean-to-bar chocolate company.
Askanyas Chocolates are made exclusively with Haitian cocoa and all-natural ingredients (including cashews, limes, oranges, and sugar cane) sourced directly from an extensive network of localfarms in rural Haiti.
The cocoa beans and other ingredients are then handcrafted into bars by Haitian women, providing much-needed jobs in a country that has been struggling with everything from natural disasters to humanitarian crises.
Their Mix & Match Collection includes 6 bars in a beautiful gold bag, including personal favorites such asMinuit (a 60% CacaoDark Chocolate Bar), Bouquet Vert (a 65% Cacao bar with lime zest), and Soly (an 82% Cacao barwith orange zest).
READ MORE: The History of Chocolate (& How Chocolate Is Made)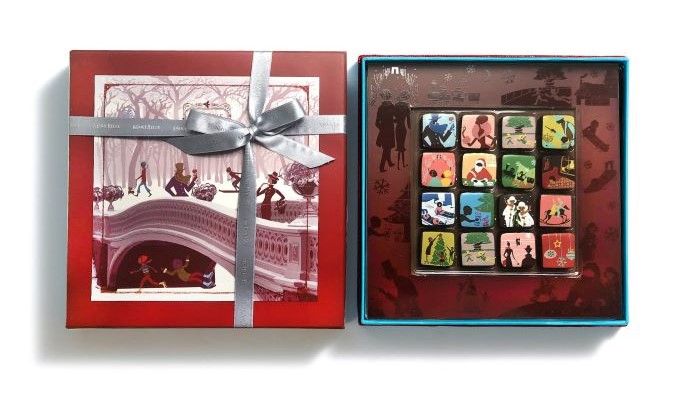 MarieBelle 16-piece Winter Wonderland Gift Box
Another
NYC
-based brand, MarieBelle is an upscale chocolatier whose chic, chandelier-lit boutique in Soho also boasts a lovely little European cafe.
They specialize in artisan bean-to-bar chocolates made with the finest quality cacao beans, with lots of great luxury food gifts for chocolate connoisseurs.
Our favorite of their 2021 offerings is their 16-piece Winter Wonderland Gift Box, which features gourmet flavors ranging from the traditional (Caramel Sea Salt, Toffee) to the unusual (Champagne, Passion Fruit).
All are topped with glamorous retro artwork that recalls a New York of days gone by, including classic symbols of Christmas such as ornaments, presents, sleds, and Santa Claus.

Sugar Plums Ornament Confection Gift Set
Created by mother and son duo Frann and Neil Edley, Sugar Plum Chocolates has been offering premium chocolates and confections to customers all around the world for a quarter-century now.
Their new Ornament Confection Gift Set combines two of our favorite things tasty gourmet chocolate and festive Christmas decorations into one aesthetically appealing package.
Packaged in a gorgeous tube, the chocolate gift set features six beautifully designed ornaments featuring everything from an ice-skating rabbit and a polar bear in a sweater to a reindeer with Christmas lights on his antlers.
Inside youll find Christmas confections ranging from chocolate truffles and peppermint snowflake chocolate bark to chocolate-covered pretzels, cookies, and more.
They taste great, but its the adorable ornaments that really make this a gift theyll treasure for years to come!
READ MORE: The 20 Best Christmas Lights Displays in Georgia for 2021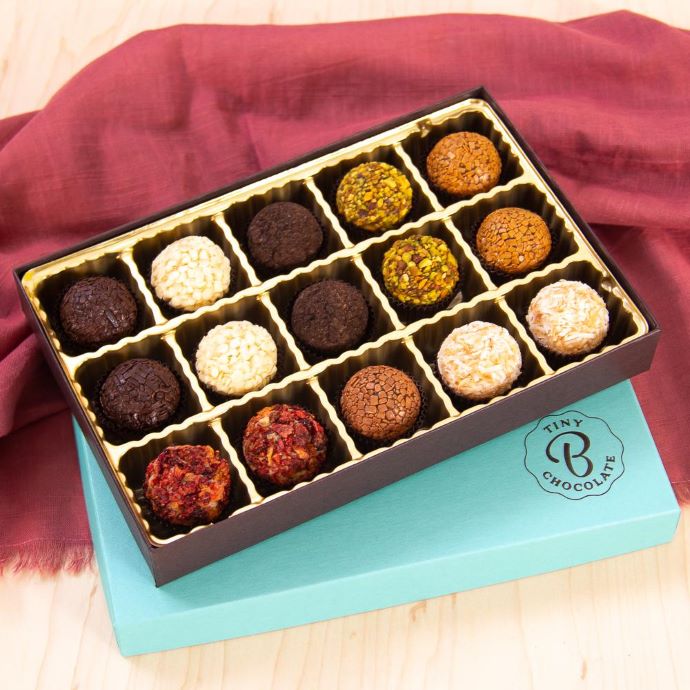 tinyB Chocolate Classic Assortment Gift Box
Based in San Francisco, the woman-owned tinyB Chocolate is a new-to-us brand that introduced us to a new-to-us delicacy- the brigadeiro, a traditional chocolate from Brazil.
The treat is named after Brazilian military hero Brigadeiro Eduardo Gomes, the Air Force brigadier general who helped stop a communist coup attempt in Rio de Janeiro in the 1920s and ran for Brazilian president in 1946.
Today, Brigadeiro candy is traditionally served at virtually all Brazilian birthday parties, pot lucks, weddings, formal dinners, and other special events.
The30 Brigadeiros | Classic Assortment from tinyB offers an excellent introduction toBrazilian chocolatier Renata Stoicas take on the confection.
It includes five of their most popular flavors, including dark and milk chocolate truffles as well as chocolate truffles with pistachios, almonds, and coconut. Once you try them, youll wonder why it took you so long to discover this scrumptious South American delight!
READ MORE: 50+ Atlanta Christmas Events for 2021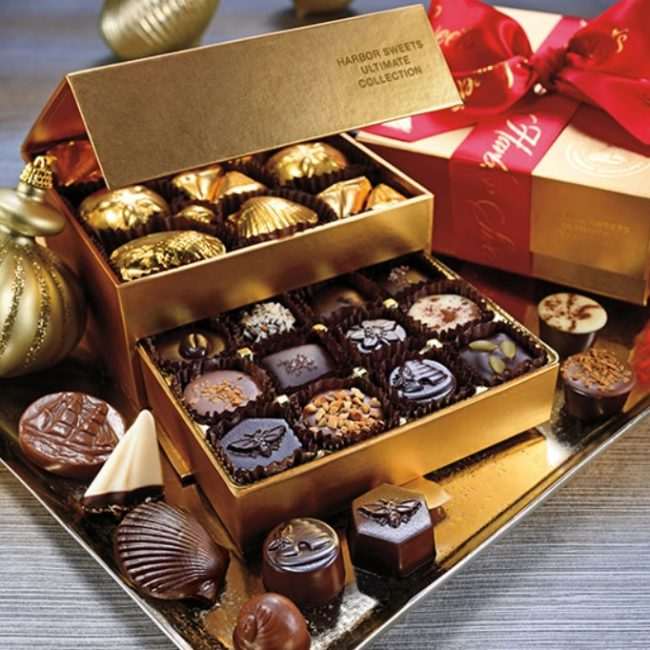 Harbor Sweets Ultimate Chocolate Collection
With a 45-year history that includes two retail shops in Massachusetts and a bustling mail order business, Harbor Sweets is best-known for handmade chocolates boasting nautical designs.
Weve previously covered their signature Harbor Lights Gift Boxes and Cocoa Sant Gift Sets (our favorite hot chocolate!). But this year we tried their Ultimate Chocolate Collection, which includes a sample of all their main chocolate brands.
Theres Gather Chocolate, which produces rich truffles made with70% Cacao and local wildflower honey; and Salt & Ayres artisan salted chocolates and truffles, which come in flavors such as Buttercrunch Toffee and Crystallized Ginger.
You also get Harbor Sweets classics such as their gold foil-wrapped Sweet Sloops, the sailing-inspired treats featuring almond buttercrunch toffee covered in white chocolate, then dipped in rich dark chocolate and pecans.
All in all, its a wonderful 36- piece assortment at a very affordable price point ($58).
READ MORE: The 20 Best Small Ship Cruises for YourWorld Travel Bucket List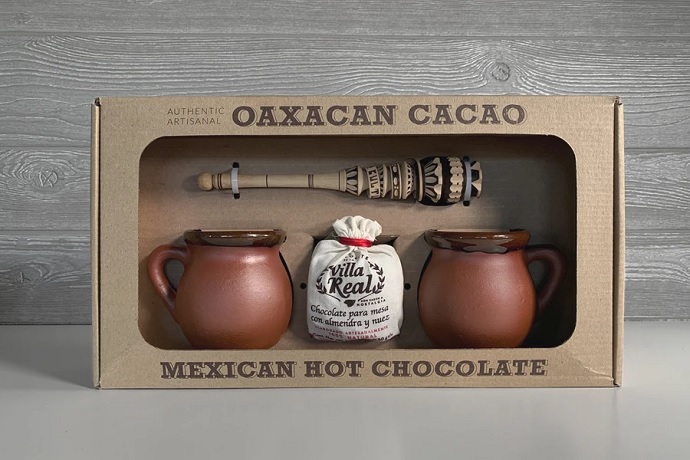 Verve Culture Mexican Hot Chocolate Gift Set
Chocolate is arguably among the most traditional food presents you can give. Cacao has been cultivated for at least 4000 years, and chocolate was being used by ancient Mayans by the year 600 AD.
So if you want a chocolate gift set that will make an impression on your favorite foodie, youll want something that puts an artistic flair on this 1400-year-old dessert.
The Mexican Hot Chocolate Gift Set from Verve Culture is a stylish package that has everything theyll need to make a great cup of authentic Mexican hot chocolate.
It includes a unique pair of clay mugs, a traditional molinillo whisk, and Villa Real Mexican Hot Chocolate (made by a family-owned business in Oaxaca), which has just a perfect balance of sweetness and spice.
READ MORE: 40 Fascinating Christmas Traditions in Mexico
Coffee & Tea Gift Sets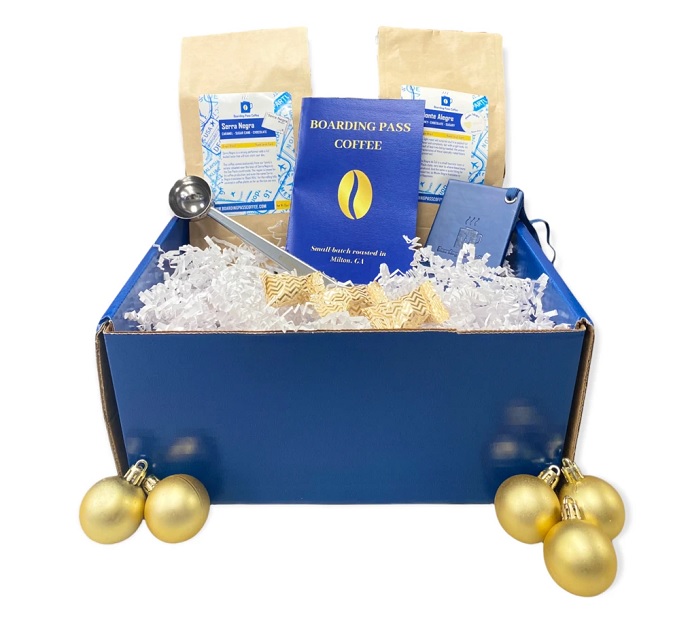 Boarding Pass Coffee Lovers Holiday Box
Boarding Pass Coffee founders Murilo and Christine Santos spent years at Murilos family coffee farm in Serra Negra, Brazil before traveling around the world together.
They eventually relocated to Milton GA in 2018, and Murilo began experimenting with roasting coffee beans. Not only from his familys Fazenda Santana farm, but from some of the many countries they visited during their travels.
They launched their North Georgia roastery/tasting room in 2020, and their Coffee Lovers Holiday Box offers an excellent sampling of their most popular small-batch Brazilian coffees.
Serra Negra (Black Hills) is the signature coffee of the Murilos farm bold and dark, with notes of caramel, chocolate and sugar cane while Monte Alegre (Mount Happiness) is a lighter roast with sweet notes of honey. Both are exquisite cups.
In addition to the 12oz bags, the gift set also includesa few holiday treats, a blue luggage tag, a silver coffee scoop/clip, and a personalized message for the recipient, as well as a coffee passport for the stamps that come with each bag.
READ MORE: Real Christmas Trees Vs Fake Christmas Trees: Which Is Better?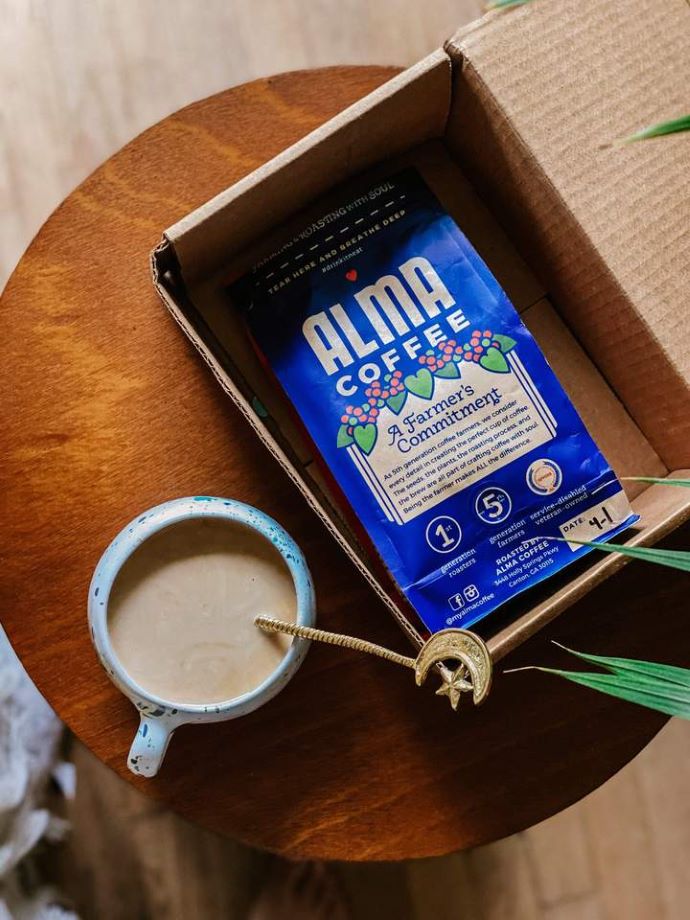 Honey & Roses Coffee Subscription
Were not normally huge fans of coffee subscription services. But we love the fact that Honey & Roses practices ethical sourcing, working directly with 50+ small, local roasters who pay their farmers fairly.
Co-owned by actor/comedian Ryan Hansen, the company offers a broad array of different options. But their 3-month Prepaid Monthly Gift Subscriptionis a good gift that gives the recipient a chance to try 3 premium gourmet coffees for $60.
We decided to go with the Soulmate Medium Roast from Alma Coffee (located near us in the foothills of the Blue Ridge Mountains), the Dual Axes Medium Roast from Honest Coffee Roasters in Franklin TN, and the 11:11 Blend from Lima Coffee Roasters in Fort Collins CO.
The Soulmate uses beans from Honduras, with delicious notes of chocolate, candied nuts, and clementines. Dual Axes blends Colombian and Guatemalan beans with a lighter roast that had notes of sweet tea and toffee. But the 11:11 Blend was our favorite darkly delicious, rich and bold, yet also surprisingly smooth.
Honey & Roses also offerscreative gift boxes, sweets, and even homeware, including brass cutlery sets made in India.
READ MORE: The Best Coffee in the World (A Gourmets Guide to 30 Types of Coffee)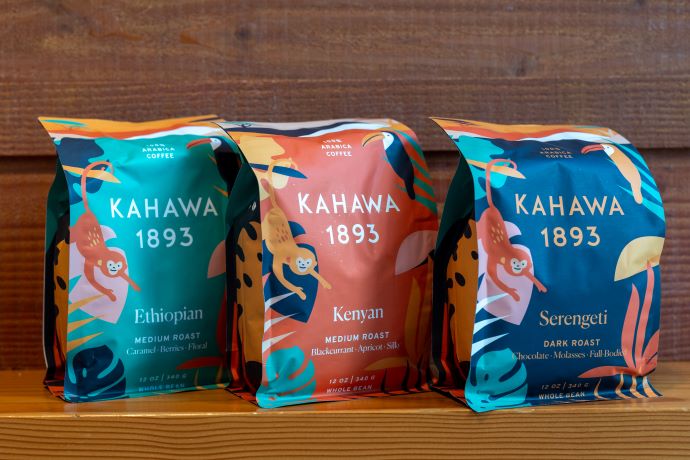 Kahawa 1893 Coffee Flight
My favorite coffee tour weve ever done was during our 2015 trip to Tanzania, when we visited a farm in the foothills of Mt Kilimanjaro run by the local Chagga people.
It was there that we first learned about the principles of permaculture gardening; picked, dried, ground, and roasted fresh beans by hand on an open fire; and drank the most intensely flavorful cup of coffee you can imagine.
Tasting the luscious African coffees from Kahawa 1893 a black female-owned business that works directly with female farmers in East Africa instantly transported us back to that experience.
Their Coffee Flight consists of three 12oz bags. We really enjoyed thelight citrusy notes of their Kenyan Peaberry and the floral, fruity flavor of the Malawi Single Origin (via theMzuzu Co-op).
But our favorite for 2021 was the medium-dark roast of their popular Safari Blend, whose delicious notes of caramel and stone fruit made it one of the best African coffees weve ever tasted.
READ MORE: Maasai Mara Conservancies: Community Conservation in Kenya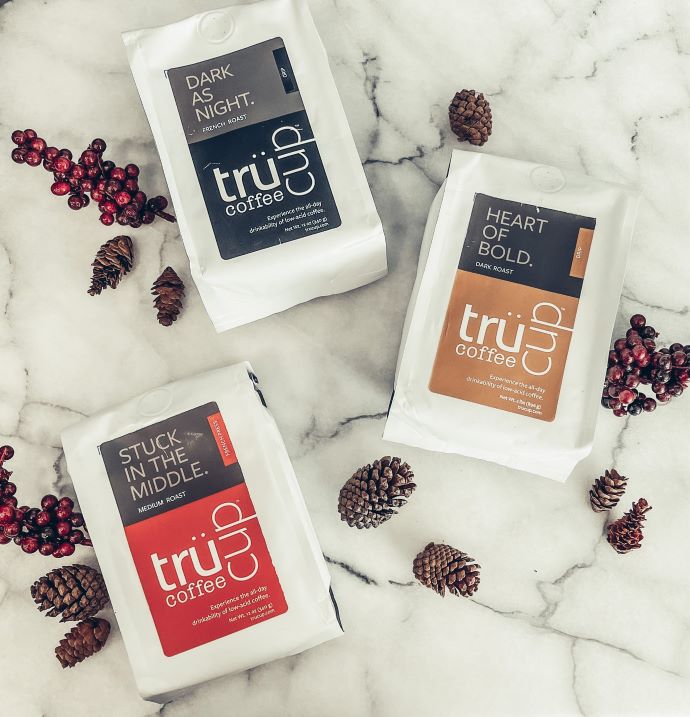 Tru Cup Coffee
On the surface, most coffees are essentially the same. Until fairly recently, you really only had two choices regular or decaf.
Even now, once you get past subtle differences such as where and how its grown, and whether its Arabica or Robusta beans, there havent been many eureka moments in the industry of late.
But the Seattle-based Trcup Coffee is out to change all that, offering a line of 5 low-acid coffees that are up to 4.6 times less acidic than regular coffees.
This year theyve introduced new Holiday Gift Packs, including a 2-roast combo pack and a 3-roast variety pack, that make a perfect gift for coffee lovers who deal with heartburn or acid reflux issues.
The 3-roast set includes 12oz bags of our favorite varietals Stuck in the Middle, Heart of Bold, and Dark as Night each of which offers asurprisingly smooth and rich depth of flavor, with none of the acidic burn you get from lesser coffees.
READ MORE: La Roya, Central American Coffees State of Emergency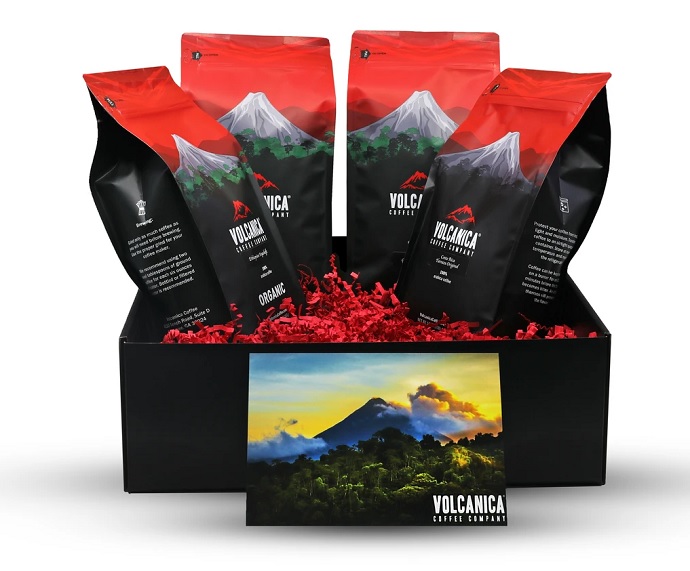 Volcanica Coffee Company Gift Box
Everyone whos serious about single origin coffees have their favorite coffee-growing regions. Varietals from the islands of Hawaii, Colombia, Guatemala, and East Africa have always had a special place in my heart.
But, if Im being honest, trying a gift box of Asian varietals from Volcanica Coffee made me think that perhaps Ive never really given the coffees of that region a fair shake.
The Asian-themed box we received included three 16-oz bagsIndian Monsoon Malabar AA Coffee, Sulawesi Reserve Coffee, andSumatran Gayo Peaberry Coffee.
The smoky, somewhat spicy Indian Malabar offered intriguing notes of earth, wood, and tobacco, while the Sumatran Peaberry tasted of fruit, cacao, and caramel. But the rich Sulawesi Reserve was our favorite, with a dark roast and deep notes of cherry, chocolate, and caramel.
READ MORE: The Best Places to Visit in India forNature Lovers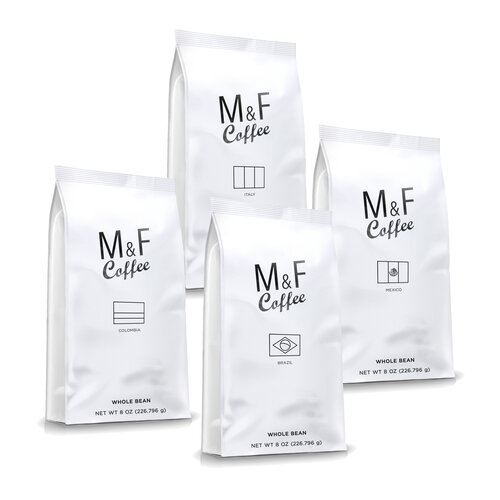 Makers & Finders Coffee
Based in Las Vegas (and featured on Anthony Bourdain Parts Unknown), Makers & Finders is a hip, minority-owned coffee shop and restaurant that celebrates Latin flavors.
M&F also has an online store featuring an assortment of gifts for coffee lovers, including an array of varietals from all around the world that are roasted in-house.
They includeColombia Huila (grown by the Alimucaes Womens Project) with notes of pineapple and toffee; Ethiopian Yirgacheffe (from Grainpro) with hints of lemon, blueberry, and jasmine; and organicNicaragua Jinotega, which offers a chocolatey, nutty flavor with the tangy acidity of blood orange.
Cant decide which varietal is your favorite? Try their bold I Knew It Espresso Blend, an M&F favorite that offers a complex mixture of all three!
READ MORE: Isla de Ometepe: An Epic Guide to Nicaraguas Ometepe Island
Harney & Sons Fine Teas
Given the array of varietals covered above, it probably comes as no surprise that Im generally a much bigger fan of coffee than I am of tea.
But since I have to limit my caffeine consumption (especially after noon), tea is my drink of choice for the majority of the day, and its especially delightful when the weather outside is frightful.
The NY-basedHarney & Sons offers an exceptional assortment of fine teas, including an array of non-caffeinated herbal options. Each comes in a lovely decorative tin perfect for gifting, with 30 sachets inside.
African Autumn Tea is our new favorite, combining South African rooibos with the bright flavors of cranberry and orange. We also loved their Decaf Hot Cinnamon Spice (decaf black tea, three types of cinnamon, orange peel, and sweet cloves) and refreshing Peppermint Herbal.
In terms of caffeinated teas, we enjoyed their Blueberry Green Tea (a delicious green tea with lemongrass, blueberry, and vanilla) and Royal Palace Tea (ablend of black teas, with notes of lemon and grapefruit). The latter was commissioned by Historic Royal Palaces,an independent charity that looks after the Tower of London and other British landmarks.
READ MORE: The 20 Best Environmental & Animal Charities for Holiday Donations
International Food Gift Boxes & Baskets

Ciao Food & Wine Truffle Box
Italy has had a special place in my heart ever since I did a 3-week tour of Italy with the Atlanta Boy Choir, where we sang for Pope John Paul II in the Vatican a few days after I turned 12.
Longtime GGT fans may also know of our fondness for mushrooms. We go foraging for Chanterelles, Oysters, and American Caesars in summer, and started growing mushrooms at home (Shiitakes and Wine Caps) last year.
So the Truffle Box from Ciao Food and Wine taps into two of our passions, and makes an excellent gift for anyone who loves Italy in general and/or truffles in particular.
Washington-based chef/owner Mark Laska has curated a foodie-friendly collection that includes Tiberino Italian One-Pot Risotto with Porcini & White Truffle Oil, Morelli Tagliolini Pasta with Summer Truffle, an exceptional Sottocenere al Tartufo Cheese, Acacia Tartufo Honey, and Marella Classic Tarallini with Olive Oil.
It all pairs perfectly with a bottle of Vietti Nebbiolo wine from the Barolo area of Italy, and comes with a large canvas tote bag and wine corkscrew.
READ MORE: Le Marche, Italy: A Locals 7 Favorite Places to Visit

Taste of Haiti Box- The Premier Box
A relatively new foodie subscription service, Taste of Haiti offers one-month, 6-month, and 12-month subscriptions, with each box packed with hand-selected,artisanal Haitian flavors.
Although weve been close to the island nation on our trips to the Dominican Republic, weve never spent any time in Haiti. So we were curious how its food would differ from the dishes we sampled in Cabarete, Puerto Plata, and Punta Cana.
TheirPremier Box offers a solid introduction to Haitian food that includes a strangely spicy peanut butter,a delightfully tangy grapefruit jam, a small bag of Haitian coffee, a Haitian chocolate bar from Askanya, a bottle of hot sauce, lemongrass tea, cintronnelle tea, and more.
The only element we didnt enjoy was the Sweet Coconut Cassava Bread, which tasted a little stale by the time we opened it. But everything else was great, and it comes in a beautifully designed box that is a lovely gift in itself.
READ MORE: The 20 Best Caribbean Islands to Visit if You Love Nature & Hate Crowds
iGourmet Taste of France Collection & European Cookie Gift Box
This family-owned foodie gift service was launched in 1997, inspired by a grandfather who imported his favorite European cheeses below the waterline on passenger steamships.
Theyve since grown into one of the largest online specialty food retailers in the US, specializing in gift baskets (including an exclusive line with Martha Stewart) and Food of the Month Clubs sourced from small to mid-sized artisan food producers.
TheirTaste of France Collection is an excellent assortment. It includes charcuterie (air-dried Saucisson Sec Aux Herbes de Provence, dry curedJambon Sec), cheese (6-month aged Mimolette andAgour Ossau-Iraty AOP, and sharp Buche de Chevre), plus olives, purple fig jam, crispy French waffle crackers, Edmond Fallot Original Dijon Mustard, and several other items.
Their European Cookie Gift Box is a perfect present for anyone with a refined sweet tooth. It includes Shortbread Petticoat Tails from Ireland, FrenchTrouvillais by Biscuiterie de lAbbaye,Swedish Gingersnaps,German Spekulatius,Jules Destrooper Belgian Butter Thins,Canestrelli Italian Cookies, and more!
READ MORE: 5 Weird Foods the French Consider Delicacies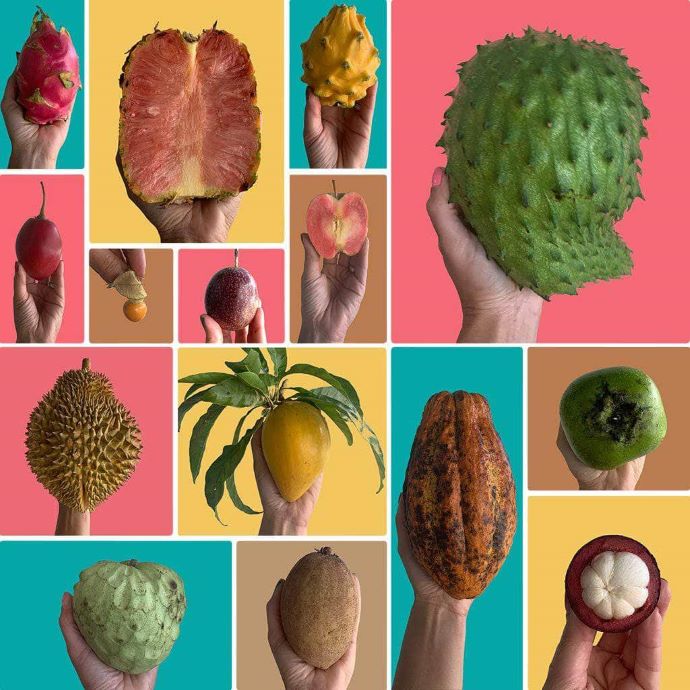 Tropical Fruit Box- Create Your Own Exotic Fruit Box
Know someone who loves trying weird foods from all around the world?
The Cuban-American-ownedTropical Fruit Box is a fantastic way to explore flavors youve never tasted before, with different options for curated variety boxes or Create Your Own boxes of fruits from around the world.
Last year their Taste the Exotics Fruit Box introduced us to the green Cherimoya from Chile. Known as the ice cream fruit for its sweet, creamy flavor, it was a decadent delight wed never had a chance to sample during our travels in the country.
This year our 19-poundCreate Your Own Exotic Fruit Boxalso included Tropical Avocado,two kinds of Dragon Fruit (from Florida and Ecuador), Persimmon, and Soursop (which, to us, tastes like a mix of Cheromiya, Banana, and Pineapple).
It also included the new pink Ros Pineapple, a beautiful, extra-sweet fruit grown in Costa Rica that took more than 12 years to develop. Its genetically modified by adding lycopene, which gives tomatoes their natural ruby-red color.
READ MORE: 70 Weird Animals From Around the World

Fix & Fogg Build Your Own Selection Box
If Im being honest, the idea of getting a box of nut butters didnt seem all that exciting to me at first. But that was before I tasted the award-winning all-natural nut butters from the New Zealand-based Fix & Fogg.
The company just recently began expanding into the U.S. market, offering an impressive array of flavors that are all gluten-free, vegan-friendly, and contain no hydrogenated oils, added sugars, or palm oil(which is in many natural nut butters).
Fix & Foggs Build Your Own Selection Box offers 13 different flavors to choose from, with 4 jars in a standard box. My personal favorites were the Chocolate Hazelnut Butter (which offers all the flavor of Nutella, but with less sugar and ZERO palm oil) and Peanut Coffee & Maple Butter (3 flavors I love, but would never think to combine in a delicious spread).
Mary loved their Dark Chocolate Peanut Butter, which was less sweet and more flavorful than you might imagine. Other intriguing offerings include Smoke & Fire Peanut Butter (with green chile, natural Manuka smoke, and Spanish smoked paprika) and Everything Butter (with hemp, chia, sesame, sunflower, flaxseeds and pumpkin seeds).
READ MORE: How to Avoid Products With Palm Oil
American Food Gift Boxes & Baskets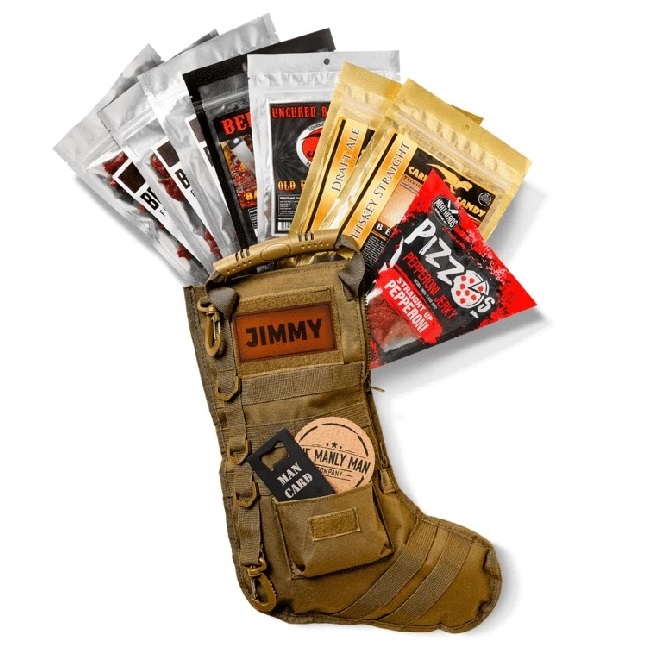 Manly Man Co. Best Jerky Tactical X-Mas Stocking
Beef jerky has come a long way since the days when the best you could do at your average neighborhood grocery store was to snap into a Slim Jim.
The hilariously named Manly Man Co. is a Veteran-owned small business that specializes in quirky gifts made especially for guys guys, and this meat-stuffed Christmas stocking is a perfect example.
Its an impressive package (thats what she said!) filled with a broad variety of their most popular jerky options.
Though the flavors rotate, each gift set include 7 packs, including cool selections such as South African Peri Peri Grass-fed Biltong, Whiskey Straight Beef Jerky, Sweet & Spicy Jalapeo Bacon Jerky, Citrus IPA Beer Beef Jerky, etc.
The collection also includes a Man Card Beer Bottle Opener,Manly Man Co. Coaster, and personalized leather patch, and it all comes stuffed inside a tactical Christmas stocking (green or tan) that can be personalized for the fella youre giving it to.
READ MORE: The 25 Best National Parks in Africa for Wildlife Safaris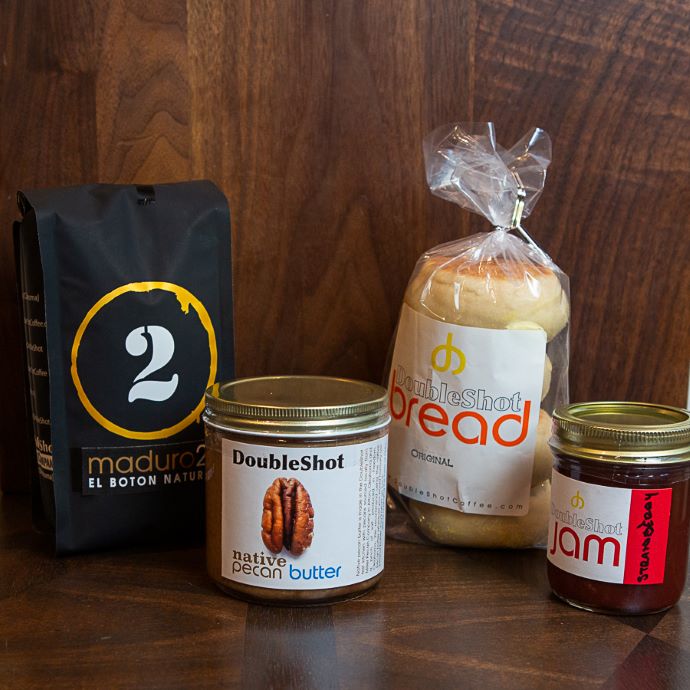 DoubleShot Coffee Company Originals Gift Set
Last year we became huge fans of the Tulsa-based DoubleShot Coffee Company, whose owner/roastmaster Brian Franklin has been traveling to the worlds finest coffee-growing regions for nearly 20 years now.
In particular, we fell in love with their Maduro 20 varietal from Hacienda El Boton in Colombia, which boasts a bold, almost fruity flavor that comes from using only the ripest, most mature beans.
This year DoubleShot is introducing a new Originals gift set, which pairs the Maduro 21 with tasty house-made items crafted by their resident chefs.
The set includes a 4-pack of their tasty English Muffins, which are much more dense and flavorful than the ones you get at your local grocery store. It also includes a 16 oz jar of Native Pecan Butter (using nuts from Afton OKs Miller Pecan Company) and an 8 oz jar of Strawberry Jam.
The foods are perfectly picked to complement their award-worthy coffee, making this a great holiday gift for the serious java junkie in your life.
READ MORE: The Best Things to Do in Cartagena, Colombia
Branon Family Maple Orchards Maple Specialty Box
The Branon Family Maple Orchards is a 7th generation family business that specializes in producing certified organic Vermont Maple.
Members of the Vermont Land Trust since 1997, theyve conserved the land on their family farm in Fairfield VT as well as over 2000 acres in Bakersfield VT. And in 2016 they were certified as a Bird Friendly Sugar Bush by the Vermont Audubon Society for maintaining a healthy forest ecosystem.
Their Maple Specialty Box offers a great introduction to the broad range of products the family farm produces, and makes a fantastic gift for the foodie in your life.
It includes a bottle ofOrganic Vermont Maple Syrup,Maple Buffalo Sauce,Maple Bourbon Vinegar,Maple BBQ & Grilling Sauce,Maple Vinegar,Maple Chipotle Rub, andMaple Sweet Pepper, all packaged in an attractive gift box.
So its a little sweet, a little spicy, and all tasty not to mention surprising in its diverse usage of a simple syrup.
READ MORE: The 25 Biggest Forests in the World

California Crafted Condor Box
Although its not quite as macho as the Manly Man Xmas Stocking featured above, the Condor Box from California Crafted was developed with men in mind.
It wasoriginallydesigned as a Fathers Day gift, but the carefully curated collection of California culinary concoctions will please anyone who loves spicy foods at any time of year.
Our box included Chudabeef Jerky Strips from Long Beach, TONG! Sriracha Steak Jerky from Los Angeles, Lomalita Habanero Hot Sauce from San Francisco, Char Man Verde Hot Sauce from Ojai, Rosemary Garlic Giddy Up Nuts from L.A., and Makabi & Sons Oaxaca Chocolate Shortbread from L.A.
Note that because these items are crafted in small batches by local purveyors, limited availability may require substitutions. But you can rest assured that the West Coast hipster foodie vibe will remain intact regardless.
READ MORE: Camping & Hiking in Joshua Tree National Park, California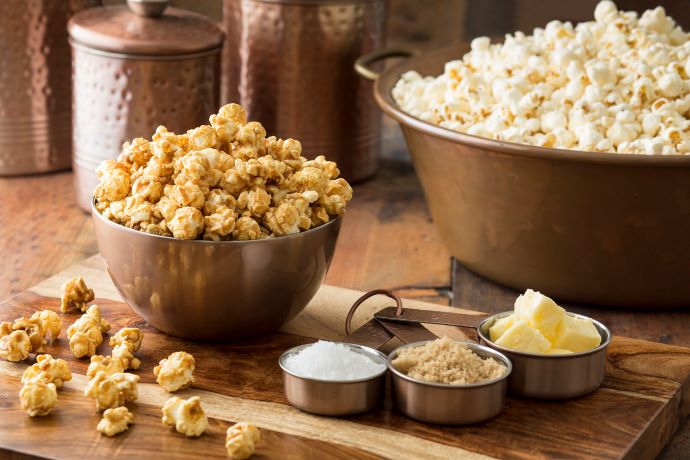 Johnsons Popcorn Goin Nutty Gift Basket
In my family, giving ginormous tubs of popcorn is a sacred Christmas tradition that dates back to my early childhood.
But for the Ocean City, New Jersey-based Johnsons Popcorn, the tradition of tossinghot caramel over giant kernels of popcorn dates back to the 1940s, and has been enjoyed by millions of visitors to the areas boardwalk in the last 70 years.
Today, Johnsons offers 7 different popcorn flavors to choose from, including savory selections such as Butter and Cheddar as well as sweet treats like Peanut Crunch and Chocolate Drizzle (or Salt-n-Sandy for those who want it all).
The Goin Nutty Gift Basket features a10-oz tub of their classic Peanut Crunch Popcorn, along with containers of their Mixed Nuts, Candied Peanuts, and Honey Roasted Peanuts.
Its all packaged in their trademark red Johnsons Popcorn Bowl, making it an attractive gift for any snackers on your holiday shopping list.
READ MORE: 40 Ways to Celebrate New Year Traditions Aroundthe World
Gifts For Home Chefs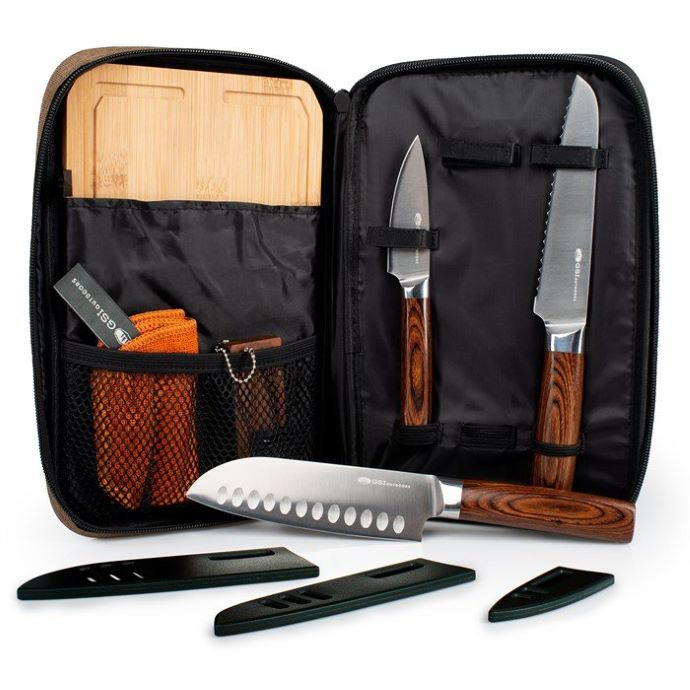 GSI Outdoors Rakau Knife Set
Weve been reviewing myriad GSI Outdoors products for years. But we typically associate the brand with hiking essentials and cool camping gear.
While this gorgeous Rakau Knife Set seems like a bit of a departure for GSI, its a lovely detour. The wood used in the knife handles is sustainably sourced, as is the compact bamboo cutting board (which has a gutter for draining juices).
The durable stainless steel set includes 3 knives a 6Santoku blade Chef knife with Granton scallops for thin slicing, a 6 serrated bread knife, and a 3.5 paring knife as well as a knife sharpener, recycled microfiber towel, and a soap bottle.
The set also comes with sheaths to protect the blades, and a convenient recycled PET cloth case for carrying the kit wherever your adventures may take you.
READ MORE: The Best Hiking Gear for 2021 (35+ Reviews)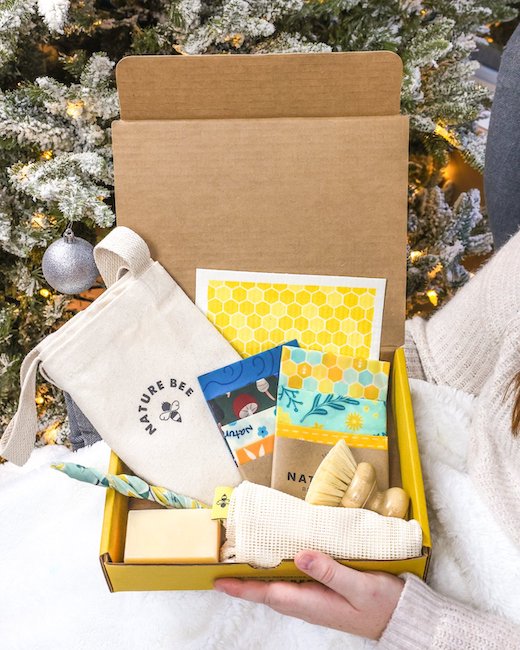 Nature Bee Wraps Bee Lovers Bundle
Were always trying to find new ways to go green, lower our carbon footprint, and live more sustainably.
But it wasnt until a few years ago that we learned about the advantages of using beeswax wraps to protect leftover foods rather than plastic wrap or foil.
The Bee Lovers Bundle from Nature Bee Wrapsmakes a fantastic present for eco-friendly friends and family members.
In addition to a Beeswax Wrap Variety Set and a set of 4 Small Wraps, the stylish gift set also includes aSwedish Dishcloth, reusableTote Bag,Fire Starter, reusable Produce Bag, aSolid Dishblock soap (lavender and lemongrass), and aNo-Tox life scrub brush.
With a collective value of $100+, the gift set is a steal at $65!
READ MORE: Going Green- 60 Earth Day Tips You Can Use Every Day

African Dream Foods Gift Sets
When most people think of gourmet foods around the world, Africa may not be the first region that springs to mind.
But anyone whos ever had a South African braai (Afrikaans for barbecue) or a delicious East African stew knows that the continent has a knack for spices, sauces, and meats.
If youve never had the pleasure of traveling to Africa, these gift sets from African Dream Foods will certainly make you want to go. If youve been there multiple times, as we have, theyll bring back some great travel memories!
Available on Amazon, their Mildest Hot Sauce Gift Packfeatures four fantastic sauces, including Southern Braai BBQ Sauce, Sweet Dream Chili Sauce, Jalanasco Fermented Jalapeno Sauce, and a lovely Lemon & Garlic Peri-Peri Sauce.
Folks who like it hot will love their Spicy Salts & Seasonings with Grinder Variety 4-Pack Gift Box,with intense flavors including Safari Smoke (with mild paprika), Ghost Pepper, Habanero Chili Salt, and Smoked Chipotle Salt.
READ MORE:The 20 Safest Countries in Africa to Visit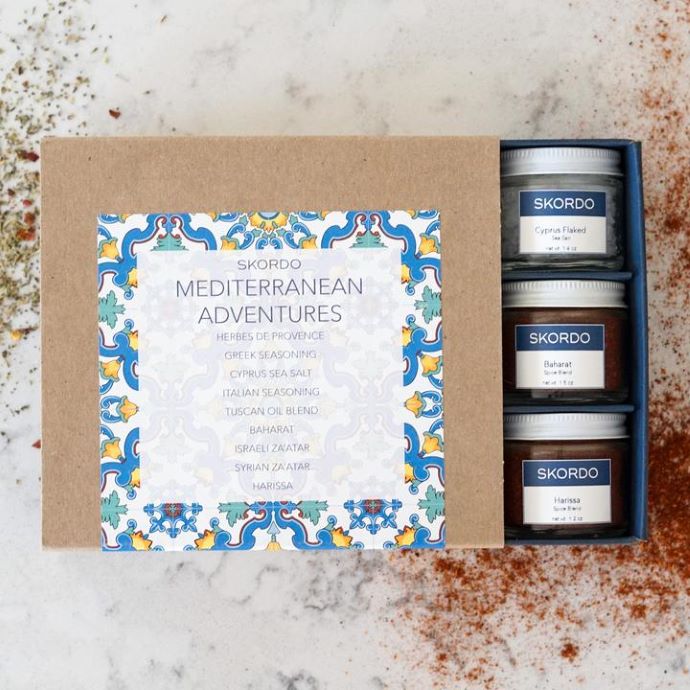 Skordo Mediterranean Adventures
I first fell in love with Mediterranean food as a child, during my tour of Italy with the Atlanta Boy Choir, and the fondness grew deeper when I worked my way through college at various Italian restaurants.
But it wasnt until our food-focused trips to Greece and Spain in 2014 and 2015 that my interest in Mediterranean cuisine became more like an obsession.
The Greek family behind SKORDO have dedicated their brand to Empowering the Home Cook, and theirMediterranean Adventures Spice Setmakes it easier than ever to prepare delicious Mediterranean meals at home.
The set includes 1/4-cup jars of authentic spices such as Baharat (a Middle Eastern staple), Cyprus Flaked Salt, Greek Seasoning, Harissa (Morroco), Herbs de Provence, Israeli and Syrian Zaatar, Italian Seasoning, and Tuscan Oil Blend.
From hummus and baba ghanoush to Greek salads and Tuscan bread, it makes making tasty Mediterranean meals a breeze.
READ MORE: The Best Places to Visit in Greece in 40 Fantastic Photos
The Spice Lab Gourmet Sea Salt Sampler & Fiesta of Flavors
There arent many food-related companies from which Im willing to try just about any product they decide to bring to market. But Spice Lab is the rare exception.
We first discovered the Fort Lauderdale-based brand back in 2014, and were immediately taken with their innovative design (see: a wooden rack of test tube beakers filled with gourmet spices) and cool sea salt collections.
Now theyre available in big stores like Costco, but the quality hasnt declined a smidge. For proof, check out their Gourmet Sea Salt Sampler, which comes in 7- or 11-tube collections that home chefs will adore.
Ours includedCyprus Citron Lemon Salt, Herbs de Provence, Port Wine Salt, Hudson Valley Salt, Tropical Hibiscus Salt, Himalayan Pink Salt, and Smoked Ghost Pepper Salt.
They also have a sensational Fiesta of Flavors Seasoning Collectionfor making mouth-watering Mexican food at home. It includes a feisty Fajita Seasoning, a yummy Guacamole Seasoning, a super Street Corn Seasoning, and a tasty Taco Seasoning that also goes great with steak.
READ MORE: The BestThings to Do in Isla Holbox, Mexico (Quintana Roo)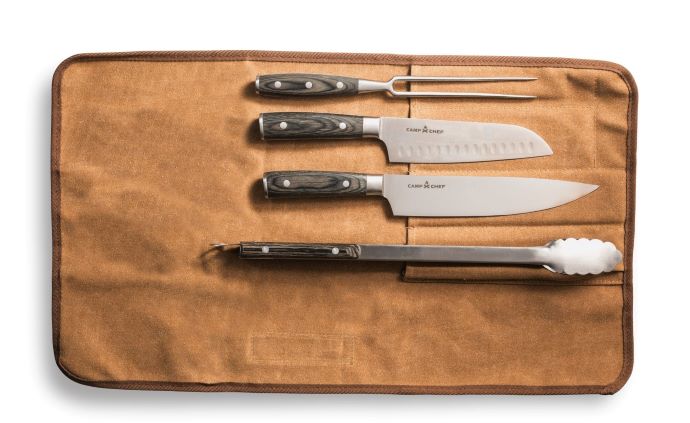 CampChef 4-Piece Carving Set
As I write this review, were already preparing to brine the turkey, peel the sweet potatoes, and do all the other prep work that will lead us into the big meal on Thanksgiving Day.
We have lots of fun Thanksgiving traditions, from watching the Macys Parade and the National Dog Show to having dinner with our extended family. But this will be the first time in years where were hosting the Turkey Day meal at our house.
ThisCampChef 4-Piece Carving Set will definitely come in handy as I prepare to carve the bird myself for the first time in many years.
Made with stainless steel and Pakkawood handles, the chic set includesa 10-inch chef knife, 7-inch santoku knife, a pair of grill tongs, and a handy carving fork, all rolled up in an attractive waxed canvas knife case.
Its a sleek, portable gift for home chefs or grill masters. by Bret Love