As a professional photographer with a passion for landscape photography, I spend a lot of time outside. I love taking photos in wintery conditions, and having the right photography gloves for winter and cold weather photography is really important. That's true whether I'm shooting in the snow, taking pictures of the Northern Lights, or just doing general landscape photography.
I have tried a variety of gloves over the years. Finding great gloves for photography can be a challenge, because as a photographer I need access to fairly small dials and buttons. Most normal gloves focus primarily on keeping my hands warm, but they make operating a camera difficult. I've often found myself having to remove my gloves to change camera settings, which is not ideal in freezing temperatures!
The good news is that there are gloves on the market especially designed for photography. Since 2019, I've been using a pair of Vallerret gloves, specifically, the Markhof 2.0 model.
In 2021, Vallerret updated these popular gloves to the 3.0 model, and they also launched a number of new gloves. They sent me a pair of the Markhof 3.0 gloves and also a pair of their Milford gloves for my thoughts.
In today's post, I'm going to do a few things. I'm going to talk about photography gloves in general, and the sort of features you should be looking for when evaluating gloves for photography.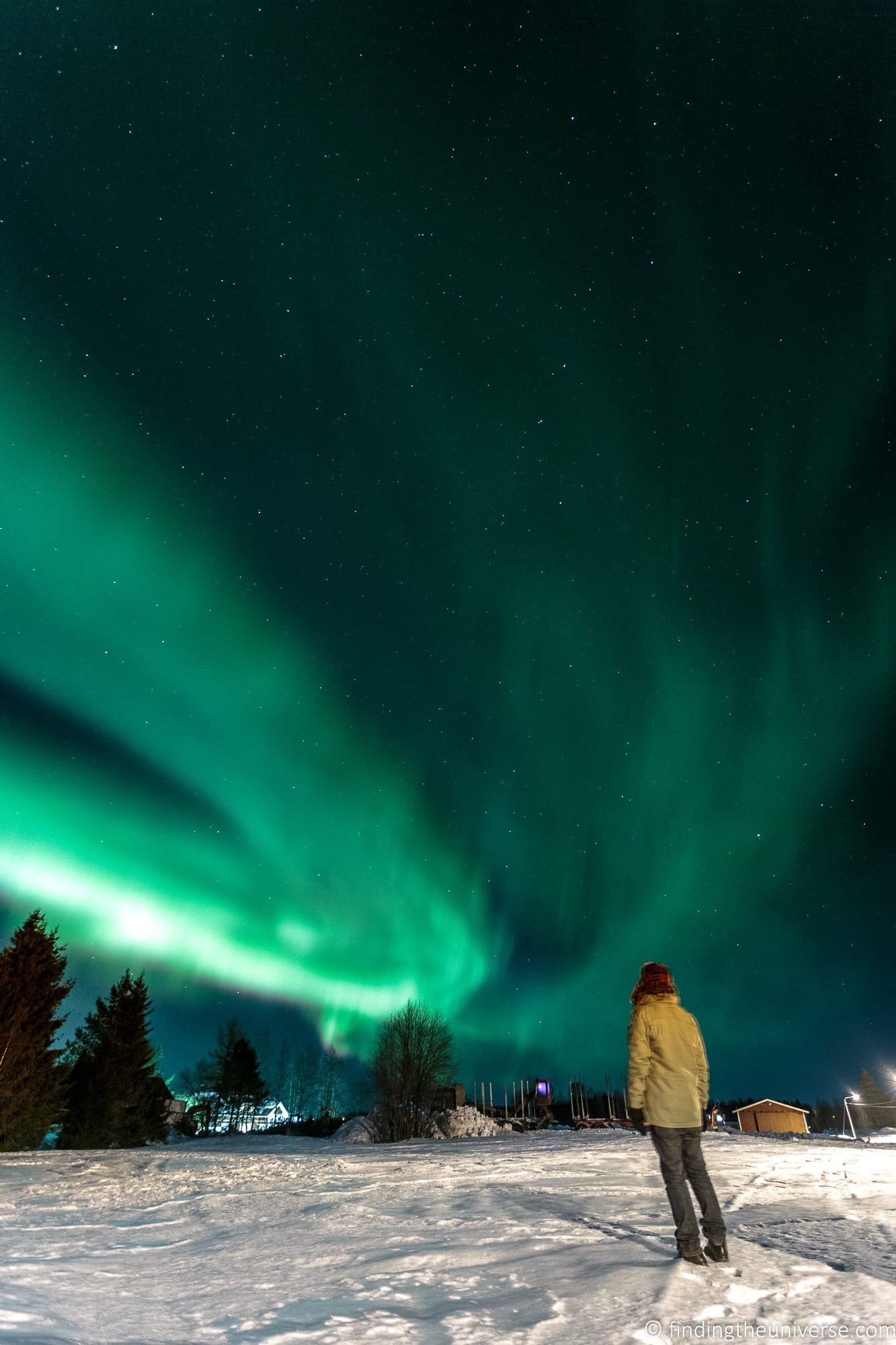 I'm also going to talk about the two new pairs of gloves Vallerret sent me, and also talk about my experiences over the last few years with the Vallerret Markhof 2.0 winter photography gloves. I've used them extensively in cold weather conditions around the world, and I will share my thoughts on those, as well as what the 3.0 version brings to the table.
I'll also provide an overview of the Vallerret range, to give you an idea of what's available and what might be suitable for your specific needs. Let's get started.
Photography Glove Features
Let's go over the various features you should be looking for when evaluating gloves for photography. There are a lot of gloves on the market, so it's good to have an idea of what features they have as well as what features are important for use as photography gloves specifically.
Photography Specific Features
First, let's talk about features that a pair of gloves should have to make them good as photography gloves.
The main thing to look out for is some sort of feature that allows you to actually operate your camera more easily compared to traditional gloves.
For example, this might be finger sections with openings that allow you to expose your fingers for fine-grained control. Mitten style gloves which fold back to expose your fingertips can also work.
What you don't want is to have to take your whole glove off in order to adjust a setting or use your camera. That negates the main point of having the glove in the first place. Your hands will get cold, and you have to find somewhere to keep your glove whilst you use your camera, which isn't always practical.
Photography gloves may also come with other features, such as built-in lens cloths, memory card pockets, or even tripod adjustment screws. However, these are nice to haves rather than a necessary feature. The key feature is that you can easily operate your camera without having to take your glove completely off.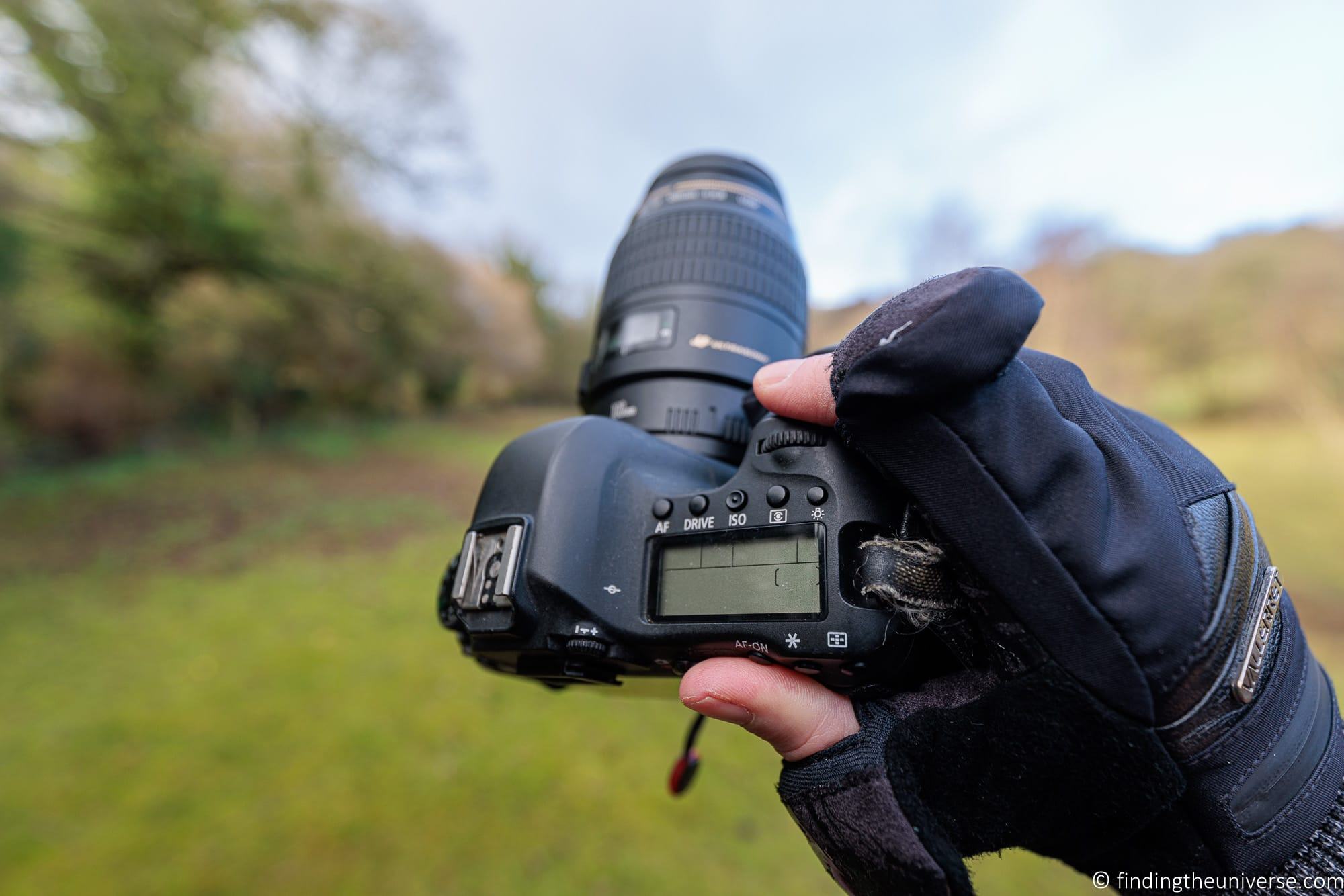 Good Fit
It's important when picking gloves that they fit your hands well. Good fitting gloves are going to be more comfortable and performant compared to a pair of poorly fitting gloves. For photography, you want a fairly tight fit because you don't want the gloves slipping on your hands when you are holding your expensive gear!
Ideally you'll want to be able to try the gloves on in person, but if you're ordering online, check to see if there's a detailed size guide. This should be accompanied with tips on how to measure your hands, and which size gloves work.
As an example, Vallerret has a great guide to choosing a size and measuring your hands, and their gloves also come in a range of sizes to suit all hands.
In my experience, one size fits all gloves tend not to be the best option if you want the best results.
Windproofing
Having gloves that let you operate your camera is all well and good. However, they also need to work effectively in their primary function, which is keeping your hands warm when you're shooting in cold conditions.
One feature to look out for is whether or not the gloves are windproof. A cold wind blowing through your gloves will very rapidly chill your hands, and windproof gloves block that cold air from getting through so your hands stay warm.
Windproofing is based on the material the gloves are made from, and should be clearly mentioned in the product description. I'd say that windproofing is a key feature for any glove.
Waterproofing
If you plan to regularly take photos in wet and rainy conditions, then you should probably consider gloves that offer some level of water resistance.
Water resistant gloves will normally withstand a light shower without your hands getting wet, whilst water proof gloves should be able to keep your hands dry during constant rain.
For a glove to be waterproof, it will normally need some sort of special waterproof material to cover it. It's also worth bearing in mind that if the glove has holes for your fingers, these can reduce the effectiveness of the waterproofing. So there might be some kind of compromise.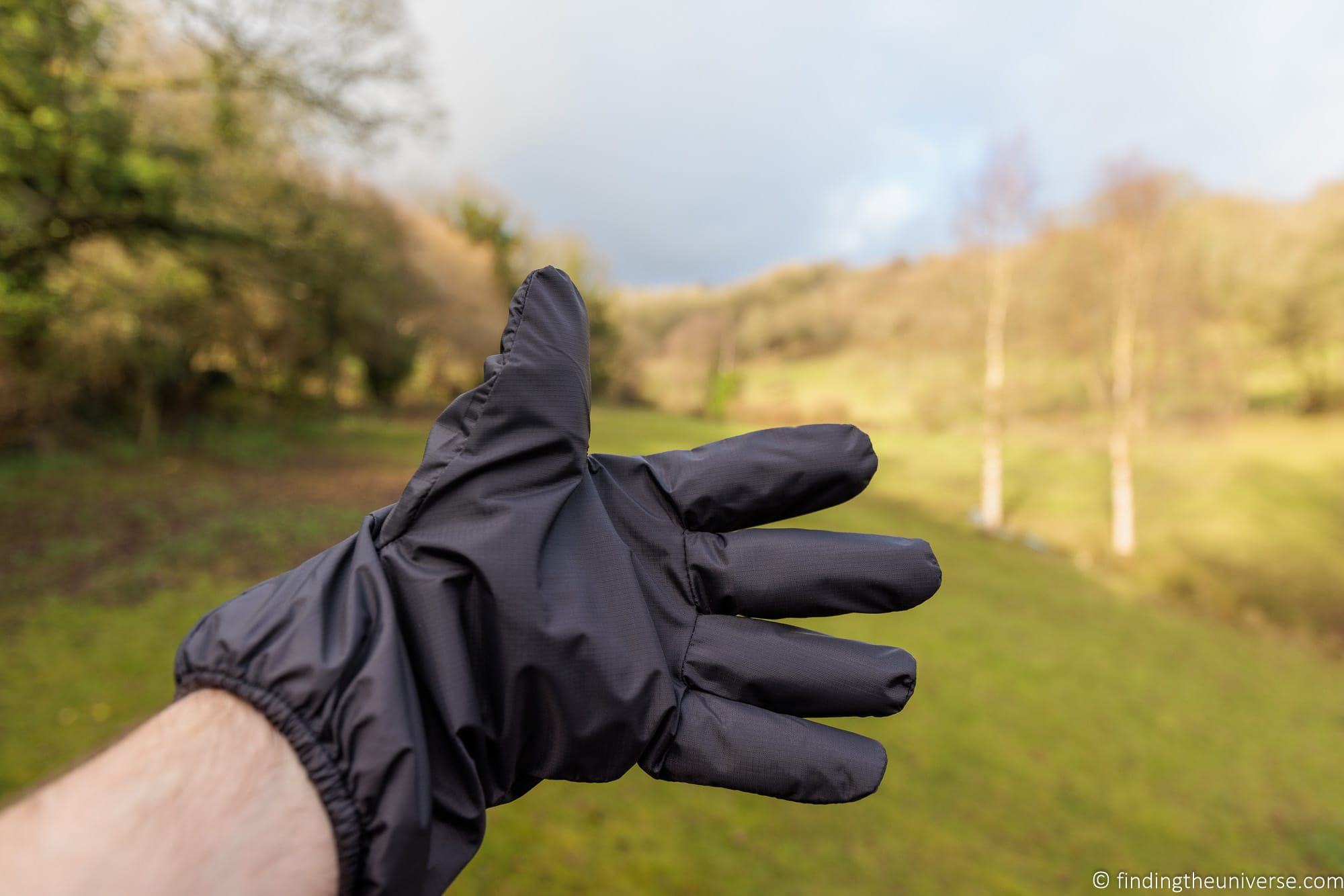 Material
Most gloves are made from a combination of materials chosen for the features that they offer. For example, an outer shell might be made of a water repellant material for waterproofing, whilst the interior might be made of fleece, wool, or other materials for insulation.
Gloves might also be made of other materials might include leather or elastic. When evaluating, make sure you don't buy any gloves which contain material your skin might be sensitive to. In addition, it's worth checking the material for insulation performance, which we'll cover in the next section.
Insulation
As mentioned previously, the main function of a pair of gloves is to keep your hands warm. The insulation which is used to construct the gloves is key to the warmth. There are a range of insulatory materials on the market, including well known brand names like Thinsulate, as well as products like merino wool.
The way insulation is measured can vary depending on the type of insulation and the brand, however, some sort of indicator as to how much insulation is provided by the product should be provided. This might be a number, such as that often given for Thinsulate products, which allows you to see relative performance between different amounts.
As an example, the Vallerret Markhof 3.0 gloves I'm reviewing in this post have Thinsulate C70 on the front of the hand and Thinsulate C100 on the back. In this case, the higher the number after the "C", the greater the insulation value.
Alternatively, the manufacturer might suggest what conditions or temperatures the glove is designed for. The main thing is to ensure you buy a glove which has sufficient insulation to keep your hands warm in the temperatures you are commonly shooting in. If in doubt, reach out to the manufacturer for clarity.
While you want to make sure your glove is going to keep you warm, you should avoid buying gloves that are likely to be too warm and bulky for what you need. For example, if you primarily shoot in mildly cold temperatures, you don't want gloves designed for extreme Arctic temperatures
Touchscreen Capability
These days many cameras and devices come with some sort of touchscreen capability, meaning you can take photos and adjust settings via the screen.
This works in a variety of ways, but often relies on the conduction of a tiny electrical charge between your skin and the screen. Wearing gloves usually means this electrical charge can't pass through, meaning you can't operate your touchscreen with gloves on.
The good news is that some gloves include a conductive material in the fingertips, so you are able to use a touchscreen even when wearing the gloves.
This can be helpful, although in my experience this tends to only be useful when wearing thinner gloves. Thicker gloves make fine grained control over a touchscreen interface a bit challenging, even if they do let you use the touchscreen.
It's also worth pointing out that whilst there are many gloves designed for touchscreens, this doesn't necessarily mean they are designed for photography specifically. The fine degree of control you need for operating camera dials and buttons isn't guaranteed, which is why I would recommend photography focused gloves over touchscreen gloves. However, photography focused gloves with touchscreen capabilities are a bonus!
Washability
Like any item of clothing that you use in the real world, gloves can get dirty. So it's important to buy a pair of gloves that can be easily washed and doesn't take too long to dry.
Ease of Use and Real-World Functionality
Ease of use can be subjective, but it is important to consider when evaluating gloves for photography. The main thing is to try the gloves with your camera in wintery conditions, and check:
how easy it is to operate the camera with the gloves on
how easy it is to expose any fingertips or fingers for fine grained control
whether or not the gloves keep your hands warm
whether or not you find yourself removing the gloves to achieve certain tasks
If you find yourself removing the gloves, I'd say that's a failure for any glove you are trying to use for photography, as it negates the point.
In my experience, gloves designed for winter photography should generally not need to be removed, and they should also have handy features (like magnetic locks or clips) that make exposing and covering up your fingertips as easy as possible. They should also minimise how much of your hand is exposed.
My Experience with Vallerret Winter Photography Gloves
I'm now going to talk about my experience with Vallerret Winter Photography gloves in general, before looking at two models in particular that I've been using recently.
Vallerret, if you haven't heard of them before, are a specialty photography gloves manufacturer based in Norway, a country which is no stranger to cold weather conditions!
Until I started using their gloves, I had gone through a variety of gloves in an attempt to find something which worked for cold weather and winter photography. Inevitably though, I always found myself having to take my gloves off to adjust a camera setting, which is not ideal in freezing temperatures.
In 2019, Vallerret sent me a pair of their Markhof 2.0 gloves, which I've been using regularly ever since. Vallerret designs their gloves specifically with the needs of photographers in mind. So I hoped that these would solve my problems with normal gloves.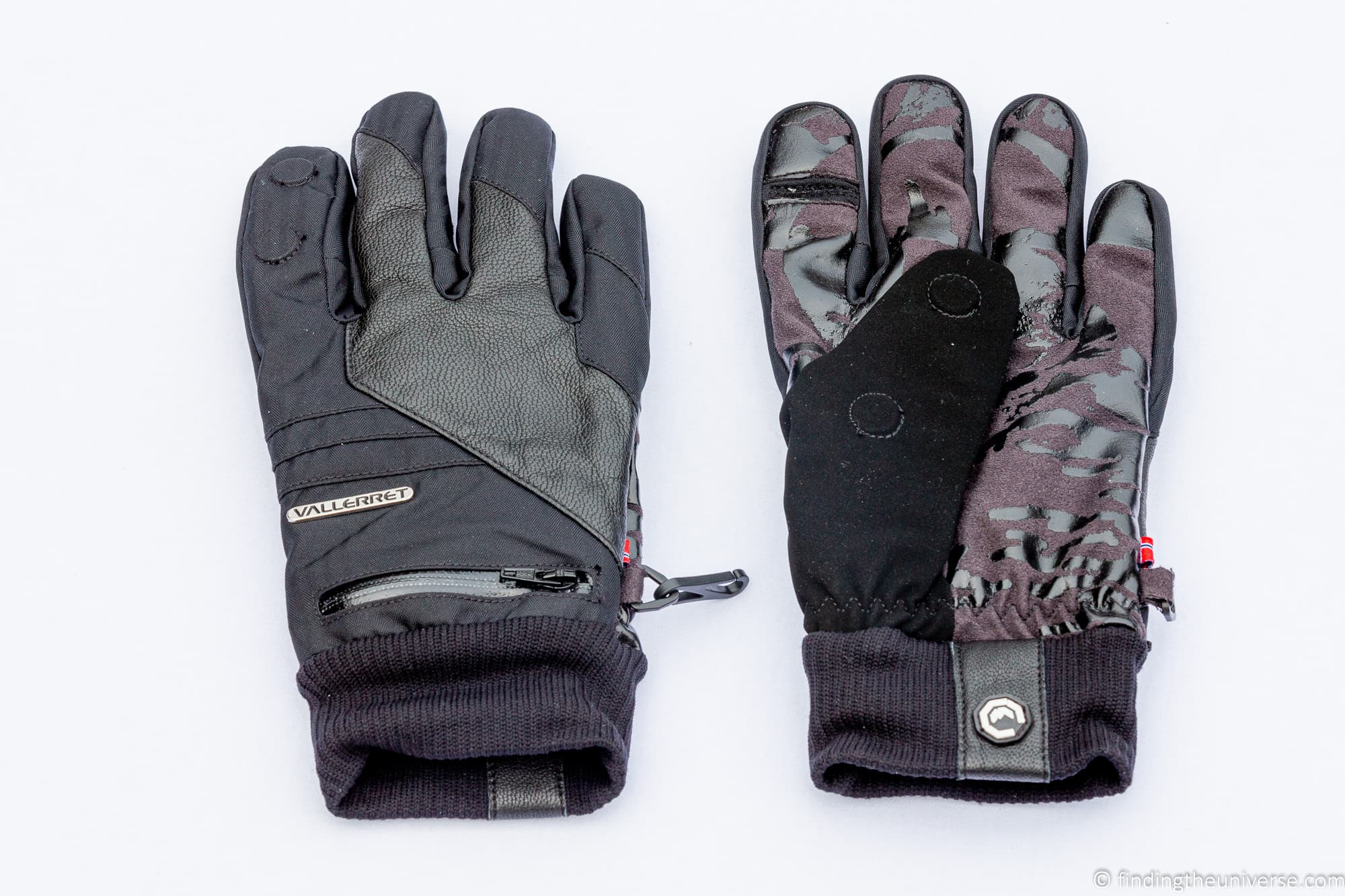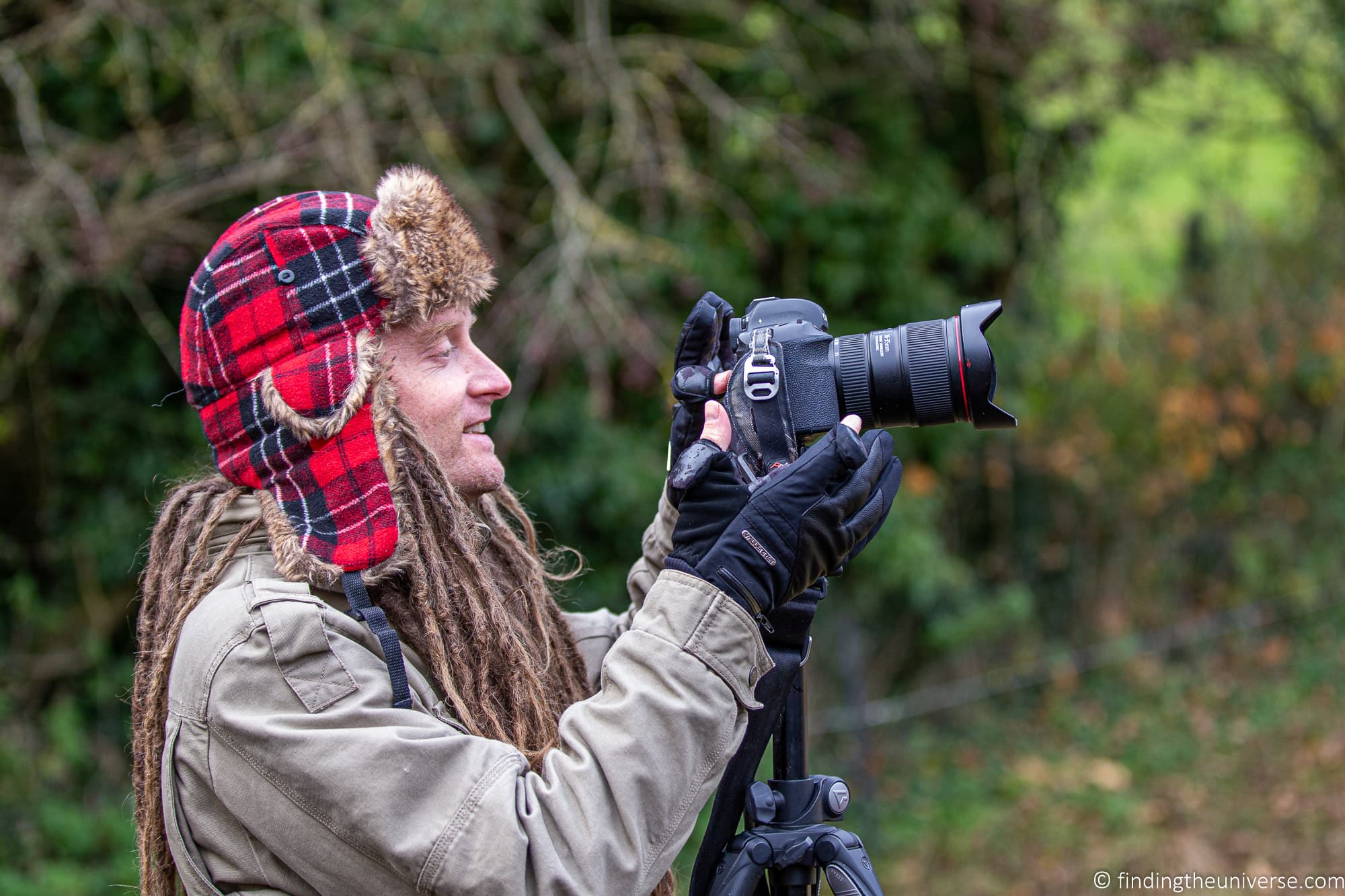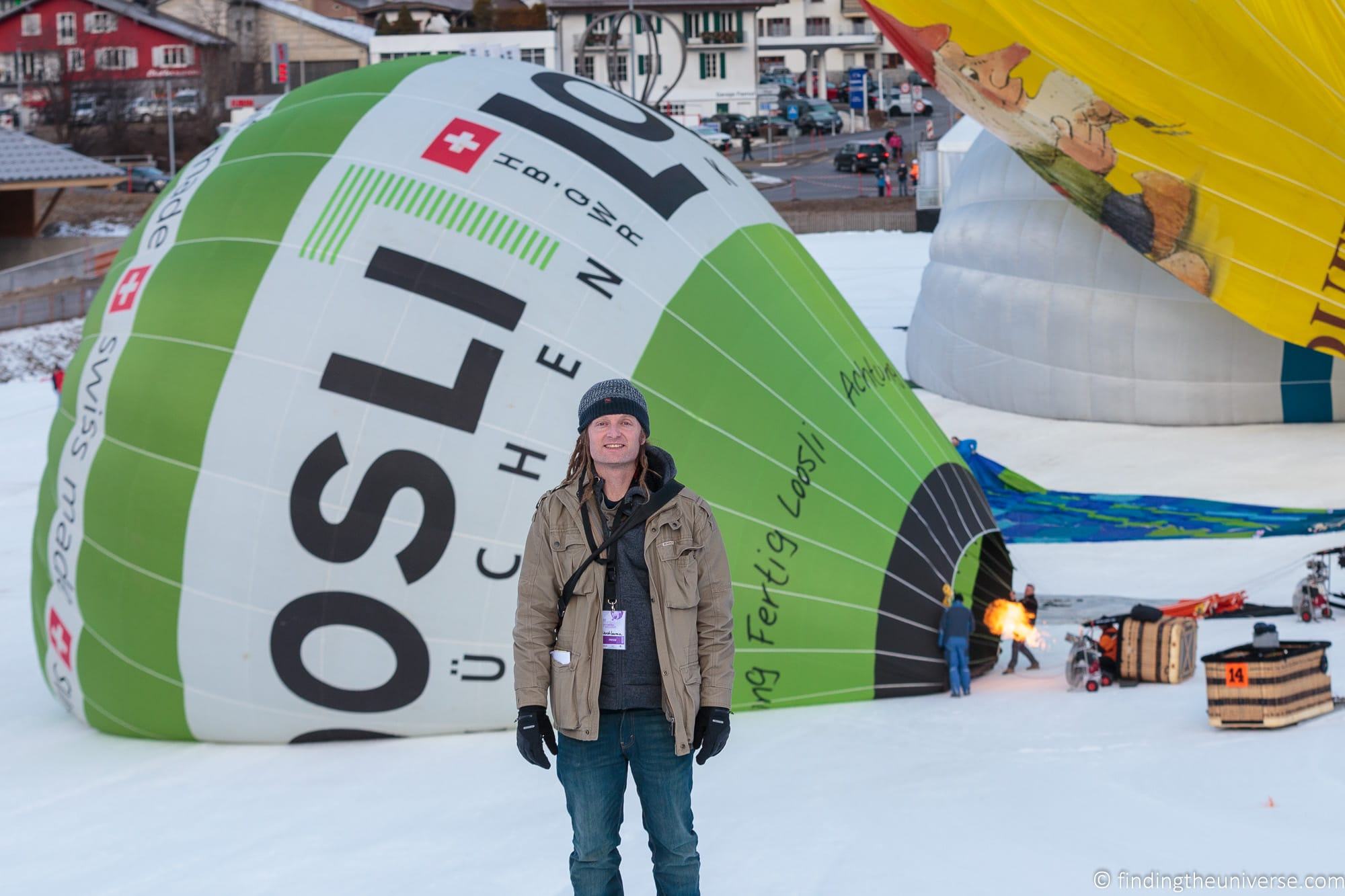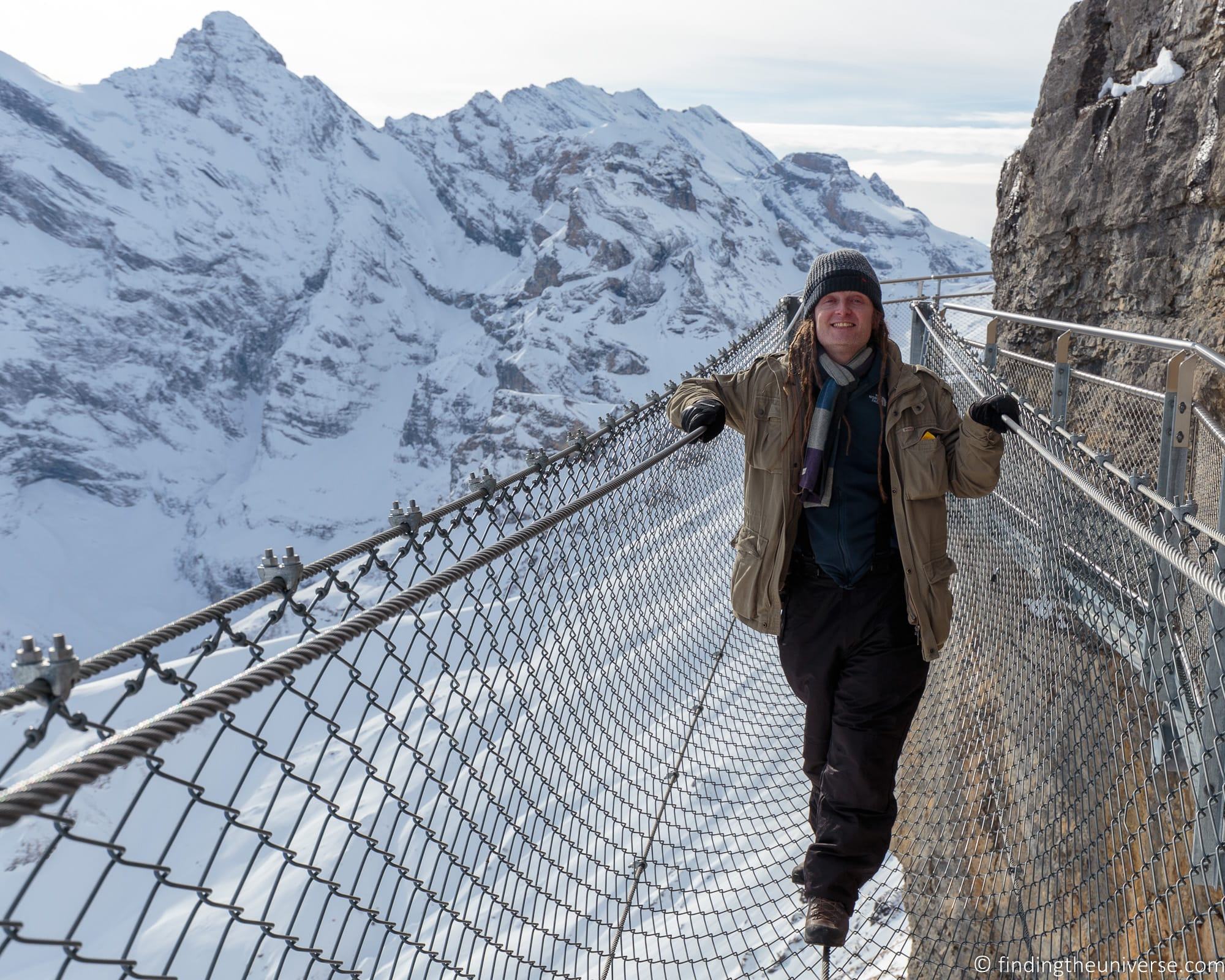 The good news is that they absolutely did. The Markhof 2.0 gloves I have been using have a number of features which make them valuable for use as photography gloves.
The main feature which makes these gloves great are that the thumb and index finger have a small opening in the glove, found approximately at the top joint in your finger and thumb. This is made of Lycra, meaning when not in use they keep closed to keep the cold air out. When in use, the tips of the gloves fold back and are held by magnets so they don't get in your way.
This means that I can use my thumb and forefinger to operate the camera, whilst the rest of my hand stays warm. I no longer need to take my gloves off to change a setting, which is a major bonus.
That isn't all. The gloves are windproof and water resistant (although not waterproof). They also feature a nubuck soft back on the rear of the thumbs which can be used to wipe a lens. The back of the gloves features a small zipped pocket, which could store a memory card or even a hand warmer. Inside the left glove there's a small tool, attached by a cord, which can be used to adjust a tripod screw.
As I said, I've used these gloves in a range of conditions, from a few degrees below freezing in the Swiss Alps, to the milder winter weather of the UK. I have also used them in wet weather, and whilst they aren't waterproof, the water resistance was sufficient to withstand a shower or two.
Overall, I have had a very positive experience with the Markhof 2.0 gloves to date. They have kept my hands warm whilst allowing me to keep operating my camera and not having to remove my gloves, and they are obviously a quality construction as they still work great and look almost new.
I should point out that the Markhof range is not designed for the super freezing temperatures you might find inside the Arctic Circle, rather for more everyday winter conditions. Vallerret have a range of other gloves for milder and also for harsher conditions, so it's important to pick gloves that work for you. More on those gloves later on.
Vallerret Markhof 3.0 Gloves Features and Review
I'm now going to talk about the Vallerret Markhof 3.0 gloves, launched in 2021. These have had a few changes made to improve them, and they now replace the Markhof 2.0 gloves at the same price point.
I'd say that if you already own the 2.0 gloves, the changes aren't drastic enough to warrant an upgrade unless you are in need of a new pair. From my testing so far, I would also say that they are just as good as version 2, with some specific improvements.
First though, let me go through the main features of these gloves.
100% Merino wool inner
Thinsulate insulation (C100/C70)
FlipTech finger caps with magnets for index finger and thumb
Non-slip grip
Curved glove design
Memory card pocket with built-in tripod key
Windproof and water resistant
Goats leather accents
Suede lens wipe
Designed for mid-winter conditions but not deep winter conditions
As you can see, the gloves have a lot of features. Here are a couple of pictures of the front and back of these gloves.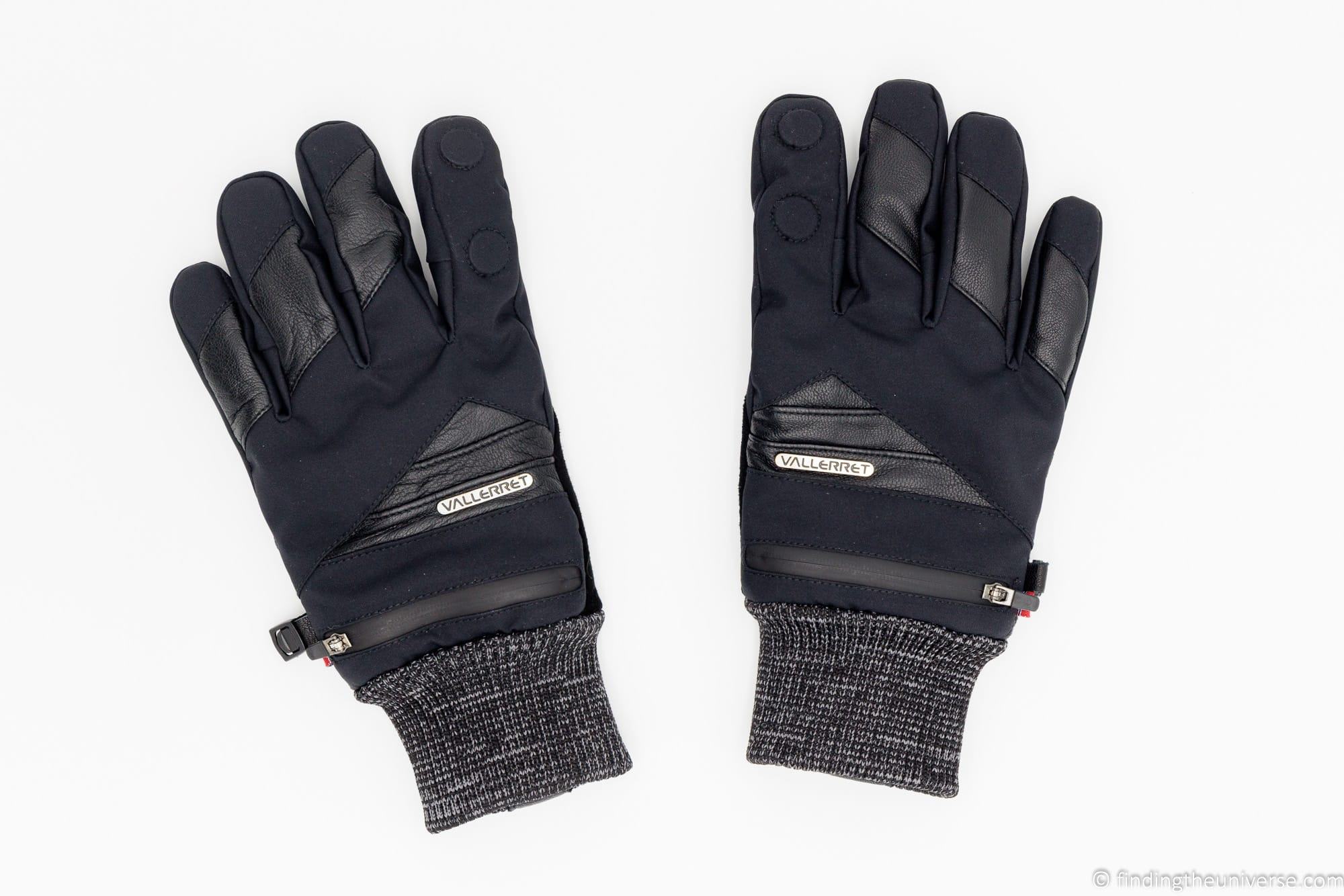 In terms of the difference between the version 2 and version 3 gloves, the main differences are:
The insulation material is improved, from Thinsulate C40 to a combination of C100 and C70. That means the gloves will keep your hands warmer. Despite the change to this thickness, there is only a small change to the bulkiness of the gloves, and the dexterity of the gloves is not changed
An improved finish to the hole where your fingers protude. This

is now surrounded by more stretchy Lycra, so when not in use it stays closed and does an even better job of keeping the cold air out. I never had an issue with 2.0 gloves letting cold air in, but I am happy it's even less of a concern now!

The magnets used to hold the tips back have been improved and are now stronger. Personally, I never had an issue with the magnets not holding the caps back, but stronger is better!
The back of the thumb now uses goat leather suede material as a lens wipe. On the 2.0 gloves this was a faux nubuck.
The zippers on the back of the gloves for the small pockets are now waterproofed and easy to operate. This is definitely an upgrade as the 2.0 zippers could be a bit fiddly.
The built-in tripod key (found in the small pocket) is smaller and lighter, as well as stronger.
The cuff is a different color, but more importantly, is slightly longer. This helps keep my hands and wrists warmer.
Overall, it's a lot of relatively small updates which add up to an improved experience. I am most impressed by the fact that the gloves now offer improved insulation yet this hasn't significantly changed how they feel, or the dexterity. The lengthened cuff is also appreciated.
Here are some images of me wearing the gloves so you can see the various features.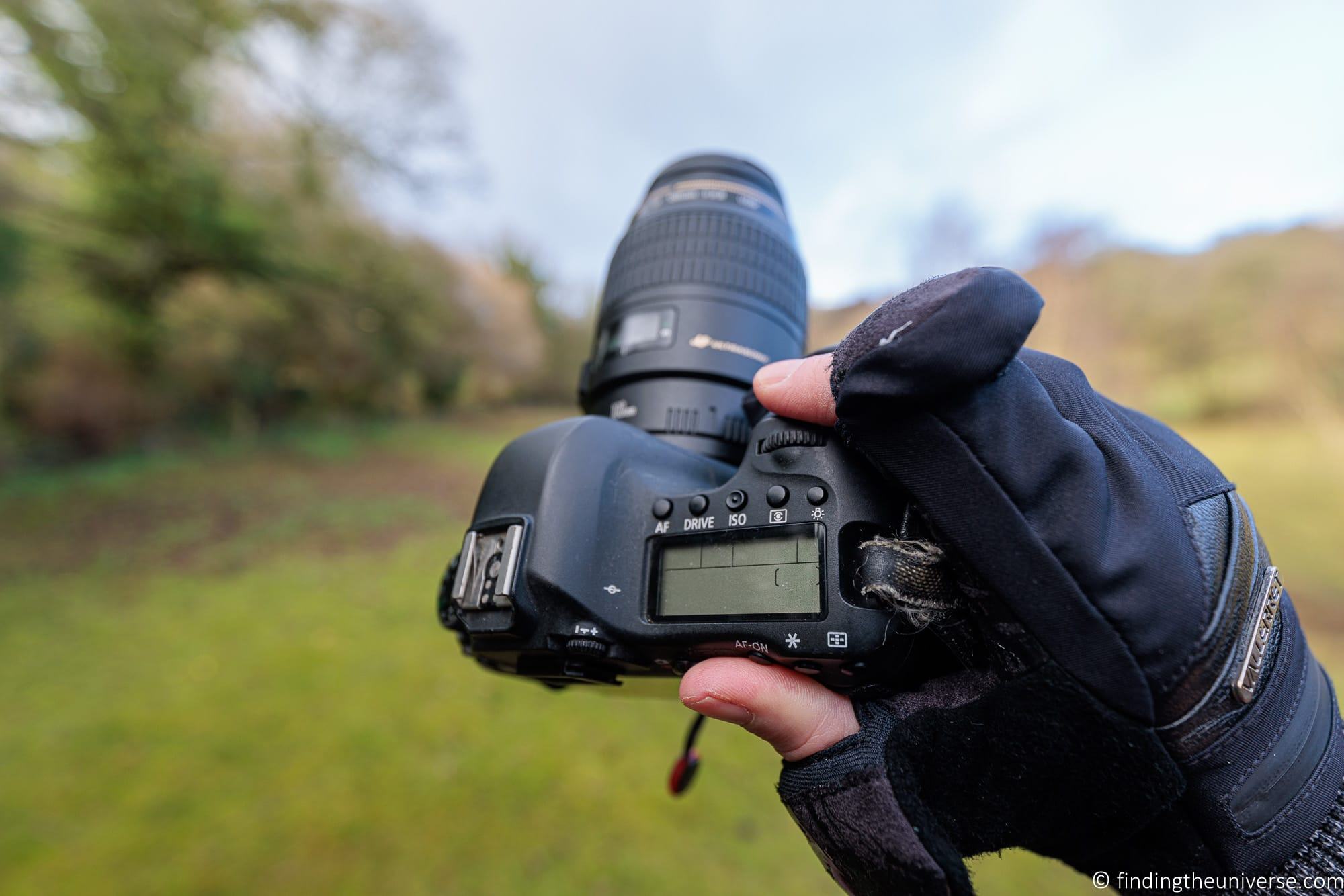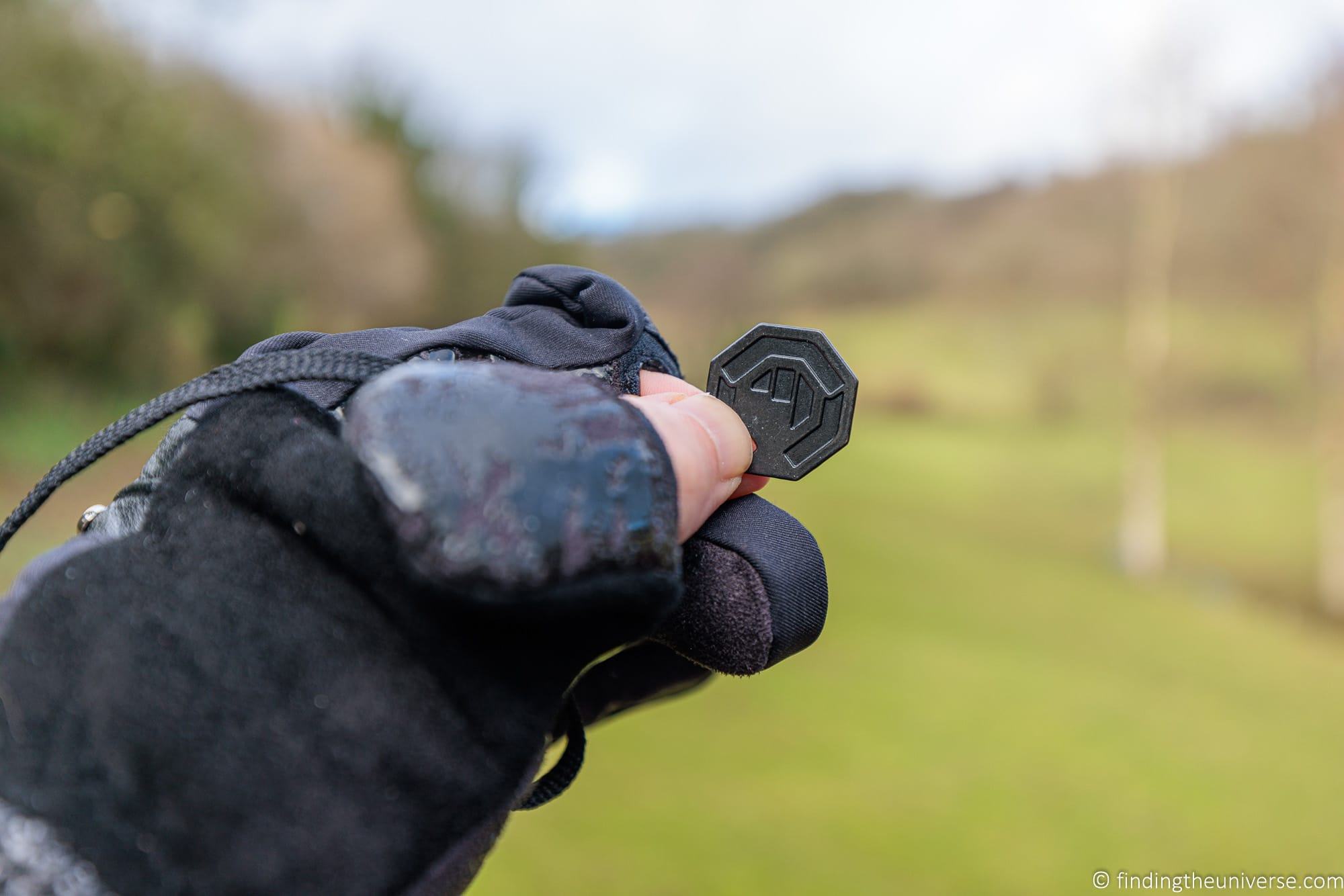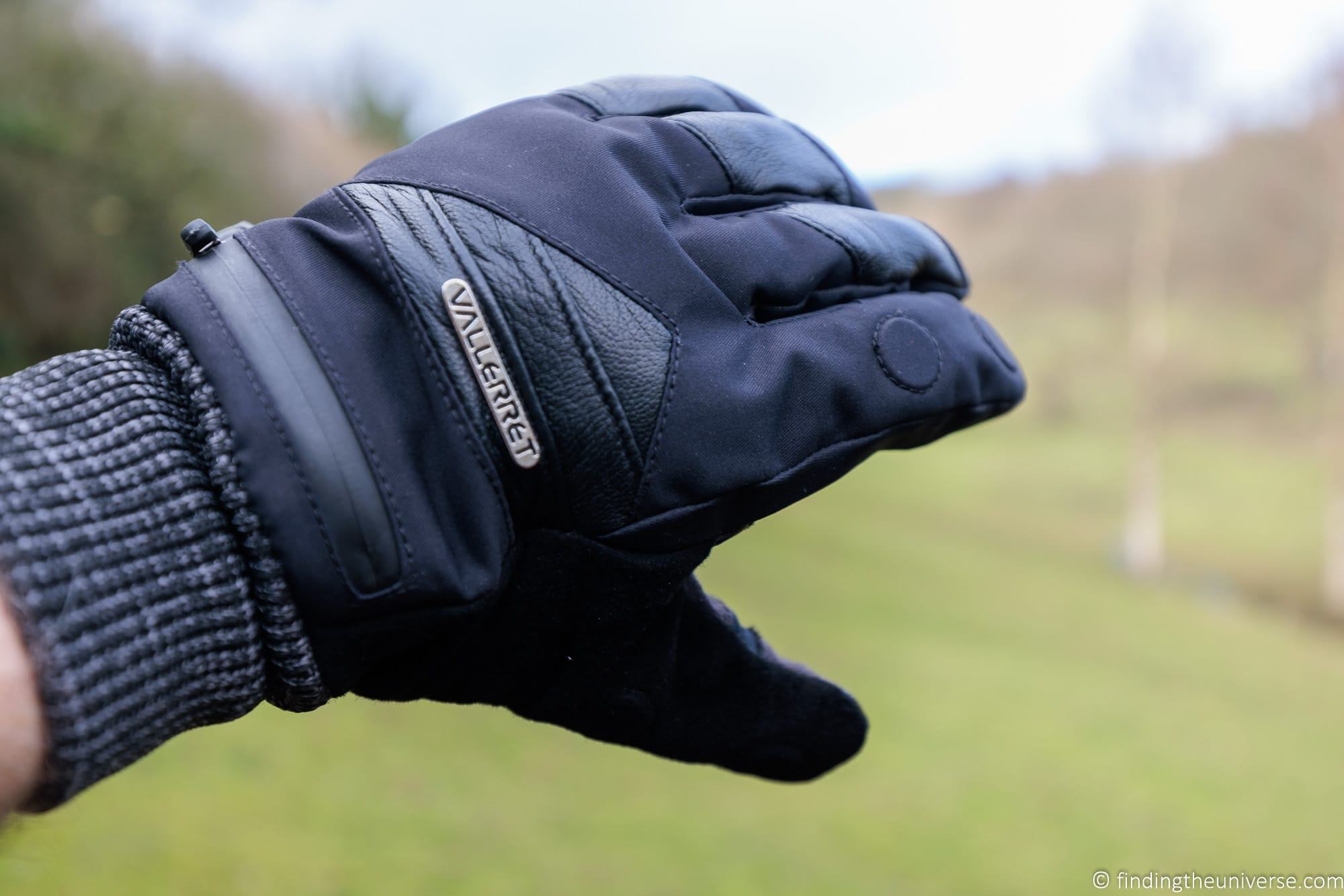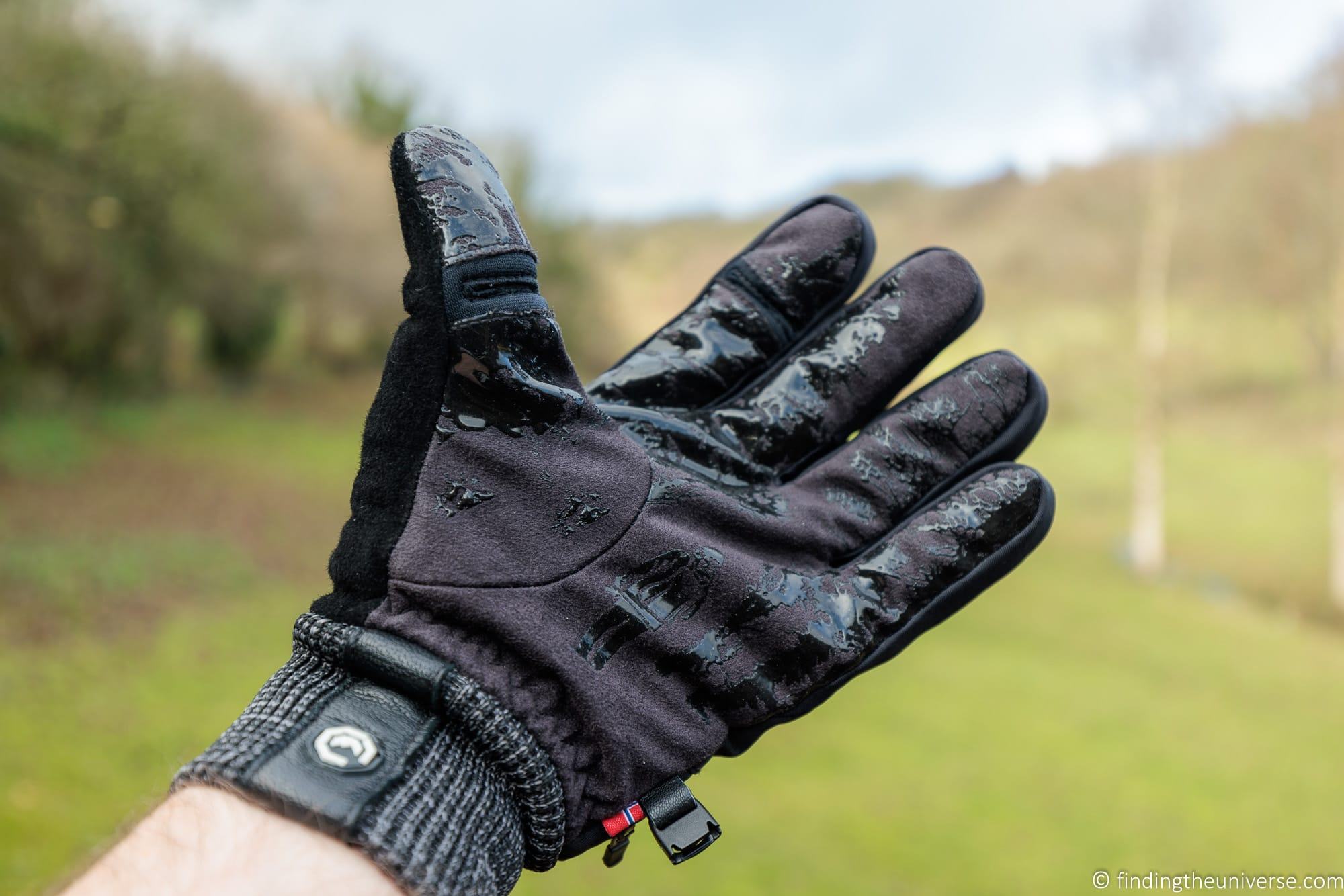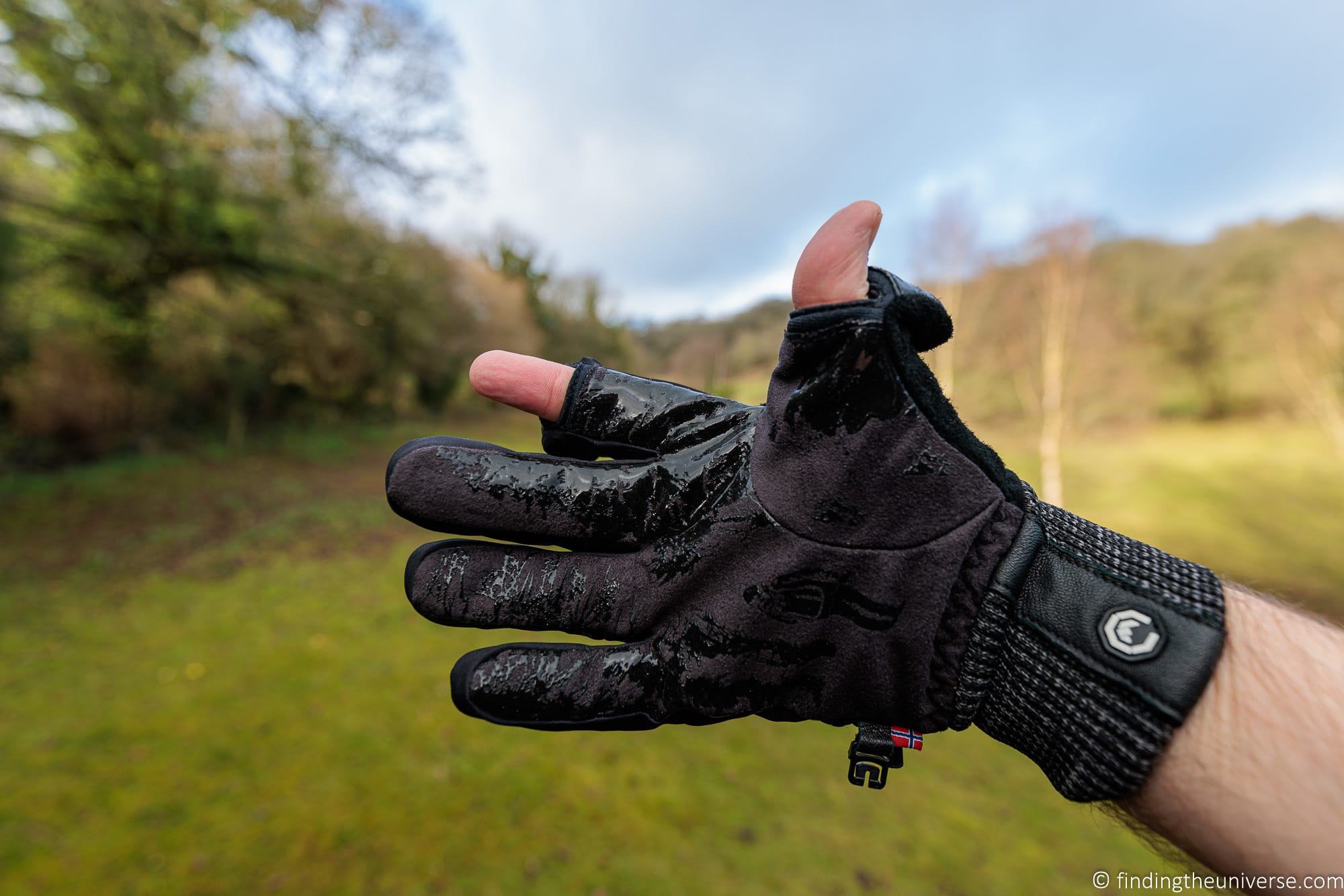 If you are looking for pair of winter photography gloves that will last, and you primarily shoot in cold to freezing (but not Arctic) temperatures, these should definitely be on your wish list. They are a great all-round pair of photography gloves.
Vallerret Milford Gloves Features and Review
Whilst looking at Vallerret's range of photography gloves, I noticed a new pair, the Milford Gloves. These come in at a lower price point than the Markhof gloves, and they are also fully waterproof.
As a landscape photographer who is often out and about in less than ideal conditions (the UK is not known for year round sunshine), I was definitely interested to find out more. So Vallerret kindly sent me a pair of these to evaluate as well. Here's an image of them showing the inner and outer parts together for each hand.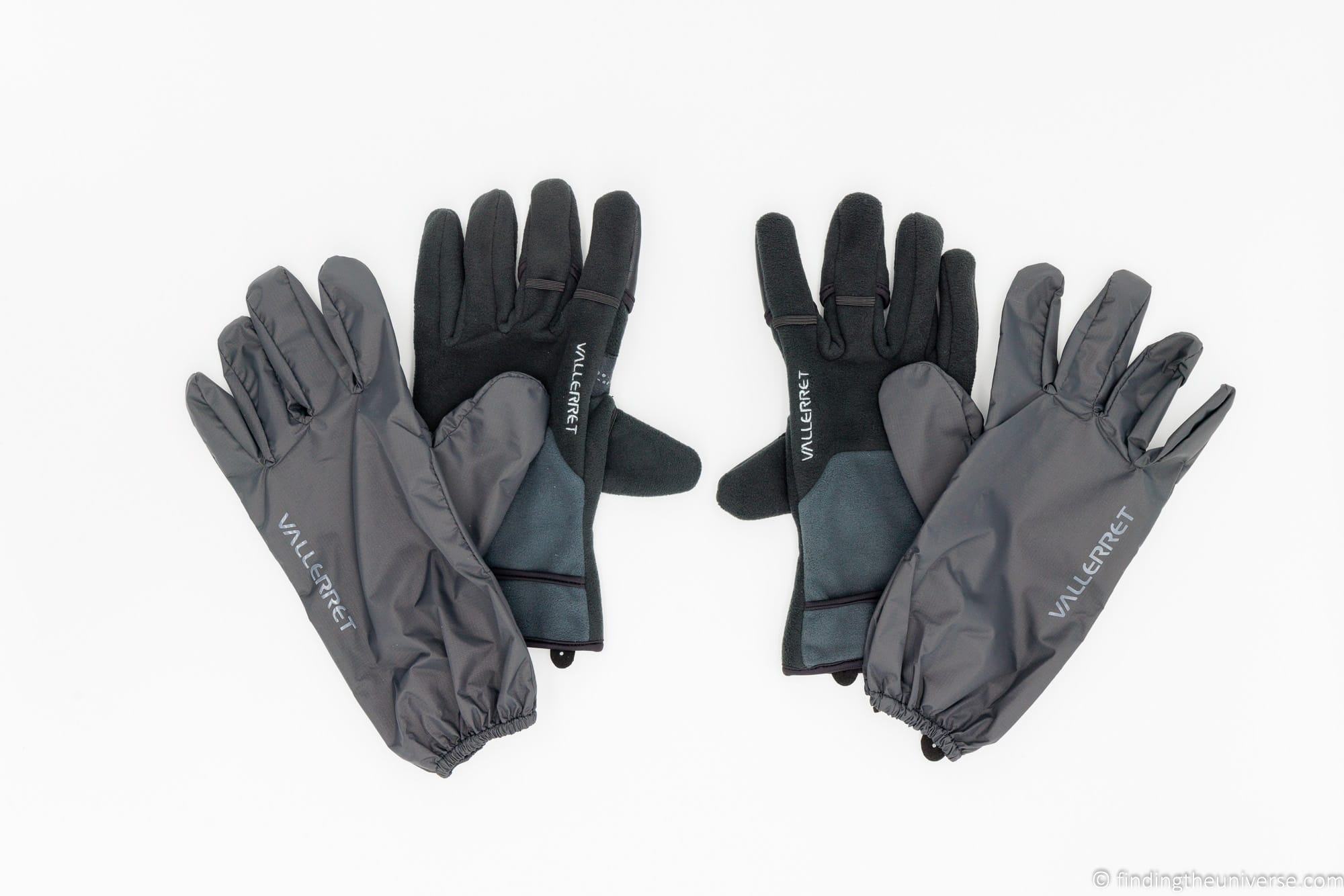 These are 2-in-1 gloves. The inner glove is a windproof fleece glove, whilst the outer glove is a waterproof lightweight shell.
You can wear then separately or together, and when not in use the waterproof shell fits into a pocket on the back of the inner glove.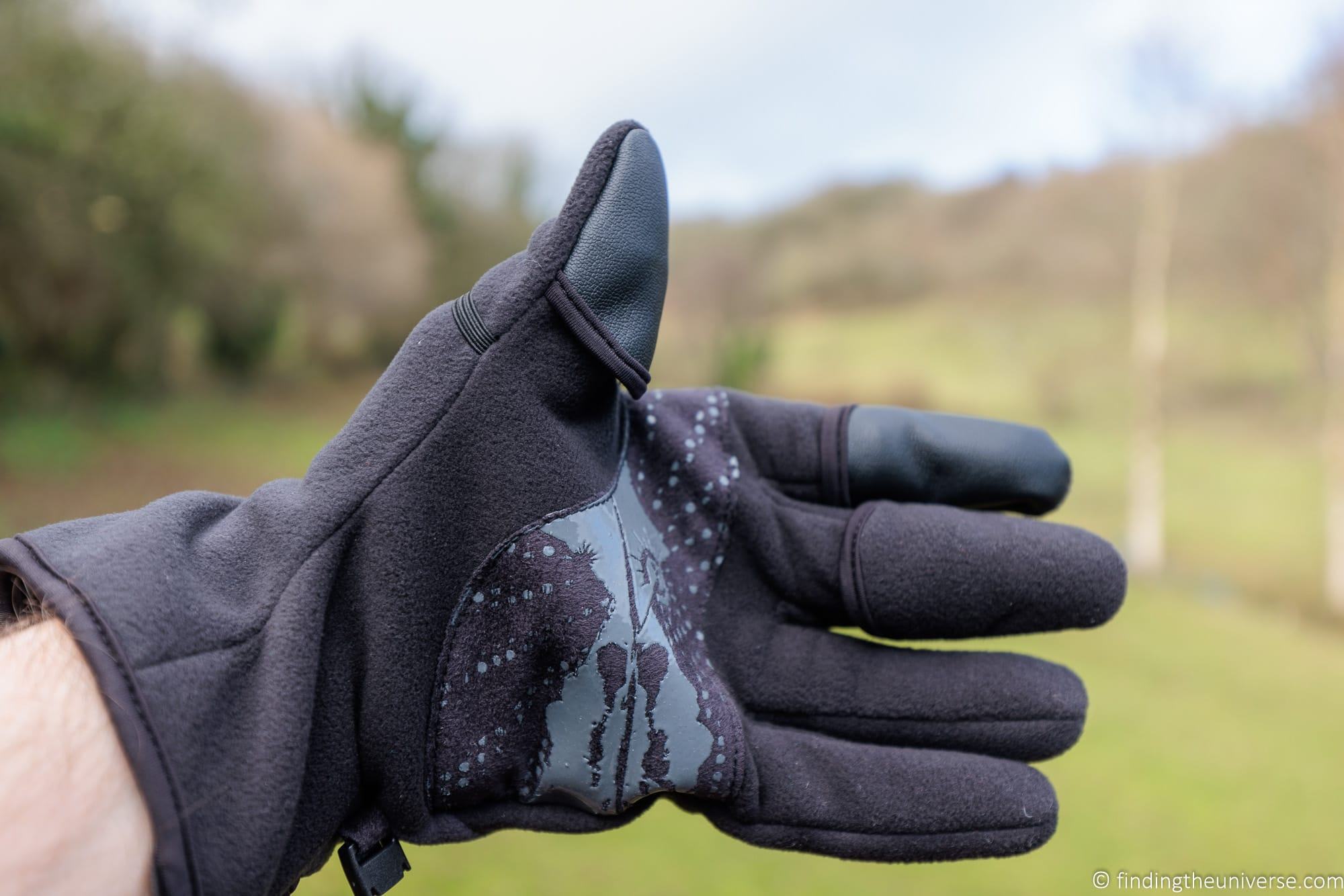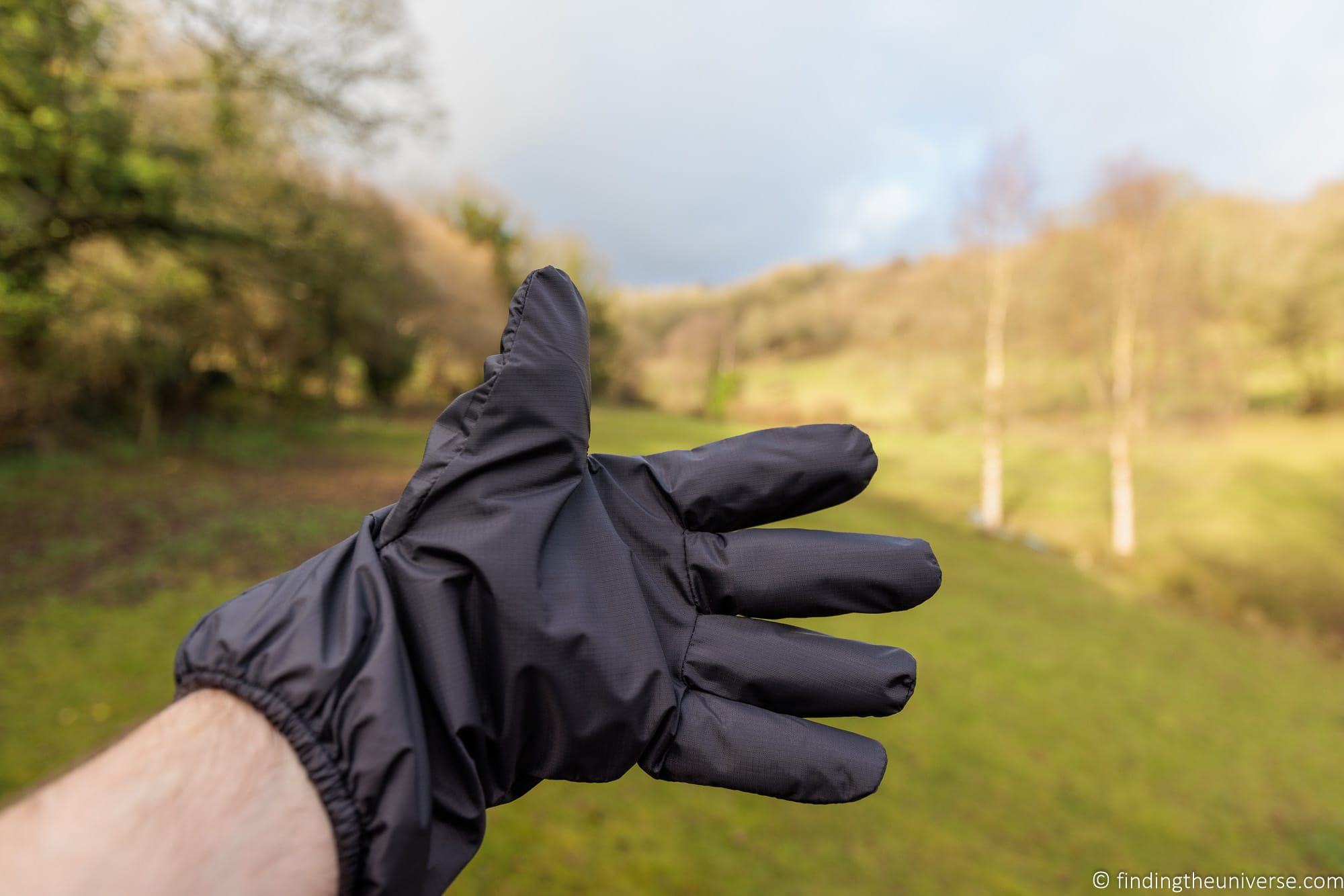 Let's go over the key features.
2-in-1 photography glove
Inner glove made from Polartec Windbloc Fleece
Inner glove has three Flip-Tech caps for the thumb, index and middle finger. These are held back by elastic
Touch screen enabled
Inner glove has pocket on the back for the shell glove
Inner glove has a grippy palm featuring a nice mountain design.
Outer shell glove is made of a 10K water-repellant coated rip-stop fabric
Vallerret says these gloves are really designed for mild winter, which make sense. They feel a lot lighter than the Markhof gloves, and the construction is less complicated as it's primarily fleece. For the UK, or similar climates, they are certainly warm enough in my testing and the windproofing is appreciated.
The outer waterproofing shell also works very well, and I like that it completely detaches from the glove so you could use it separately if you so wish. The only downside to the shell is that it doesn't have the Flip-Tech caps, so if you want to expose your fingers or thumb you have to remove the shell first.
I can see why this is necessary, as a waterproof shell with holes in isn't going to be that waterproof! The good news is that the waterproof fabric of the shell is thin. This means you can put your fingers or thumb through the holes of the inner gloves, secure the tips back with the elastic, and then put the waterproof cover on if it is raining.
The material is thin enough that in my testing I have been able to operate the camera just fine through the waterproof material whilst still keeping my hands dry.
The other nice feature is that the gloves are touchscreen compatible, so I've been able to operate my Canon R5 touchscreen with the gloves on, which is handy.
In terms of downsides, a couple of things spring to mind. I would prefer the gloves to have an elasticated cuff, which is a personal preference. The outer shell is elasticated, but the inner shell is not. So the odd errant breeze can get in.
Additionally, I don't know how well the elastic that hold the finger tips back will hold up for long term use. Over time, elastic tends to lose its elasticity, so that is something I'll be keeping an eye on for long term use.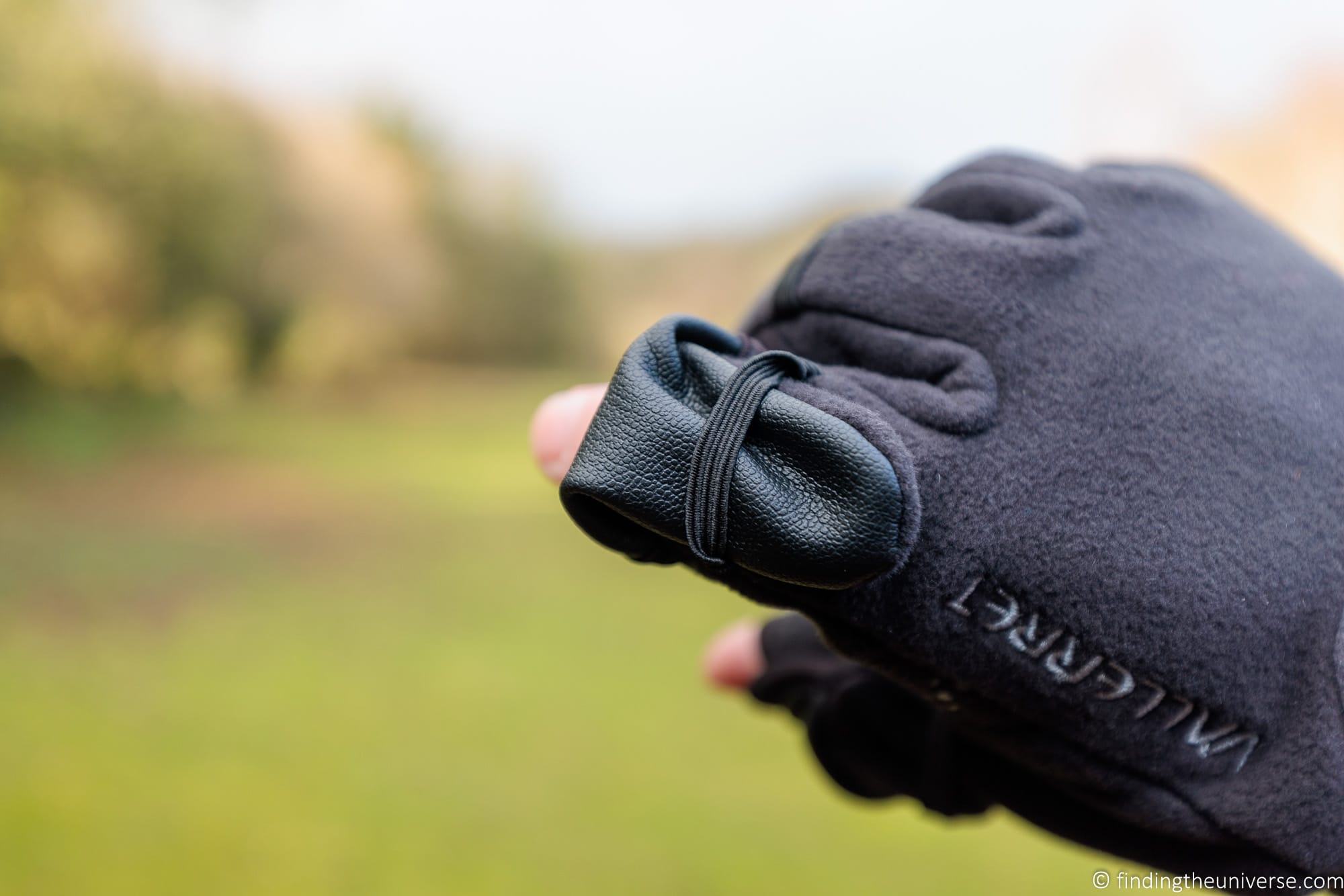 Other than those two minor things though, I think that these are a great pair of value winter photography gloves which have the benefit of water proofing, which is very handy. For mild or wet conditions, I think they are a solid choice.
Other Winter Photography Gloves to Consider from Vallerret
As I mentioned previously, Vallerret have quite an extensive line of winter photography gloves to choose from, and which is right for you will very much depend on the sort of conditions you are likely to be shooting in. For me, largely shooting in the UK and occasionally in places like Finland, Iceland and other mountainous regions, the Markhof and Milford products work well.
However, if I was normally shooting in locations where the temperature was far below freezing, I would likely need to consider another pair. Here are some options to consider, ordered from milder conditions to more extreme conditions. I've included the two I've reviewed so you can see where they fit in the range I recommend.
As you can see, Vallerret have gloves for most conditions, so it's just a question of choosing the right gloves for you. I'd also just like to mention that 1% of their sales go directly to environmental nonprofit organisations, a pledge I am always happy to see from a company.
More Photography Resources
This isnt the only post Ive written on photography! Here are some more resources to help you out with improving your photography:
And thats if for todays post on winter photography gloves! Have anything youd like to add or feedback to share? Let me know in the comments below!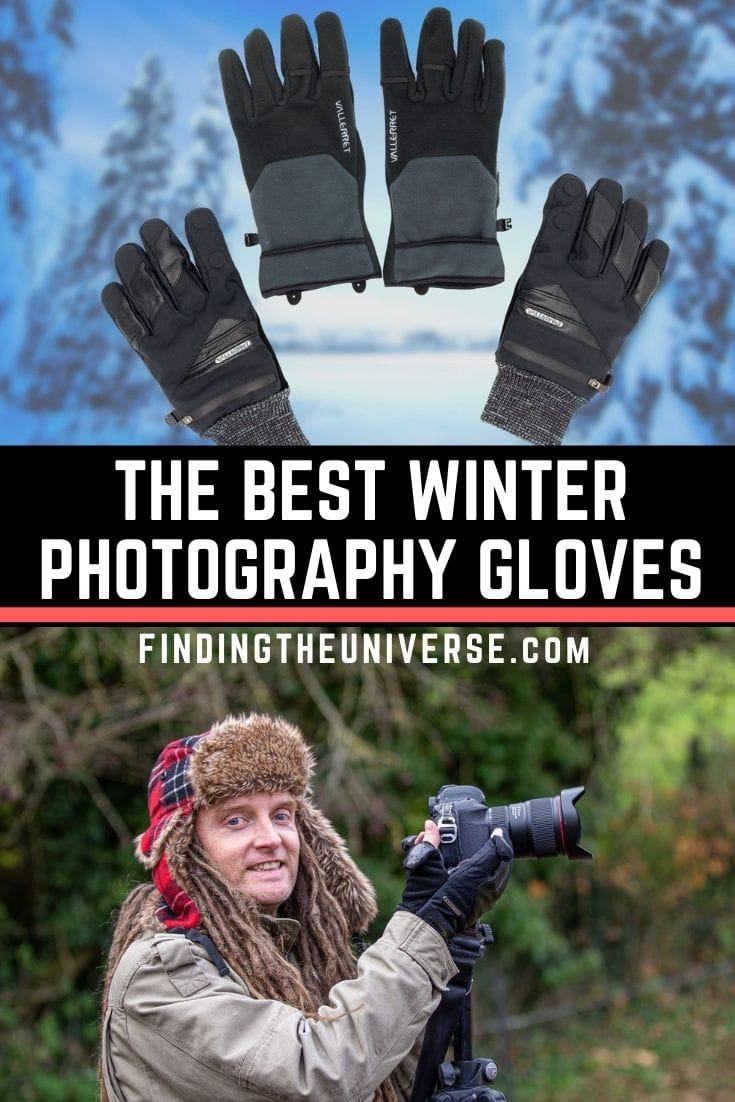 So you know: As I mentioned in this post, Vallerret sent me their gloves to try out. All the opinions in the post remain my own, and I didn't receive any compensation for writing the article. You can see more about how we work with brands in our code of ethics.