In this post I'm doing a review of the latest travel focused tripod from Vanguard, the Vanguard VEO 3T+ 264CB carbon fibre travel tripod.
I actually did a review of another tripod in the VEO 3+ range not too long ago, that was of the Vanguard VEO 3+ 263AB. You'll notice that the product name in that case happens to be missing a "T".
The "T" indicates that this is a tripod aimed at travel. Whilst I did very much like the VEO 3+ 263AB, as a professional travel photographer, it was just a little bit big to pack when traveling.  I need a tripod that fold up quite compact for travel, and at 30 inches (76cm) folded the VEO 3+ is a bit bulky for my needs.
The VEO 3T+ range aims to solve this problem, offering both stability and portability, and Vanguard sent me the 264CB model to test out.
A few things to start with. I've been a Vanguard ambassador since 2014, and have used and reviewed a number of their tripods and camera bags over the years, including many of their VEO products as well as their Alta Pro products.
In the case of the VEO 3T+ 264CB, Vanguard have sent me a production model before they go on general sale so I can share my opinion. I'm not being compensated for doing so, and I am returning the tripod to them once I'm done.
I'm going to start with the features of the VEO 3T+. I'll then compare it against some of the other travel focused tripods I use, and finally share my opinion as to whether this might be the right travel tripod for you.
If you want some background on the Vanguard VEO range, then you can find that in my previous review of the Vanguard VEO 3+ 263AB.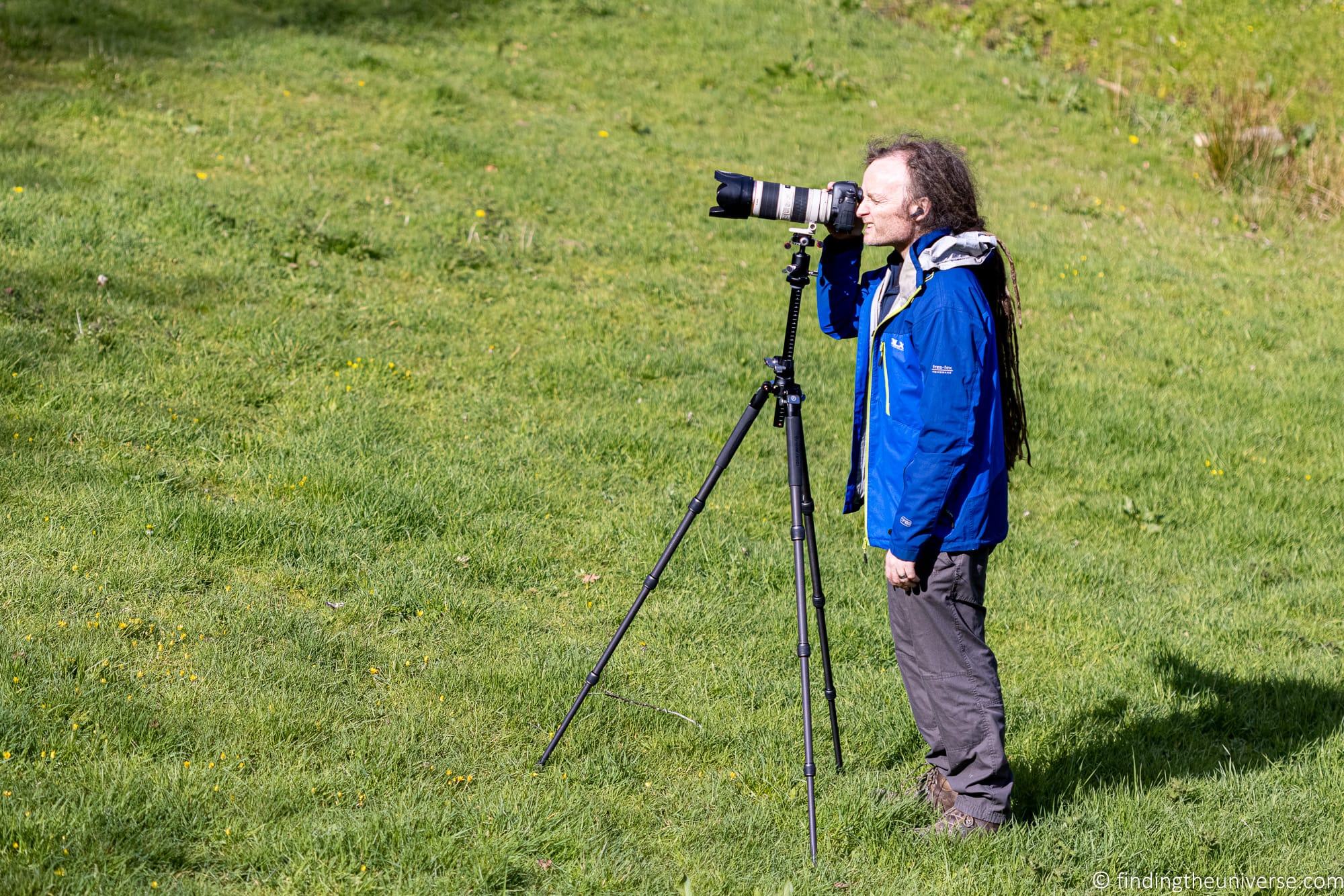 Vanguard VEO 3T+ 264CB Tripod Review
The Vanguard VEO 3T+ 264CB is a travel-focused tripod in the new VEO 3T+ range, which is launching in June 2021. There are four models in the range at the time of writing, which are:
VEO 3T+ 264CB – carbon fibre, 15kg capacity, 156cm max height, 2.27kg weight, 15kg load capacity
VEO 3T+ 234CB – carbon fibre, 10kg capacity, 146cm max height, 1.98kg weight, 10kg load capacity
VEO 3T+ 264AB – aluminium, 15kg capacity, 156cm max height, 2.45kg weight, 15kg load capacity
VEO 3T+ 234AB – aluminium, 10kg capacity, 146cm max height, 2.19kg weight, 10kg load capacity
These are all travel focused tripods which come with a ball head. The main differences are the load capacity, maximum height and weight.
The carbon fibre models (CB) are around 200g / 7oz lighter than their equivalent aluminium models (AB).
The 234 models are 10cm shorter when extended than the 264 models.
Other than that, the key features of the VEO 3T+ tripods are the same across the board. I'll go into those shortly. When it comes to choosing between these four models, it will come down to choosing between budget, weight, and maximum height. Which aspects are going to be most important to you will vary depending on your camera gear, photography needs, and personal preferences.
Let's start by looking at the specifications and features of the tripod I'm testing, the VEO 3T+ 264CB.
Veo 3T+ 264 CB Key Specifications
Here's a run down of the key specifications of this tripod.
Weight: 5 lbs /2.27 kg
Folded Length: 18.9 inches (48 cm)
Minimum Height: 0.2 inches (0.5 cm)
Fully Extended Height:  61.4 inches (156 cm)
Height without Column Extension:  51.6 inches (131 cm)
Load Capacity: 33 lbs / 15 kg
Main Material: Carbon Fibre
Head: Ball head
Mount Type: Arca-Swiss compatible quick-release mount
Price: RRP of 329 GBP
I would say that this is definitely a bit on the heavier side for a travel tripod. However if weight is a concern, you can opt for the VEO 3T+ 234CB, which comes in at just under 2kg.
Features of the Vanguard VEO 3T+
The majority of the features of the VEO 3T+ range overlap with the other VEO 3+ tripods. There are also a couple of new features which help this tripod stand out. Let me go through the main features for you.
The Multi-Angle Central Column
The main feature that differentiates this tripod from many other tripods, including those in the lighter VEO Go range, is the Multi-Angle Central Column, or MACC.
Basically the central column doesn't just go up and down like it does in other tripods. Obviously, it can do that, but it can also flip out and then rotate independently. This opens up a huge world of possibility, and overcomes some of the traditional challenges you might have with tripod placement.
When out in the field, you often have to place the tripod in a location that might not be totally optimal in order to get the most stable set up, and find yourself wishing it could just be a few inches to the left or right.
Well, the MACC solves this problem by allowing you to position the camera much more freely, so you aren't restricted so much by the tripod placement. This comes in handy in a variety of situations, from shooting near a barrier or those instances where you can't quite get the perfect tripod positioning.
It's also useful for close up work and macrophotography. For example, if you want to get overhead shots of food, or close up shots of flowers, using the MACC means you can much more precisely position the camera compared to a standard tripod. This really makes the VEO 3T+ range much more versatile than a traditional travel tripod.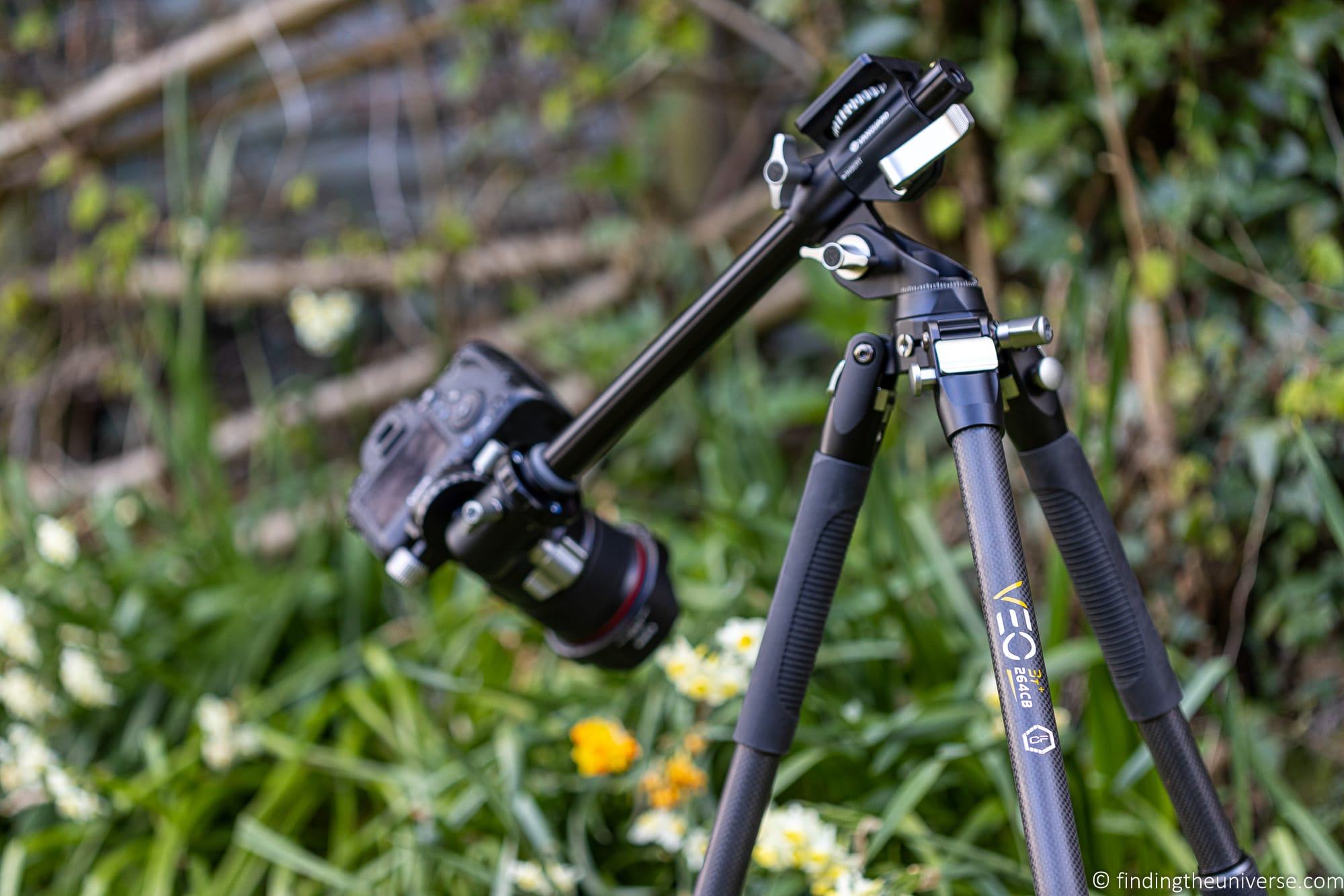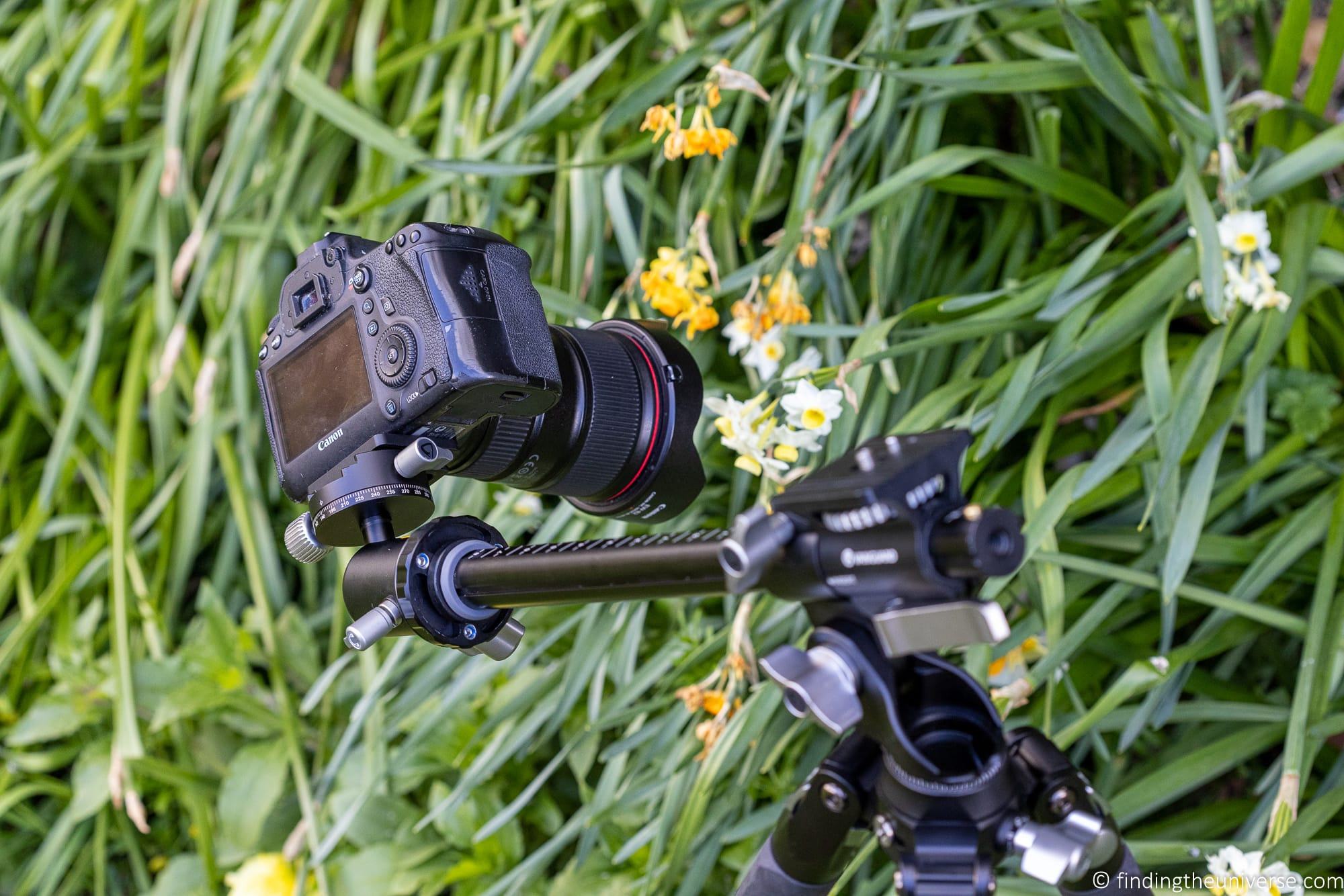 Multi-Mount
Speaking of versatility, the VEO 3T+ range also comes with a multi-mount. What's a multi-mount? I'm glad you asked.
When you have the MACC extended, you will have your camera on the ball head at one end of the central column. In this configuration, you can slide the multi-mount onto the other end of the central column or what would be the bottom of it in a normal configuration.
The multi-mount securely attaches to the central column, and has a standard tripod thread. This means you can attach all sorts of things onto the thread. That could be anything from a lighting or flash unit, another camera or camcorder, a scope, a microphone, or maybe a screen you've got hooked up to your camera.
This really stretches out the versatility and use of this tripod, elevating it beyond a standard travel tripod.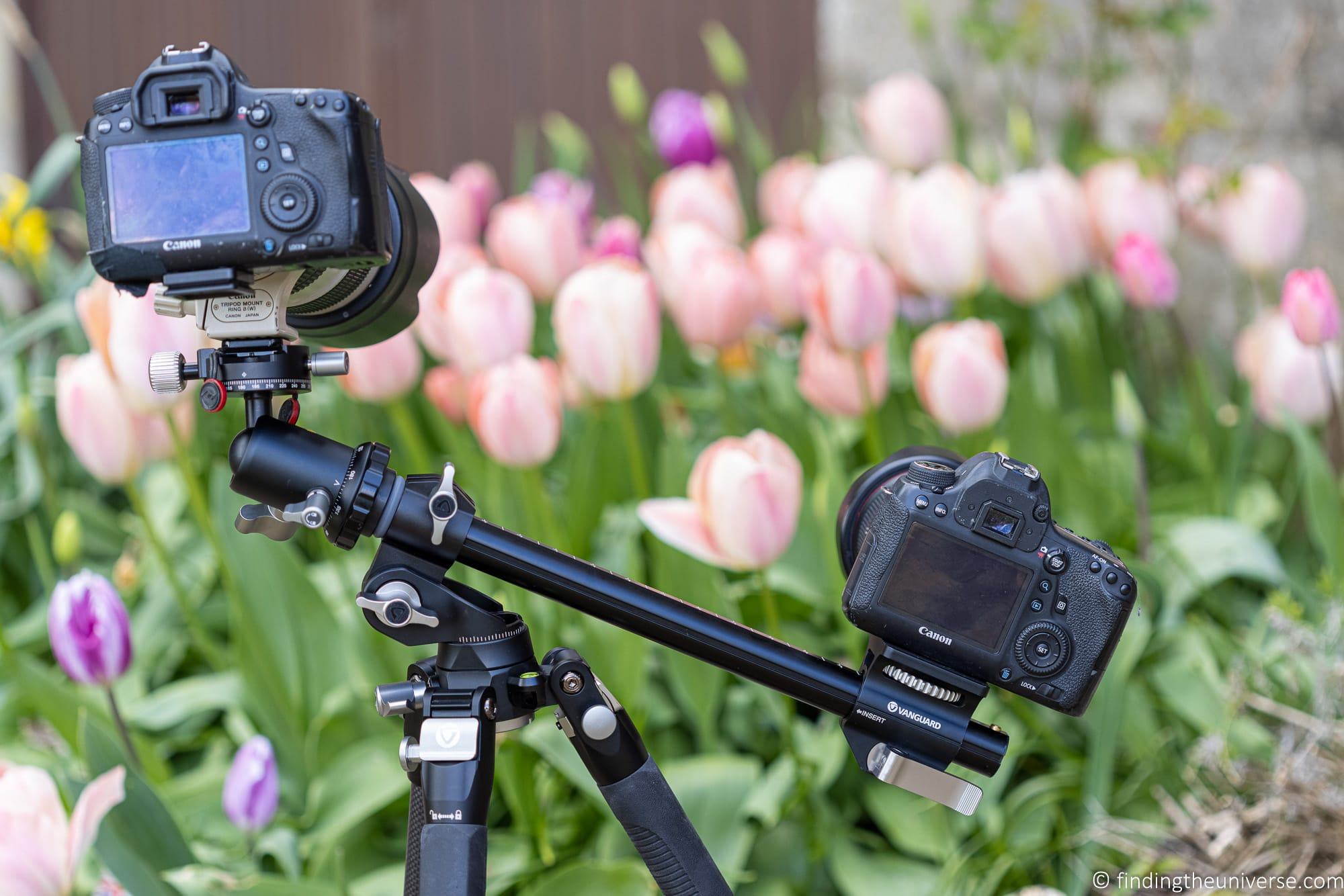 Bag
If a tripod comes with a bag, it's often a bit of an afterthought. That is definitely not the case with the VEO 3T+ range. Like the VEO 3+ range, the bag that comes with this tripod is a high quality padded product that offers good protection as well as a zipped pocket for any accessories like Allen keys and extra tripod feet (it comes with both regular rubber and spiked feet).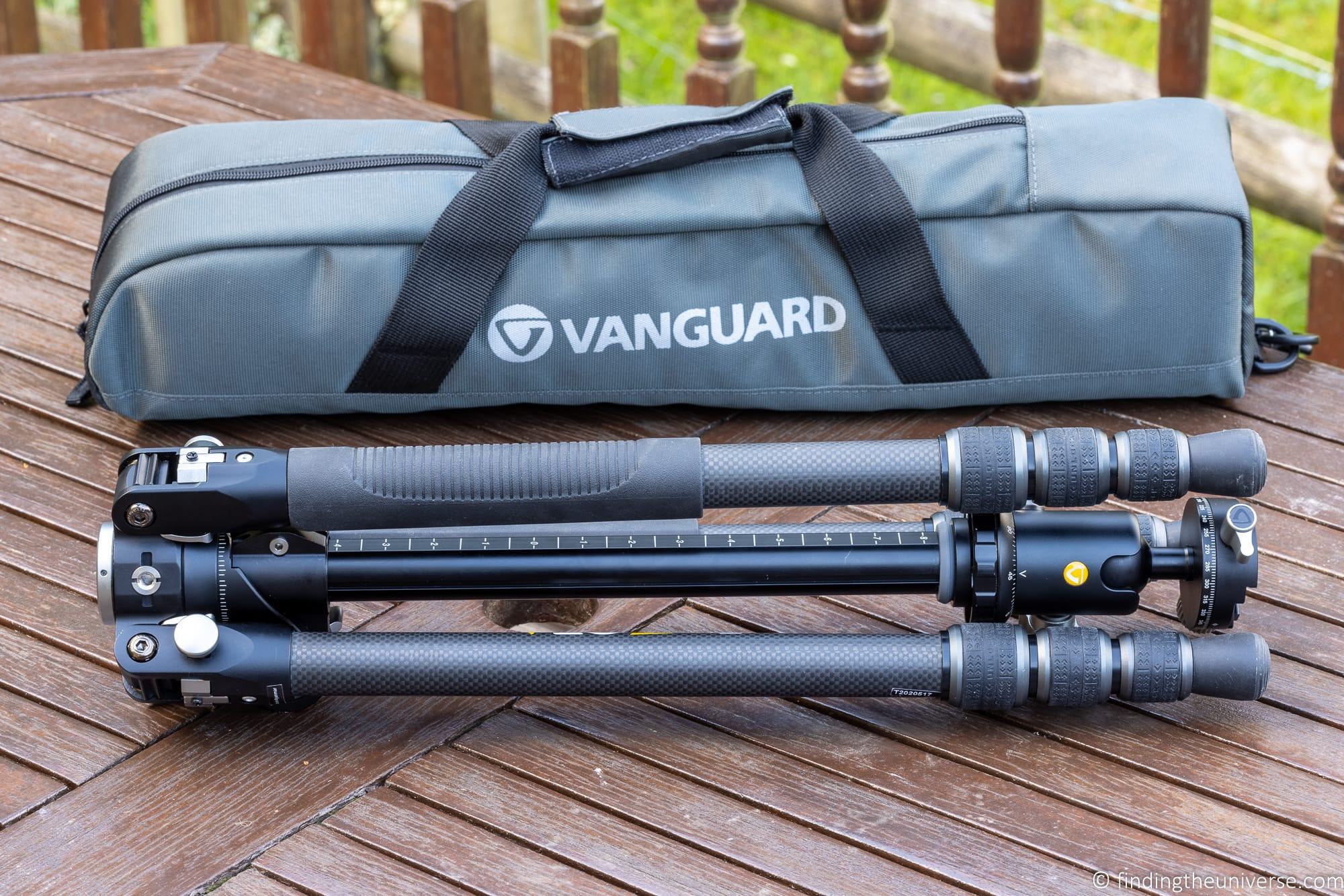 Monopod Capability
One thing I like about many of Vanguard's new tripods, including the VEO Go range, is that many of them now come with the ability to convert into a monopod.
This is also the case on the VEO 3T+. Converting it to a monopod is incredibly easyyou just unscrew one of the legs, slide the central column out of the tripod, and screw them together. Voila, you've got a monopod!
A monopod can be useful in a variety of situations where you might not want the full tripod experience. They allow you to get some stability, but also to take the weight off your arms if you have a heavy lens. For wildlife photography this can be invaluable as you often need to be able to move your camera quickly, but you also don't want to be holding a heavy lens up to your eye for hours waiting for the shot.
This is definitely a useful feature and a great bonus for the VEO 3T+ range.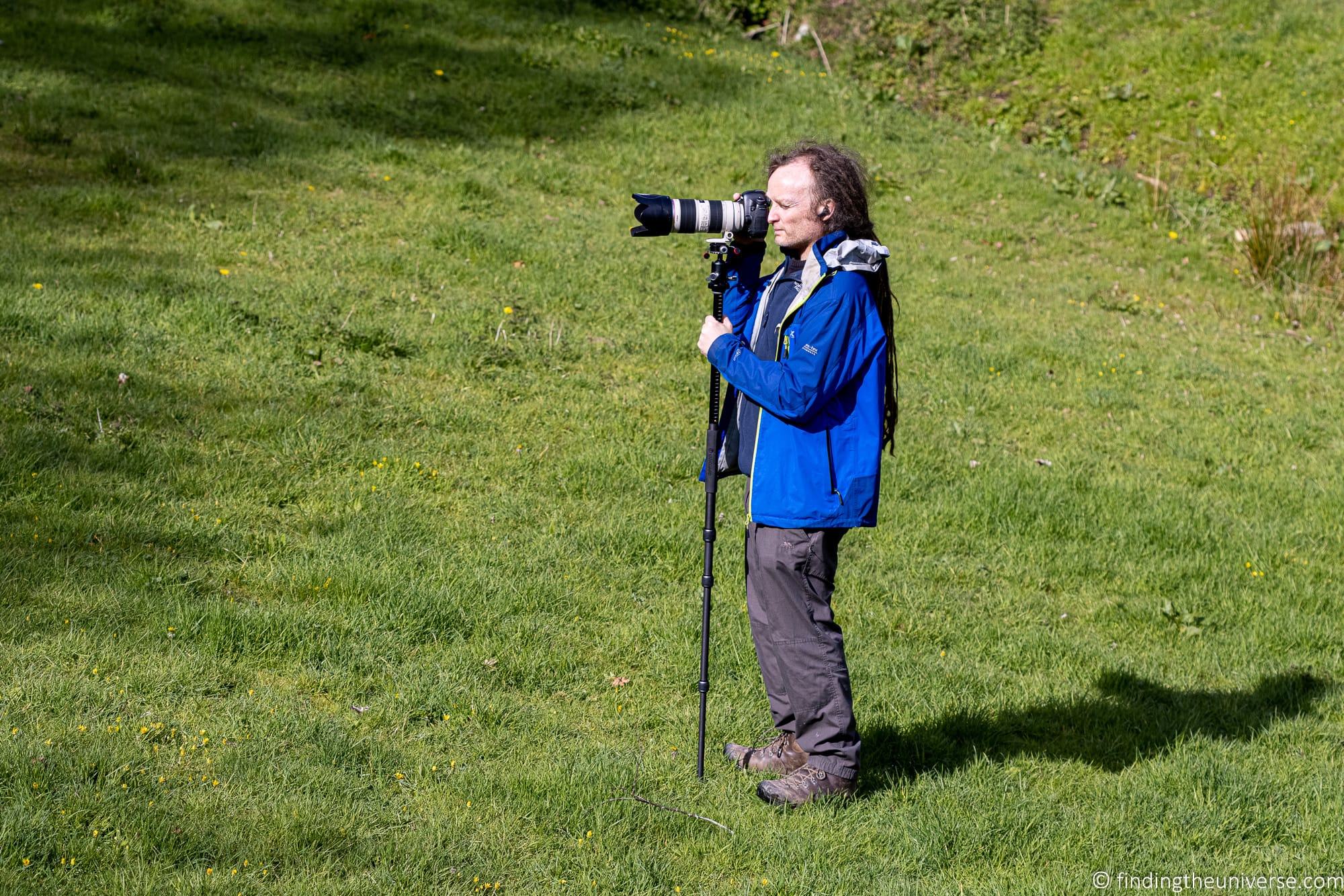 Tripod Head
The VEO 3T+ tripods come with an all new ball head, the VEO BH-160S. This is an Arca-Swiss compatible ball head.
It's very similar to the BH-160 that comes on the VEO 3+ range, but it does have a nifty new feature. There's an extra pan control on the ball head just below the quick release plate, in addition to the pan control at the base of the ball head.
Two pan controls are very useful, especially when shooting with the ball head off centre. This means that you can effectively pan the camera, no matter what angle the ball head is at. This is a huge improvement.
Previously, if you were shooting with the ball head at an angle, say a portrait orientation shot, in order to pan you'd have to unlock the ball head. Panning with a ball head alone is difficult because you have total freedom of movement. With the new pan control, you can lock the ball head but still pan the camera.
I can also see that this would be very useful for folks looking for a tripod that is competent for video as well.
Honestly, this is one of my favourite new features of this tripod, and it's a feature that I hope gets rolled out to more tripods in the future.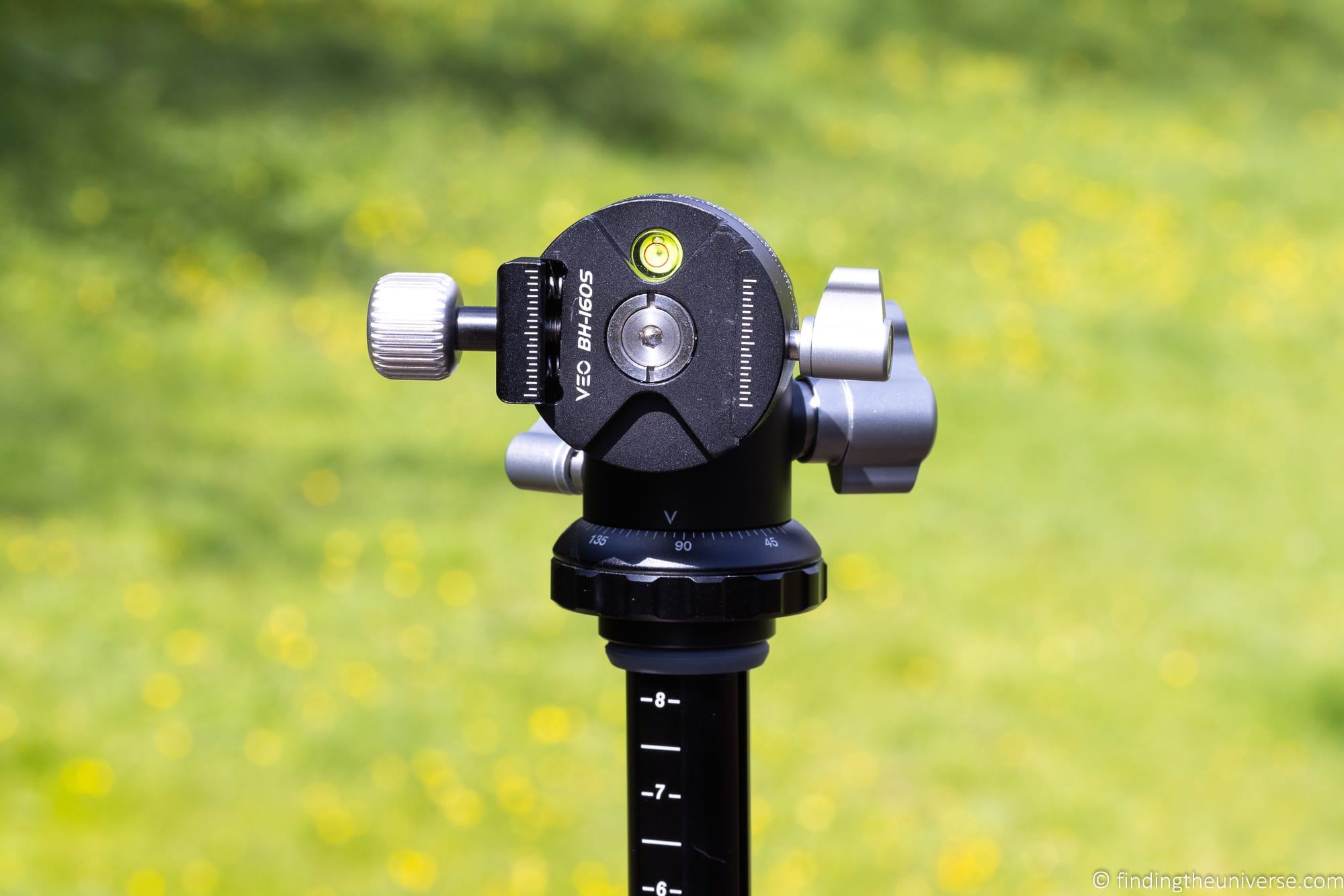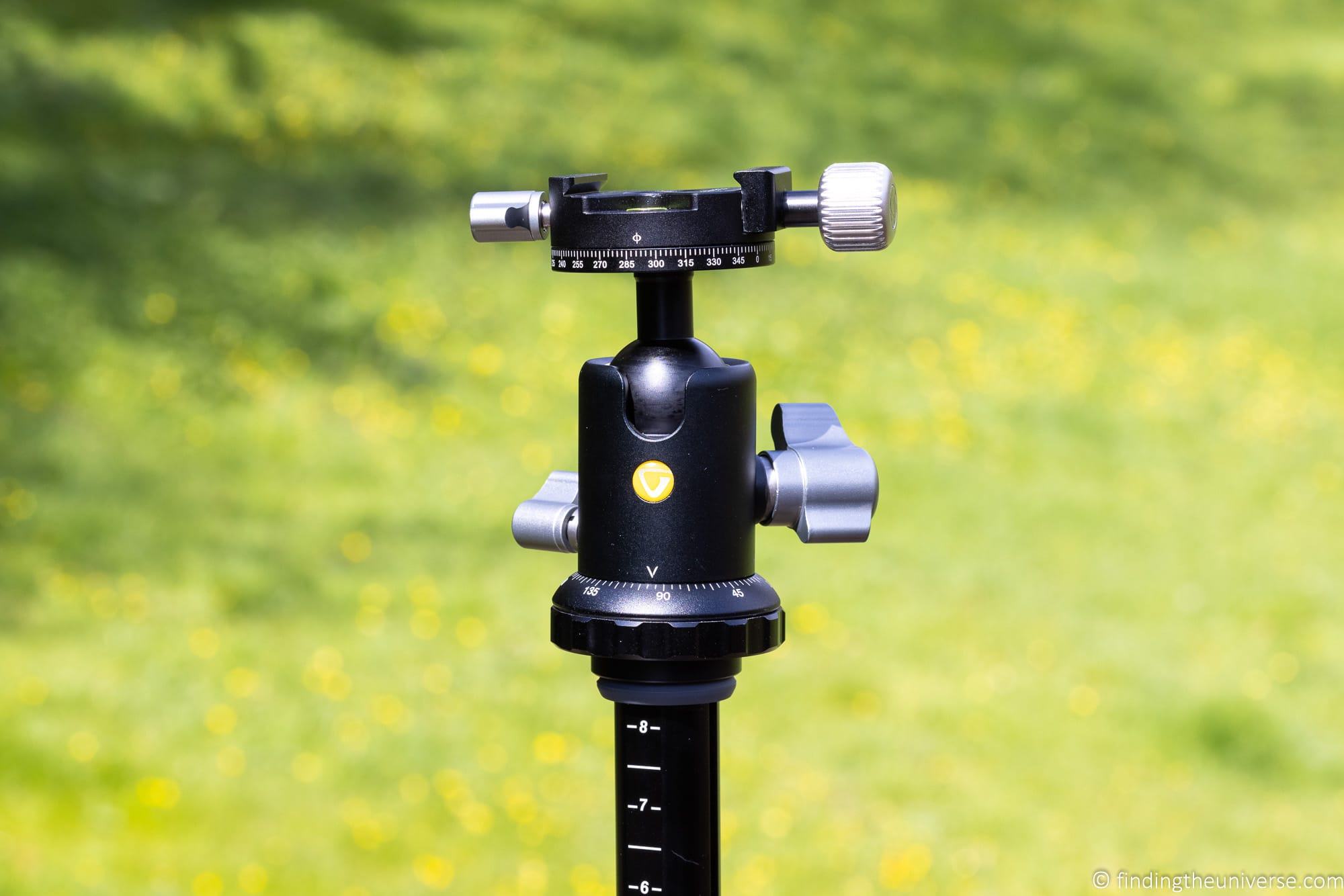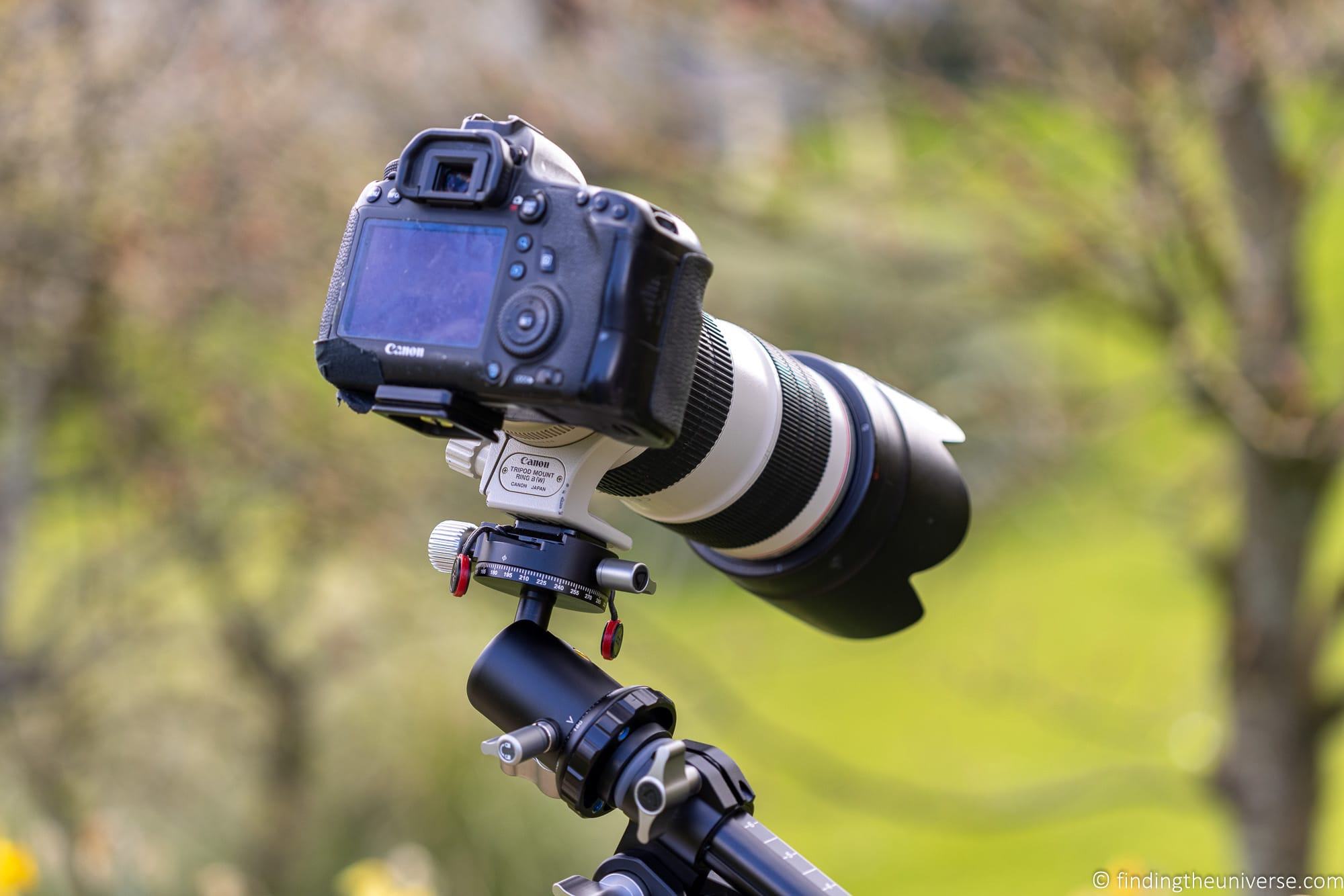 Build Quality
I've spoken at length with the Vanguard team about their new build process for their new tripods and they regularly get feedback from professional photographers and their customers. Essentially, they've made significant investment in their manufacturing capabilities, and it really shows.
Whilst I've always been happy with the quality of Vanguard products, which I've been using for years, it is clear that the new manufacturing techniques have really taken things up a notch. This feels like a very premium product, with beautiful machined parts that all work smoothly and seamlessly. I am confident that this is a tripod that will last for years.
Size and Weight
One of the key features of this tripod compared to the VEO 3+ range, as well as other similar tripods like the Vanguard Alta Pro range, is how much more compact it is when folded up. Here's a comparison of three tripods to show you what I mean.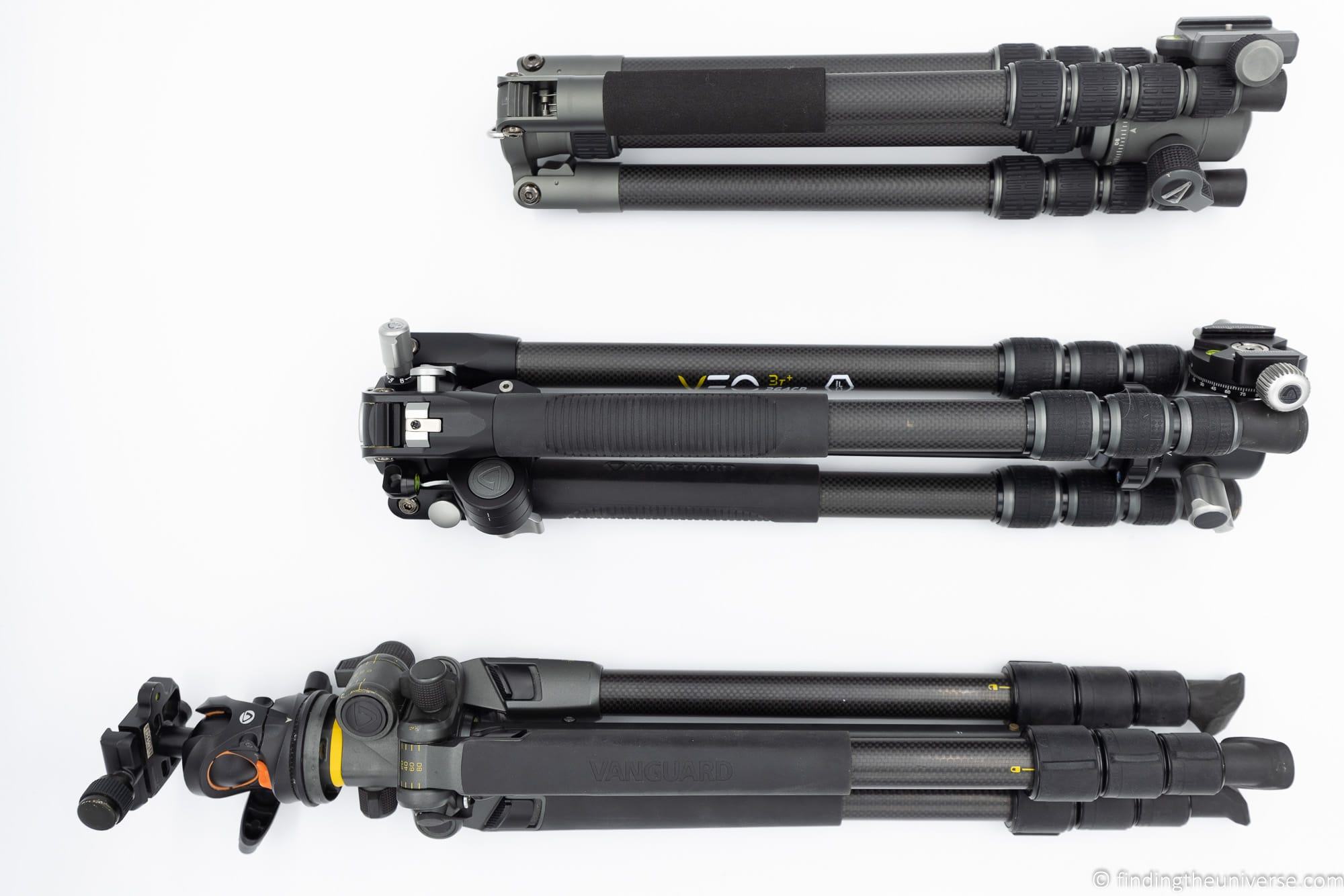 In this shot, from top to bottom, you have the:
You can see how much more compact the VEO 3T+ is compared to the Alta Pro. By redesigning the tripod so the head tucks away, the end result is a far more compact system. Now, if we look at these tripods extended: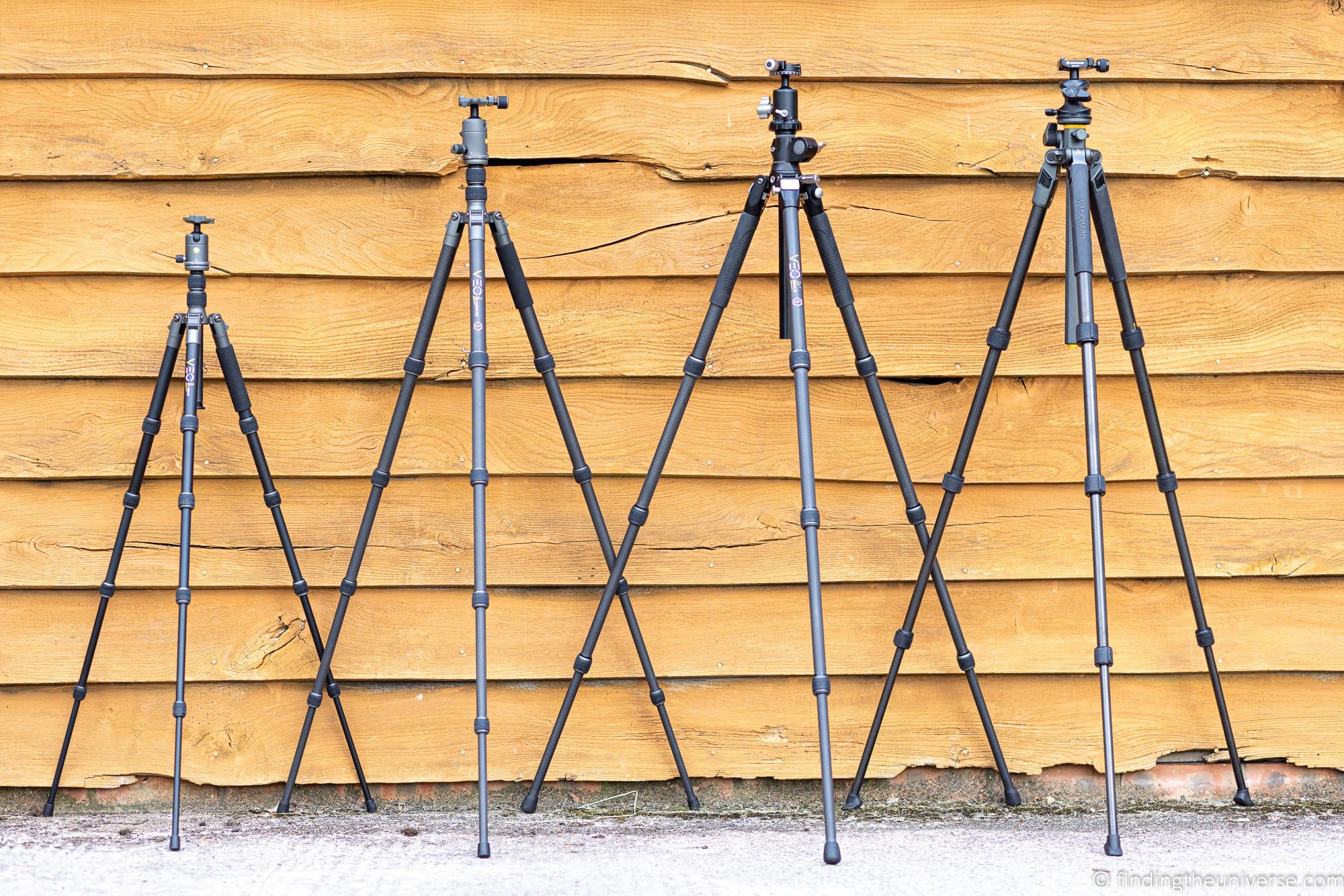 From left to right we have the:
The two tripods on the left are the lightweight travel focused tripods. They have five leg sections, which means they fold up smaller, but take a tiny bit longer to set up. The tripods on the right have four leg sections, and a height and stability advantage, as well as a more flexible central column.
Comparing the Vanguard VEO 3T+ 264CB to Other Tripods
Now, in my mind there are two current Vanguard tripods that this bears comparing against. There's the VEO 3+ 263CB, which is the carbon fibre version of the tripod I reviewed here.
Then there's the VEO 3GO 265HCB, which is the successor to my current go-to travel tripod (the VEO 2Go 265HCBM) which I reviewed here.
Here's a table showing how they compare in some of the key areas.
| | | | |
| --- | --- | --- | --- |
| | VEO 3T+ 264CB | VEO 3+ 263CB | VEO 3GO 265HCB |
| Weight | 5 lbs (2.27 kg) | 4.7lbs (2.13kg) | 3.1lbs (1.4kg) |
| Folded Length | 18.9 inches (48 cm) | 29.9 inches (76cm) | 16.1 inches (41cm) |
| Minimum Height | ground level | ground level | ground level |
| Fully Extended Height | 61.4 inches (156cm) | 67.9 inches (172.5cm) | 65.6 inches (166.5cm) |
| Height without Column Extension | 51.6 inches (131cm) | 57.8 inches (147cm) | 49.6 inches (126cm) |
| Load Capacity | 33 lbs (15 kg) | 33 lbs (15 kg) | 22lbs (10kg) |
| Price | 329 GBP | 299.99 | 229.99 |
I chose these three tripods as I wanted to demonstrate some of the choices you have to make when purchasing a tripod.
The VEO 3+ 263CB is a really solid option if you want maximum height and stability. However, with a folded length of 76cm / 29.9 inches, I'd argue that it's not going to be practical as a travel tripod in most cases. This is more of a tripod for accompanying you on a road trip in your own country, or for situations where you don't need to lug it very far, such as studio work. In essence it's the spiritual successor to my Vanguard Alta Pro 2+ 263CB.
Then you compare the two travel focused tripods in the table. I'd suggest the VEO 3GO 265HCB is the more pure travel focused tripod. You sacrifice a bit of stability and the nifty multi-angle central column in exchange for a lighter and slightly more compact option.
The 3T+ 264CB strikes a middle ground. It's short enough to pack away neatly for travel, and is incredibly sturdy, with the downside that it is heavier.
Is the Vanguard VEO 3T+ 264CB a good travel tripod?
The short answer is yes. The longer answer is that, as with many things in life, it depends on your needs. If you want a tripod which lets you attach multiple devices, has the flexibility afforded by the multi-angle column, and still folds up relatively small, then this tripod, or one of the other tripods in the VEO 3T+ range is going to be an excellent choice.
Due to the weight, I likely wouldn't take it on a super long hike, but for general travel photography I think it's a fantastic choice. I would however personally probably pick the VEO 3T+ 234CB out of the four in the range. That comes in under 2kg, and I could live with the slightly lower maximum height as a trade-off, especially as my camera has a flip out screen that makes using a slightly lower tripod workable.
On the other hand if you want a tripod where absolute minimum weight is the key concern, then you would likely be better served by the VEO 3 Go range. They are a bit less stable (especially with the double height central column extended), and can't carry quite so much weight, but they are definitely lighter.
You do of course lose out on the Multi-Angle Central Column, which is a wonderful feature, but might not be important to you.
Conclusion
In summary, I think it's fantastic that with the new VEO 3T+ range Vanguard are giving you even more choice when it comes to choosing a tripod.
If you want a more compact tripod, you no longer have to restrict yourself to the super lightweight travel focused options.
Now you can get all the cool features of the VEO 3+ range, but in a smaller form factor.
In the past, I've been using Vanguard's Alta Pro 2+ 263CB tripod in scenarios where a moveable central column was useful, and also when I wanted something a bit more sturdy than my travel focused VEO 2Go.
The Alta Pro is a lovely bit of kit, but with a folded height of 74cm it's not always practical. I definitely feel that the VEO 3T+ range is a much better option for me as a travel photographer when I want something more solid, and in that regard I think this range is a welcome addition to the Vanguard line up.
Vanguard Discount Code
If you're interested in this product, or any of the other Vanguard products, you can save money using our exclusive Vanguard discount code. This will give you 20% off everything in the Vanguard store.
Just use the code FindingTheUniverse for your discount! This Vanguard discount code works in the Vanguard USA, UK, Australia, Spain, and Germany stores.
I would also recommend, if you are in the market for a travel tripod, to check out our round up of the best travel tripods, which has lots of options across a range of manufacturers and price points, as well as lots of tips on what to look for when shopping for at tripod.
Further Reading
Thats it for my review of the Vanguard VEO 3T+ 264CB travel tripod I hope you found it helpful. Before you go, I wanted to share some of our other content which we think you will find useful.
Looking to Improve Your Photography?
If you found this post helpful, and you want to improve your photography overall, you might want to check out my online travel photography course.
Since launching the course in 2016, Ive already helped over 2,000 students learn how to take better photos. The course covers pretty much everything you need to know, from the basics of how a camera works, through to composition, light, and photo editing.
It also covers more advanced topics, including astrophotography, long exposure photography, flash photography, and HDR photography.
You get feedback from me as you progress, access to webinars, interviews and videos, as well as exclusive membership of a Facebook group where you can get feedback on your work and take part in regular challenges.
Its available for an amazing one-off price for lifetime access, and I think you should check it out. Which you can do by clicking here.