If you are looking for the best place to sell your used cameras and other photography equipment, then this guide is for you. I've put together all my favourite places to sell photography equipment, as well as a guide to how to get the best price out of your old gear.
First, some background. As a professional photographer, I've collected quite a large amount of photography equipment over the years. As I upgrade my gear to meet my current needs, I sometimes find myself with a collection of used camera equipment that, if I'm honest with myself, I'm not likely to use again.
Camera equipment that isn't being used takes up room in our homes and depreciates in value. In many cases, this equipment is perfectly usable, and another photographer would likely love to use it. This can include old cameras, lenses, tripods, external flashes, remotes, filters, photography bags, video gear, studio equipment, and more.
There are a number of reasons you might find yourself upgrading your camera equipment. When it comes to a camera body, you might want need additional features like a larger sensor or capabilities like faster autofocus that an upgrade offers.
For lenses, you might want something that offers improved stabilization, or a longer zoom, or a wider aperture. Or perhaps you've changed niches and just need a different set of lenses.
In my experience, it's rare to have to replace camera equipment because it isn't working (although of course this does happen). Rather, it's because as photographers, we grow and change over time, and as this happens we find ourselves limited by what our existing equipment can do.
In these cases, rather than letting our assets continue to depreciate in value, it makes sense to sell them. This has a number of benefits. It will help you cover the cost of any new equipment you've purchased. It will benefit another photographer who'll be able to purchase their equipment at a lower price.
Finally, selling our used cameras and photography great is good for the planet. Reusing equipment and letting it have a second or third life helps reduce the amount of new cameras that need to be manufactured.
Now that we've talked about reasons for selling your cameras and gear, let's take a look at the best options you have for selling your used camera equipment.
Where to Sell Used Cameras & Photography Gear
I've put together this list of our favourite options for selling used camera equipment. These cover multiple options around the world, with both online and offline options. There are advantages and disadvantages to different options, which I'll cover as I go through each one.
Where possible, I'll also provide a representative sale price for a used camera, specifically my Canon 6D body, for each option. This should help you get a feel for how they differ, although of course you will want to compare your own equipment on each site as quotes will vary. Quotes were obtained in August 2021.
Note that while I tried to list options that will work for people worldwide, there are definitely more options available for those in the USA, UK, and Europe. If you know of more options that are available in more regions that I didn't include, feel free to let me know in the Comments section!
MPB
MPB specialize in selling used photography equipment in the USA, Europe, and the UK. They also sell video equipment and related accessories like bags, tripod and filters. Their equipment comes from photographers who are looking to sell used camera gear.
They make this process as simple as possible for both the buyer and the seller.
As a seller, all you have to do is fill in a form where you list the camera equipment you want to sell and the condition it is in. This goes from "like new" through to "heavily used". To get a quote you have to provide an e-mail address, and MPB then provides an instant quote for that equipment. They will also follow up with you about your quote via e-mail.
As an example, I put in the details for my Canon EOS 6D. In the USA, MPB.com would pay me:
$465 were this in like new condition
$230 for heavily used
If the quote sounds good, you book your shipping. MPB provides free insured shipping and tracking, with collection from your door. All you have to do is box the item up, print off the shipping label, and wait for the courier to collect it.
Once they receive the item, they assess the condition to be sure it matches what you selected. You'll then be asked to accept the quote. Once you accept it, you'll be paid, and the item will be listed for sale on their website.
If they assess the quality and your grade doesn't match their assessment, you'll be sent a revised quote which you can either choose to accept or reject.
You can cancel the process at any point up until you accept the quote, and if MPB already has your equipment they'll return it free of charge.
You can also choose to trade in your equipment against equipment they have on their store if you would prefer that.
The MPB process definitely has advantages. It's easy and simple to use, you get paid without having to worry about a product selling, you don't have to take product images or handle questions from interested buyers, shipping and insurance is included, and the process is basically seamless. MPB also has very positive reviews from customers.
The downside is that you don't have any control over the price. If you have a fully boxed product in great condition, you might be able to get a bit more by listing it yourself on one of the peer-to-peer trading sites we list later on this list. However, that will definitely require more effort on your part. They also won't necessarily accept every bit of equipment, so if you have older gear you might not be able to get a quote on that.
MPB is available in the UK, the EU, and the USA. You can get a quote for your gear on their US store here, UK store here, and EU store here.
Available in: United States of America, United Kingdom, European Union
KEH
KEH is very similar to MPB, but they primarily focus on the American market. Whilst they do accept international sellers for items worth over $300, the seller is responsible for the shipping fees and any taxes, which in many cases rather eat into the profit margin. So we'd generally recommend KEH more for U.S. based sellers of used camera equipment.
If you are in the USA, then we definitely recommend you check out KEH. They will give you a free quote on your equipment, and you don't even need to provide an e-mail address. This makes this one of the easiest options on our list for getting a free quote on your used camera equipment.
For a more personalised quote, you can set up a free one-on-one online video chat with a KEH representative. They'll look at your gear and give you a quote based on the condition they see.
In both cases, if you are happy with the quote, you will be sent a shipping label. Sellers in the 48 contiguous states are eligible for free tracked shipping of their equipment. Free pickup is available for quotes over $300.
Again, I put in my Canon EOS 6D, and I got the following quotes for the gear.
$481 were this in "like new minus" condition
$299 for "bargain" condition
As you can see this is slightly higher than the MPB quote for this particular equipment. However as I said above, it's worth getting a quote from both sites if you are in the USA as every site has different prices for different equipment. It takes literally seconds to get a quote on your equipment and there's no obligation to sell.
If you are happy with the quote, you can print off the label and have it shipped to KEH. They'll evaluate it, and if the value is the same or higher than the quote, you will be able to accept the quote. You also have the option to select a Quick Pay option for online quotes, whereby if the appraised value is the same or higher than your initial quote, they'll pay you automatically without you needing to accept the quote.
If the value is lower, they will contact you for approval. If you are unhappy with the revised quote, or wish to cancel the process for any reason, they will return your equipment at no cost.
KEH is an easy option if you're looking for a simple, no hassle option for selling your camera equipment. and you are based in the USA. Like MPB, you might get slightly less for your gear than using a peer to peer service, but the convenience definitely makes for a compelling case.
You can get a quote for your gear on KEH here. 
Available in: USA (and international sellers with higher value gear)
B&H
B&H are well known in the USA as a go-to place for buying camera equipment. They have a huge selection, and they also sell used camera equipment.
In order to get that used equipment inventory, B&H buys used photography gear from photographers. The process is very similar to KEH and MPB. You can get a free no obligation quote via their website, although you do have to provide an e-mail address.
If you choose to accept the quote and live in the contiguous 48 states of the USA, they'll send you a FedEx shipping label so you can mail in your equipment.
They'll evaluate the gear, ensure it matches the standard you selected, and if so, issue payment. If it doesn't match, they'll get in touch to discuss the quote. If you're not happy, they'll return the equipment at no charge to you.
One benefit of B&H is that they actually have physical stores. The NYC Superstore at 366 West 34th Street allows you to drop off gear for evaluation, which you might find more convenient if you happen to live in the NYC area.
In terms of price, for my Canon 6D, B&H quoted me:
$257.85 were this in "like new" condition
$0 for "shows considerable amount of use" condition
Obviously, a single data point isn't going to be representative, but in the case of this old camera, B&H is definitely not offering me the most competitive price out there! This is likely because they have a lot of this particular type of camera in their inventory, or it's just not a product they are interested in selling.
In this case, using a site like KEH or MPB, which specialise in used photography sales, would earn me a significantly larger chunk of change for my specific camera. However, it's worth checking B&H anyway as the process is free and takes just a few seconds.
You can get a quote for your gear on B&H here.
Available in: USA
WEX Photo Video
If you are in the UK, then you are likely familiar with WEX Photo Video, who are one of the largest photography equipment retailers in the country. They have a large used selection of camera equipment, and offer the option for photographers to sell them their used gear.
They have two options. For popular products (see list here), you have the option to be paid in cash, or to get credit against a purchase on WEX. For other products, they only offer a credit. So if you are in the process of upgrading, this can work well. However, if you've already bought all your new gear and don't want anything else, a credit might be of less value, although it has no time expiry.
In terms of the process, you fill in the online instant quote form, where you list your equipment and any accessories. There's a 6 scale rating, which helpfully details what each rating means, and even includes guidance on shutter counts for camera bodies.
In terms of price, for my Canon 6D, Wex quoted me:
366 including VAT were this in the highest "9+" condition
162 including VAT were this in the lowest "6" condition
That's certainly a competitive quote, although as this camera isn't on their wanted list that price would be for part exchange only. It's also easy enough to get a quote, although you do have to provide an e-mail address and they will send a few follow up e-mails.
WEX also promises to price match, so if you find a better quote somewhere else, like MPB UK, they will match it. So if you are in the UK, this is definitely one to strongly consider for selling your used camera.
If you are happy with the quote, you will be able to arrange a free collection, or a drop off at one of their many stores around the UK. Once they receive your item, they'll send you a final valuation, which you can choose to accept, at which point you'll get your credit or cash. If you change your mind at any point, your equipment will be returned free of charge.
If you're looking to sell used camera equipment in the UK, WEX is definitely worth checking out for a simple and easy option.
You can get a quote for your gear on Wex Photo Video here.
Available in: UK
eBay
eBay is the site that is perhaps most well known for selling and buying second hand goods, which can be done either through an auction or with a fixed price.
Naturally camera equipment is a popular option to sell, and both new and used camera equipment can be bought and sold on the platform.
There are advantages and disadvantages to selling on eBay.
The main advantage is that you can set the price for your product yourself, so there is a possibility that you will be able to get more money for your used camera equipment compared to selling via somewhere like MPB or KEH.
Another advantage is that eBay doesn't restrict what you sell (within reason of course). So if you have an older product that other sites aren't interested in, you can still list it on eBay and get something for it. Even if you have a product that isn't working, you can list it for parts.
Finally, eBay connects you with a wide audience of buyers around the world, and handles the payment process for you as well.
Looking at listings for the Canon EOS 6D on eBay, they currently go at a range from $315 at the low end through to around $550 for one in excellent condition. So this is marginally higher than selling to a specialist used camera store.
However, when comparing prices, don't forget that eBay charges various fees, including a final valuation fee based on the sale price, which is normally between 10% and 13%. There are also various other small fees depending on the type of listing you choose and any listing upgrades.
You'll also have to remember the cost for shipping once your item has sold. Some sellers include this as part of their listing fee, whilst others will list it separately.
Once these fees are taken into account, the difference between selling it yourself and selling it via a site like MPB or KEH is generally not that great.
There's also the fact that you have to spend time putting your listing together, taking various photos of your product, and competing against all the other sellers out there. If you don't use eBay regularly, selling from an account that doesn't have many ratings can also put buyers off.
Of course, eBay is still a good option, particularly if you already have an active eBay account. Personally I find it's of more use for buying used equipment rather than selling it, as the prices tend to be slightly better compared to other sites. For selling, I find the effort isn't worth any small extra return, with the exception of equipment that other sites aren't interested in.
eBay is also a good option to consider for those who lives in parts of the world which do not have a lot of physical or online photography retailers. While people in some countries like the US, UK, and Europe may have a lot of different options for where they can sell used cameras, there are more limited options for regions of South America, Africa, Australia, and Asia.
You can start the process of selling your gear on eBay here.
Available in: Most countries worldwide
Adorama
Adorama is another large US based retailer of camera and video equipment, and they also allow photographers to sell their used equipment.
The process is not quite so straightforward though, at least, in terms of getting a quote. For Adorama,  you still fill in an online form. When you select your equipment, there are only three choices of condition, "like new", "excellent" or "good". So if you are selling heavily used camera equipment, Adorama is likely not going to be interested.
In addition, unlike the stores listed so far, you don't get an instant quote. Instead, Adorama takes your details and will then contact you with shipping information. In fact, you only get a quote once they have evaluated your equipment.
I submitted my 6D to them for them for a quote, but I have yet to hear back. I'll update this post if that changes.
Whilst this does mean they can be more selective up front with the equipment they select, it isn't quite so straightforward a process compared to other stores. And you would end up losing a few days of time if you aren't happy with the quote.
If you live in New York City, you also have the option to take your gear in to be appraised at either their 42 W 18th Street in Manhattan or the 370 19th Street store in Brooklyn. You can also give them a call to see if they're going to give you a quote. However, we think one of the earlier options in our list will likely be easier overall if you're looking for this sort of service.
You can start the process for getting a quote for your gear on Adorama here.
Available in: USA
Gear Focus
Gear Focus launched in 2019, with the aim of creating an online marketplace specifically focused on photography and video equipment.
They offer two options for selling your gear.
First, you can list it yourself as you would on any other marketplace like eBay, where you provide the description and images. Once sold, you ship the product to the buyer, and Gear Focus pays you. If you choose this route, both you and the seller are protected under their protection policy.
Alternatively, if you would prefer not to have to deal with product images and creating a listing, Gear Focus will buy your gear from you, and they promise to beat other quotes you may have received from other stores.
The main advantage of Gear Focus is that they offer market leading rates for a marketplace style listing, currently just 3.5% per sale, and no listing fees.
The disadvantage is that they are quite a new service, so they have fewer users, meaning your gear might take longer to sell if it sells at all. However, I would expect this to improve over time as it becomes more well known. There are also few reviews for the service online, although I have not found anything negative about the site either.
When I searched Gear Focus, I found two used Canon 6D cameras. One had sold for $350, and one which was still listed at a rather optimistic $950.
You can get a quote for your gear on Gear Focus here, and list it for sale here.
Available in: USA
Facebook Marketplace
If you use Facebook you are probably familiar with Facebook Marketplace. This is a free service whereby you can list items for sale for other Facebook users to buy.
The Facebook Marketplace is basically the same as a classified listing service. There are no fees for listing your camera equipment, although you do have the option to promote your product for a fee, using the Facebook advertising system.
Other than putting your product in front of a Facebook audience, Facebook doesn't do anything else. If a buyer is interested, you'll have to arrange the payment and shipping (or collection). There's no buyer or seller protection.
In terms of pricing, looking at my Canon 6D, at time of writing there are models on Facebook Marketplace ranging from $340 through to a rather optimistic $1,000.
As with eBay, you will need to take photos of your product, create the listing, and field any queries. Additionally, you'll have to figure out how to accept payment and arrange the hand over of the product.
Facebook Marketplace is definitely an option to consider if you don't mind the overhead that comes with this sort of listing, but other options are easier if they are available in your country.
Available in: Over 50 countries worldwide
Craigslist
Launched in 1995 as an e-mail list service, Craigslist is perhaps the most well known online classified systems. Doggedly sticking to a text based interface, Craigslist is today available in over 70 countries worldwide.
The main advantage of Craigslist is that it's free to list items for sale, and it reaches a massive audience. It also allows users to list items they are interested in buying, so you can find buyers for your equipment before you even list it.
There's a photo / video subsection on most of their sites where you can sell photography gear, and we've successfully sold lenses and camera bodies on Craigslist when we lived in the San Francisco Bay Area.
Price wise, Canon 6D bodies currently list on Craigslist for between $400 and $600, which is roughly in line with other sites. Just be aware that many users will haggle on the price, so you might want to factor this in to your initial listing.
Like other classified services, Craigslist doesn't facilitate anything other than communication between the buyer and seller. Once you have set up your listing, you will then have to handle collection and payment.
Craigslist is really designed for in person product exchange between local buyers and sellers, and you will definitely want to read their guide to avoiding scams and personal safety to keep yourself safe. Having such a large volume of users means that scam e-mails are definitely a problem on the platform.
If you are interested in selling locally, Craigslist is definitely an option, and one we have successfully used for local in person sales.
You can start the process of selling your camera equipment on Craigslist here.
Available in: Over 70 countries worldwide with a focus on larger cities
Local Photography Stores
So far the services I've listed have all been online, but of course this is not the only way to sell your camera equipment.
Many local photography stores will also purchase your camera equipment, and this can also be a good way to get your gear appraised for quality. In some countries like Japan, this is going to be your best way to sell your used gear unless you want to sell it peer-to-peer.
I've already mentioned stores like B&H and Adorama who will let you bring your equipment in for valuation, but there are a great many other local photography stores around the world where you'll be able to sell or trade-in your used camera equipment.
This can be an easy way to make a bit of income from it without having to worry about shipping or listing, and is worth checking out if you have stores in your vicinity.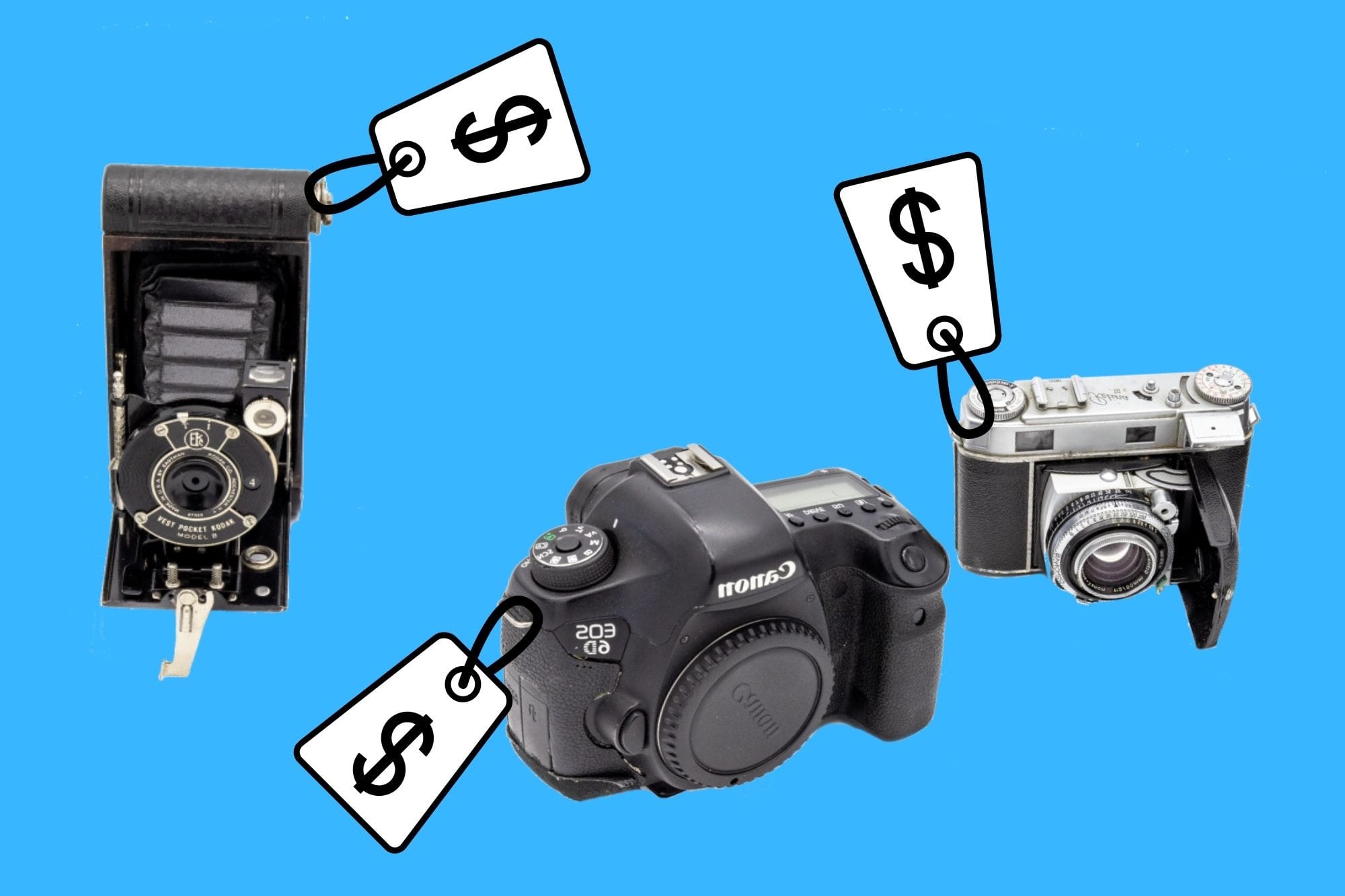 Tips for Selling Used Camera Equipment
Now we've covered a variety of options for selling your used camera equipment, we just wanted to go through a few tips to help you have a successful selling experience.
Decide if you want to Sell to a Business or Directly to a Consumer
As you will have noticed from this guide, there are two main ways to sell used camera equipment. First, you can either sell it to a business, who will pay you up front and handle the resale via their own store. Alternatively, you can sell it directly to a consumer.
Each approach has benefits and disadvantages, which I'll go over now.
If you choose to sell it to a business like KEH or MPB, the main advantage is convenience. It takes moments to get a quote, and then all you have to do is pack up the items and send them off. Assuming they pass the quality check, you'll get paid.
The disadvantage is that you have no control over the price. Obviously these stores have to make a profit, and that usually comes about by buying items at a slight discount, and selling them at a slight premium, compared to a direct sale site like eBay.
If you opt to sell directly to a consumer on a site like eBay, the main advantage is that you can set your own price. There's also no limit on what type of gear you can list, so if you have older equipment that online stores aren't interested in, you can still try your luck on eBay.
You still have to be reasonable when it comes to setting a price. For popular items, you'll be competing against many other listings, so you'll need to match these prices. In our research, the prices you can expect to get on a site like eBay are not that much higher than by going to a site like KEH, but this will vary depending on the product.
The disadvantage of selling directly to a consumer is that there's more overhead involved. You have to create the listing, take the photos, and answer queries. Depending on the site, you might have to work out the payment or how to meet the buyer. There's also packaging and shipping to consider. Some sites  also charge relatively high fees that will eat into your revenue.
We definitely think selling to a business is a lot easier, but it's always worth getting some quotes and checking these against current prices on a site like eBay (factoring in fees) for the items you are selling before making a final decision.
Be Honest About the Condition
Whether you are sending your camera to a store which pays for used equipment like MPB or KEH, or listing it on a marketplace like eBay, it's really important that you are honest about what condition it is in.
For stores like MPB or KEH, they're going to evaluate your gear against their criteria. For camera bodies, this means checking things like shutter counts and the condition of the body. For lenses, they'll be checking for things like dust or fungus inside the lens, as well as any scratches.
If you're selling it on a marketplace like eBay, there is quite a lot of protection for the buyer should an item not match the description.
On platforms like Craigslist, most buyers will want to physically inspect and test the equipment prior to purchase.
The ultimate result if you aren't honest about the condition of the gear is that the sale will fall through, or you'll get a lot less than you were initially quoted for it.
Take Lots of Photos of the Items
If you are selling your gear on a peer-to-peer marketplace like eBay, I'd definitely recommend taking as many photos as the platform supports you posting for free, which is usually at least 10.
Take shots of what you are selling from multiple angles and in good light with a plain background. If it's a lens, make sure to take photos from both ends with the caps off, so buyers can see it is scratch, fungus, and dust free.
If there are issues with the equipment, as well as making this clear in the description, make sure to take photos so the buyer knows exactly what they are looking at. If there is a scratch on a lens or a rubber grip is peeling, take a photo of it. This makes sure everyone is aware ahead of time of any issues and what exactly they look like.
Describe the Gear and What is Included Accurately
As well as detailing the condition, when you're listing a camera for sale it's important to describe it fully so people know exactly what they are getting.
Not everyone is going to be an expert in camera equipment, so listing the full specifications will be helpful.
If you are including accessories like a charger, battery, memory card, carrying case or original box, then make sure you include this in the description. If you are leaving out accessories that people might reasonably expect to be included, like a battery or battery charger, be sure to make this clear as well.
Keep the Original Boxes and Accessories
It might be too late for your current gear, but it's generally good practice when buying camera equipment to keep hold of the original box it came in as well as any manuals or accessories.
Having the original box will make shipping it easier, plus buyers like to receive the box as well and it can add a small amount of value to your sale.
Depending on the gear, the accessories will vary. For a camera, it will usually include the battery, battery charger, any cap or included case, strap, cables and software it came with. For lenses, there should be a front and back cap as well as a lens cap. Some lenses also include a sun hood and camera case.
If you have recently bought camera equipment, I recommend putting all the boxes and accessories somewhere safe so should you ever decide to sell it, you'll be able to get maximum value for it.
Set a Realistic Price
When it comes to selling your gear on a marketplace like eBay, it's important to set a realistic price. A good idea is to check what other sellers have their gear listed for on the site you plan to list on, as this will give you an idea of the current market price.
If you set a really unrealistic price, such as the person trying to sell a used Canon 6D body for $1,000, it is unlikely you are going to sell it.
Consider Trading In Your Used Gear
If you're planning on buying new or used camera equipment, take stock of what you have that you might no longer need, and see if the store you are buying from offers a trade-in.
Compare this trade-in against what you might get for selling it, as well as the convenience of such a trade, and decide if this might be a good option for recouping some of the value of your existing equipment.
Consider Donation or Recycling if Not Sellable
You may find that some of your equipment is difficult to sell or is just not worth much. You might then consider donating it to someone, selling it for display purposes, or finding a recycling program that can properly recycle it.
If you have a working camera, consider if you know someone who might like it or consider seeing if a local school or thrift shop might want it.
For older items, you might consider if they might be useful as display items. For example, I have a few old film cameras that are just not worth much.  Your best options there may to be able to sell or donate them for display purposes. For example, some shops like to use old film cameras for display purposes. A local museum may also be interested in having it.
Finally, if you can't sell or donate it, I'd recommend finding a recycling program if one is available where you live to dispose of it properly and hopefully reuse its valuable materials.  Many camera manufactures and electronics stores will recycle digital cameras, as well as lenses and accessories. You can see more about recycling a digital camera here.
Further Reading
That's it for our guide to selling used camera equipment. Hopefully it's given you lots of ideas for how and where to sell your gear.
Before you head off, I wanted to share some more photography guides and resources that weve put together, to help you on your photography journey.
And thats it! Thanks as always for reading. If youve got any great places you shop for second hand camera gear, or any feedback or questions on this post or photography in general, do pop a comment in the comments below! We love to hear from readers, and will get back to you as soon as we can!